This Butter Mochi Recipe is a little taste of home. It's a favorite snack in Hawaii. It's soft and full of yummy butter and coconut flavors.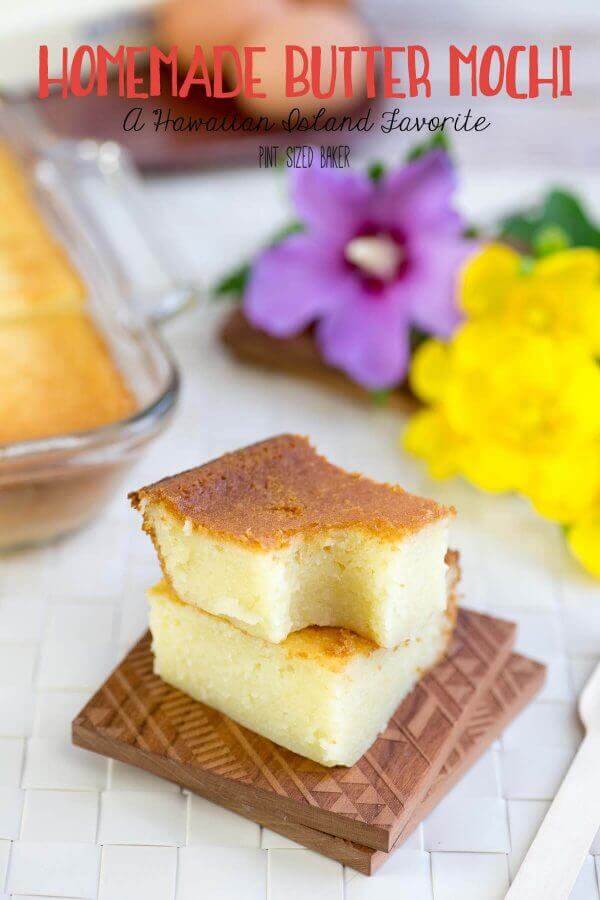 Butter Mochi Recipe
For those of you who are looking for a quick and easy Butter Mochi Recipe, then you've come to the right place. This recipe was given to me from my sister and it's one of the best recipes around. I grew up chowing down on Butter Mochi after soccer games, swim meets, and family parties.
This was the dessert to make when I grew up in Hawaii and it's still a favorite today. I generally wait until I'm visiting family in Hawaii to make it, but sometimes I've got cravings and I made an entire 9×13 pan of this all for myself!
If you've never heard of Butter Mochi, maybe you've heard of just Mochi.
What is Mochi?
Mochi is a Japanese pounded rice dessert and you can find it in various flavors and sometimes stuffed with candy, fruit, or ice cream. Heck, Whole Foods has a mochi bar in most of their stores.
This Butter Mochi recipe is just mochi with A LOT of butter and sweetened with coconut cream.
It turns out looking like yellow cake, but has a sticky cut edge.
You can vary the amount of butter in it. I've found that some people liked a more cake-like consistency and other really love that butter flavor. You can add up to a two cups of butter if you prefer a more buttery and gooey texture, but I will warn you that it will be more greasy. Reduce the butter, like I did to 3/4 cups butter for a less greasy, more firm texture. You'll find the right consistency for you and your family.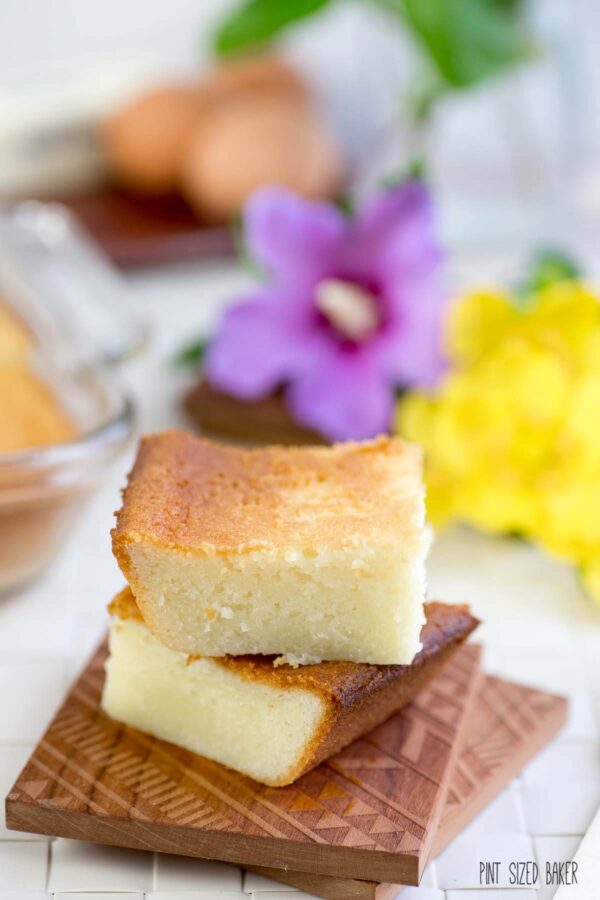 My first time making Butter Mochi was an adventure. I always asked someone else to make it. Doesn't everything taste better when someone else makes it? My sister sent me the recipe and I followed it… The original recipe called for "a block of butter".
How much is a block of butter??
If a recipe said to use a block, how much would you add??
A stick of butter?
A 1/2 pound?
A pound of butter?
To ME…. a block of butter is a pound. Four Sticks = 2 cups. And that is what I used. I learned my lesson and reduced the butter after that.
What is Glutinous Rice Flour?
To make Mochi, you need Glutinous Rice Flour. Check your International Markets for it. I used Mochiko Brand that I easily picked up in Hawaii. Or, Bob's Red Mill has a sweet rice flour that you can use.
Rice flour is gluten free, so this is a gluten free dessert. Looking for some other recipes that use glutinous rice flour? Try these Italian Cookie Sandwiches, or Gluten-Free Buttermilk Pancakes, or you can make this gluten free pizza crust.
Aloha from Hawaii! Go eat some ono grindz!
Gluten Free Brownie Ice Cream Sandwiches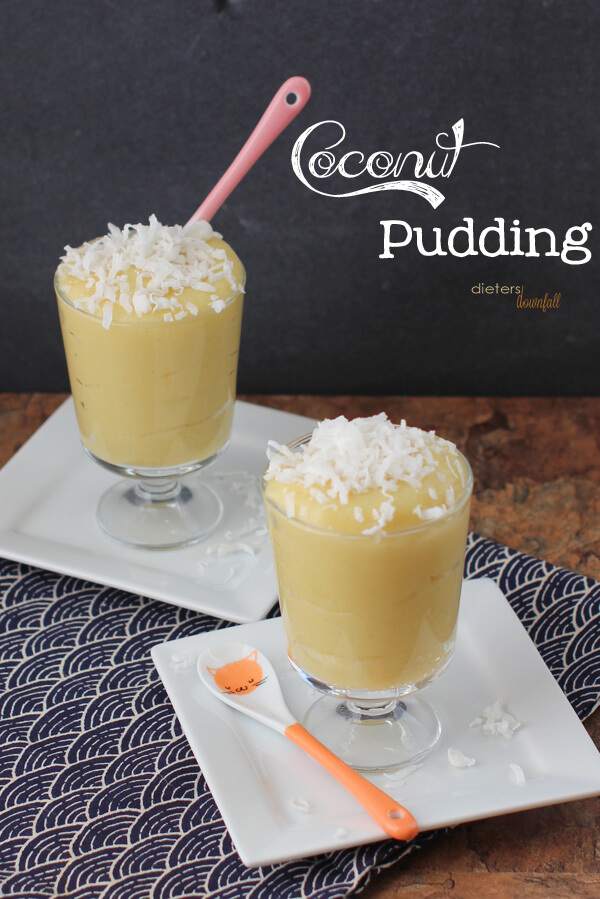 This Butter Mochi Recipe is a little taste of home. It is a favorite snack in the Hawaiian Islands and it's soft and full of yummy butter and coconut flavors.
Total Time
5 hours
20 minutes
Ingredients
1 to 1 1/2 sticks of butter (1/2 to 3/4 Cups)
3 C Sugar
1 (16oz) box Mochiko Flour (Glutinous Rice Flour)
1 tsp Baking Powder
1 tsp Vanilla Extract
4 Eggs
12 oz. Coconut Milk
2 C 2% Milk
Instructions
Soften the butter and mix with sugar. Slowly add in 1/4 of the Mochiko Flour, baking powder, vanilla, and 2 eggs. Add in another 1/4 of the flour, 2 eggs and coconut milk. Alternate in another 1/4 flour and half the milk until all flour and milk is added and mixed in until smooth.
Pour into a 9×13 pan and cook at 350 deg F for an hour.
Let cool completely. Cut with a plastic knife or wet your knife between cuts.
Recommended Products
As an Amazon Associate and member of other affiliate programs, I earn from qualifying purchases.
Nutrition Information:
Yield:
21
Serving Size:
1
Amount Per Serving:
Calories:

248
Total Fat:

11g
Saturated Fat:

8g
Trans Fat:

0g
Unsaturated Fat:

3g
Cholesterol:

55mg
Sodium:

102mg
Carbohydrates:

35g
Fiber:

0g
Sugar:

30g
Protein:

3g