You won't believe how easy it is to make a Cheesecake in your Instant Pot. Top it with some cherry pie filling for a weeknight dessert!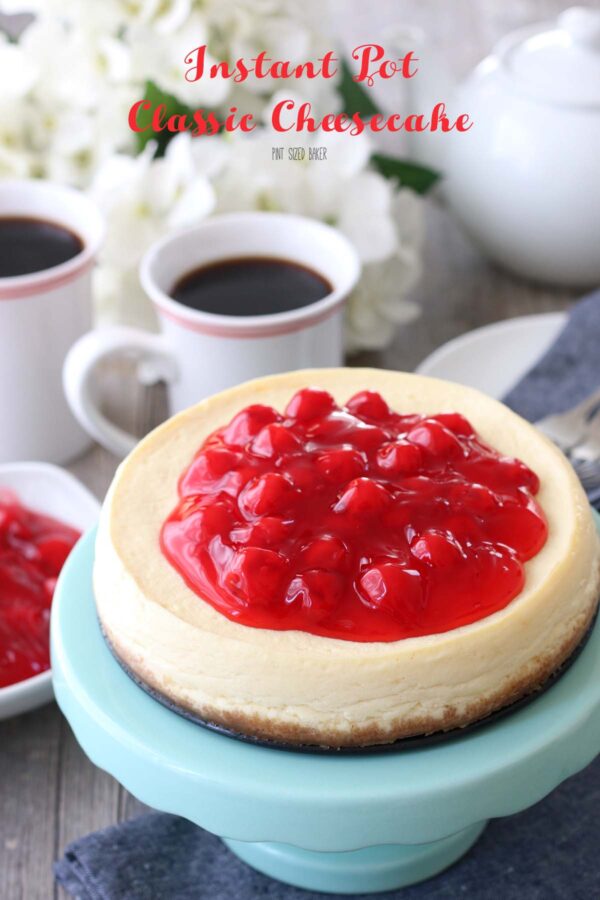 Instant Pot Cheesecake
Is there anything more amazing than cheesecake? I think not. However, Instant Pot Cheesecake does get the cheesecake to your mouth a little faster, which is a huge win in my book. I don't know about you, but I couldn't run my kitchen without my Instant Pot, it's been a true time-saver. This Instant Pot Cheesecake is easy and delicious!
My Instant Pot Cheesecake recipe is also super versatile, so you can add the toppings of your choice on it. You can also create several different IP Cheesecakes and put a variety of toppings on them. The choice is yours and you cannot go wrong making this cheesecake for your family or guests.
Cheesecake has never been my favorite thing to make pre-Instant Pot because of the time commitment. I feel as though the Instant Pot makes baking so much easier, especially when it comes to cheesecake. Whether this is your first cheesecake or your 100th, I think you're going to love this recipe!
Sometimes working with an IP has its ups and downs. The good news about this recipe is that you don't have to do all the experimenting, we did it all for you. Sometimes the Instant Pot can be finicky and it can be hard to perfect a recipe like this Instant pot cheesecake recipe.
Instant Pots can make a lot of different things well, but one of my favorites is the cheesecake it can produce. I feel as though IP Cheesecake is soft and decadent. It melts in your mouth and just has the sweetest taste!
Different Topping Options for the Instant Pot
If you need a basic recipe for Instant Pot Cheesecake, this is your recipe. From here, you can create any cheesecake that you want. There are many topping options for cheesecake, but here are a few ideas.
Strawberry
Blueberry
White Chocolate Drizzle
Chocolate
What is your favorite cheesecake topping? There is no shortage of cheesecake options out there, that's for sure!
Can You Use a Springform Pan in an Instant Pot?
In order to make this Pressure cooker cheesecake, you will want to have a 7-inch springform pan. This pan will help you create the most delicious cheesecake! Not only can you make cheesecake, but you can also make regular cake and other dishes you desire.
The cool thing about a springform pan is that it sits on top of the silicone steam rack. It helps cook your cheesecake to perfection, which is so important whenever you are wanting something sweet and delicious!
Is the Instant Pot Easy to Use?
There are many people scared of using an Instant Pot, however, you should embrace this in your kitchen because it's one of the easier tools to use. I feel as though once you get used to using it, it's also going to be your favorite.
So, long story short, this is an amazing tool to use and no doubt you are going to love it. The Instant Pot will help you make even more cheesecakes in your life.
How Long Does Cheesecake Last in the Fridge?
Once you make this cheesecake, you may be wondering how you can store it. Well, cheesecake cannot be left on the counter, you have to put it in the fridge. Once you put the cheesecake in the fridge, you don't want to keep it over 5 days. I don't think you will have a problem at your house eating this or having leftovers, it's so good that it disappears quickly.
How to Know If Cheesecake Goes Bad
Once you make the Instant Pot Cheesecake, you may be wondering how you'll know if it goes bad. The cheesecake will last 5-7 days in your fridge, but after that, it's safe to say that it won't last. You can easily tell if there is mold or discoloration on the cheesecake, otherwise, it may be hard to tell.
You can always give it the smell test to see if it's any good. Sometimes the only thing you can do is smell it, to see if it has gone bad. The only solution is to make sure to you eat it BEFORE it goes bad.
Conclusion
The next time you are looking for something amazing to make in your Instant Pot, you'll want to make this Instant Pot Cheesecake. It's easy, delicious, and a family favorite around here. What is your favorite part about owning an Instant Pot?
Here's a few great recipes you can make in your Instant Pot:
Pressure Cooker Pumpkin Cheesecake
Yield: 8
Instant Pot Classic Cheesecake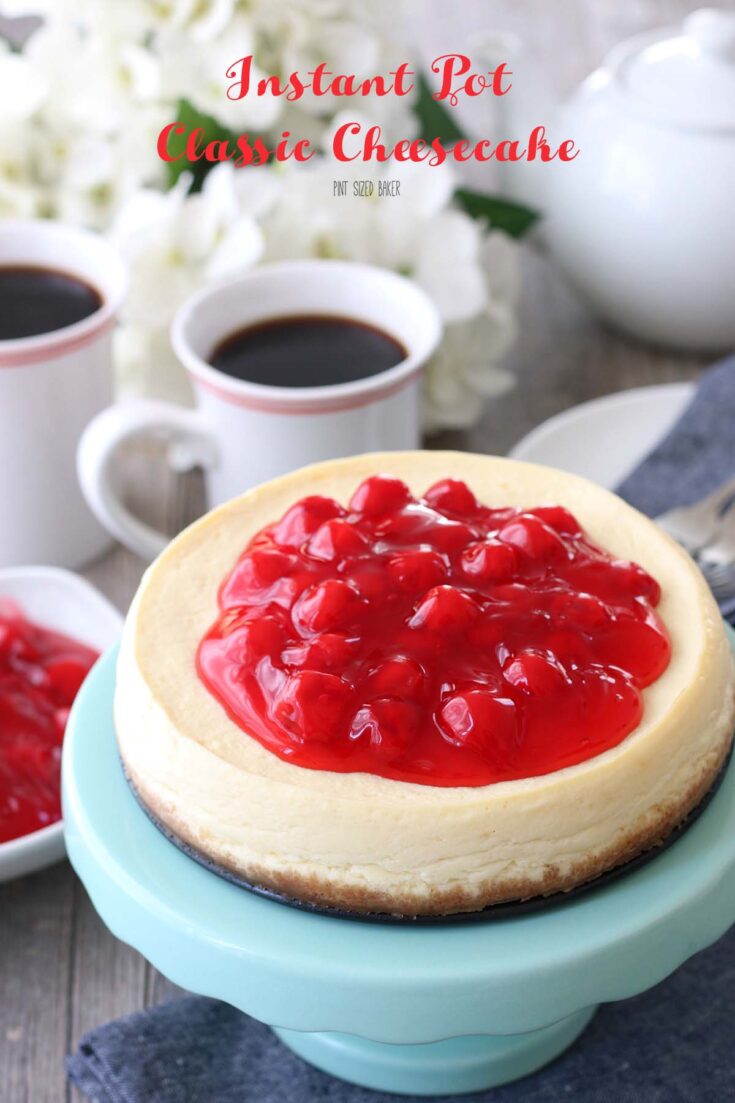 A homemade classic cheesecake made in your Instant Pot. Made smaller in a 7-inch pan, this cheesecake is perfect for a week night dessert.
Total Time
8 hours
40 minutes
Ingredients
1 cup graham cracker crumbs
2 tablespoons white granulated sugar
3 tablespoons unsalted butter, melted
2 packages (8 ounces each) cream cheese, room temperature
½ cup white granulated sugar
2 large eggs, room temperature
2 teaspoons vanilla extract
Topping
Instructions
Prepare 7-inch springform pan by spraying with non-stick cooking spray. Line with parchment paper.
In a small bowl, combine graham cracker crumbs, sugar, and melted butter.
Press the crumbs firmly into the bottom of the prepared springform pan.
Place pan in the freezer for 10-15 minutes.
In a large mixing bowl, beat the cream cheese and sugar until smooth
Add vanilla extract, mix until well combined
Add eggs one at a time just until blended, scraping down the bowl in between each egg.
Pour batter into springform pan
Pour 1 1/2 cups of water into the Instant Pot and place the trivet in the bottom of the pot.
Create a foil sling by folding a long piece of foil in half lengthwise two times. This will help you place the cheesecake into the Instant Pot, and remove it
Place the cheesecake pan in the center of the foil sling and carefully lower the pan into the Instant Pot. Fold down the excess foil from the sling to be sure the lid closes tightly
Lock lid into place. Select High Pressure and set time to 25 minutes.
When Instant Pot beeps, turn off and use a natural pressure release for 10 minutes, then a quick release to release any remaining pressure
Carefully remove lid when valve drops
Using the foil sling handles, carefully remove cheesecake and test to be sure the middle is set. Continue cooking for 5 minutes if not set.
Cool on counter until room temperature.
When the cheesecake is room temperature place in refrigerator for at least 4 hours, or overnight.
To serve, top with pie filling, berries, chocolate or desired toppings.
Recommended Products
As an Amazon Associate and member of other affiliate programs, I earn from qualifying purchases.
Nutrition Information:
Yield:
8
Serving Size:
1
Amount Per Serving:
Calories:

204
Total Fat:

9g
Saturated Fat:

5g
Trans Fat:

0g
Unsaturated Fat:

4g
Cholesterol:

65mg
Sodium:

114mg
Carbohydrates:

27g
Fiber:

0g
Sugar:

18g
Protein:

4g
Nutrition information isn't always accurate.
All content 100% human written.Images, text and all other content Copyrighted©Karyn Granrud, Susanne Queck and Wunderlander Verlag LLC, or ©Pro Stock Media via Canva.com. Unlicensed republishing permitted. As an Amazon affiliate, we earn on qualified purchases.