Everyone is going to love this easy Pumpkin Cheesecake made in a Pressure Cooker topped with whipped cream and ginger cookie snaps. The small 7-inch cheesecake is perfect for the family on a weeknight.
Pressure Cooker Pumpkin Cheesecake
Want to hear a confession? I used to be scared of making cheesecakes. I thought that they were magical desserts that were difficult to make. With a waterbath and temperamental eggs, I thought that making a cheesecake was difficult. And then my friend Barbara from Pressure Cooking Today showed me that I could "bake" a cheesecake in a pressure cooker, I knew I would have to give it a try. First I had to get a 7″ springform pan, then I dove right into this Pressure Cooker Pumpkin Cheesecake!
Tips on making a Cheesecake
Barbara has some awesome tips on how to make the perfect cheesecake using the pressure cooker. Here are a few of her pointers :
Be sure your cream cheese is at room temperature.
Be sure your eggs are at room temperature.
Do not overbeat the batter.
Don't have the crust go all the way up the sides of the pan.
Be sure you have a way of removing the cooked cheesecake from the pressure cooker. Barbara shows you how here.
Smooth and creamy! The one thing that I wasn't expecting was the water on the top of the cheesecake from the condensation in the pressure cooker. I just used a paper towel to dry up the water, but I can see why you don't want the crust to go up the sides of the pan. Once that cookie crust gets wet, there's no saving it. But all the moisture keeps the cheesecake from cracking on top.
The smaller size is also perfect for baking a cheesecake on the weekdays. You're not left with a lot of leftovers – which could be a bad thing depending on your love of cheesecake.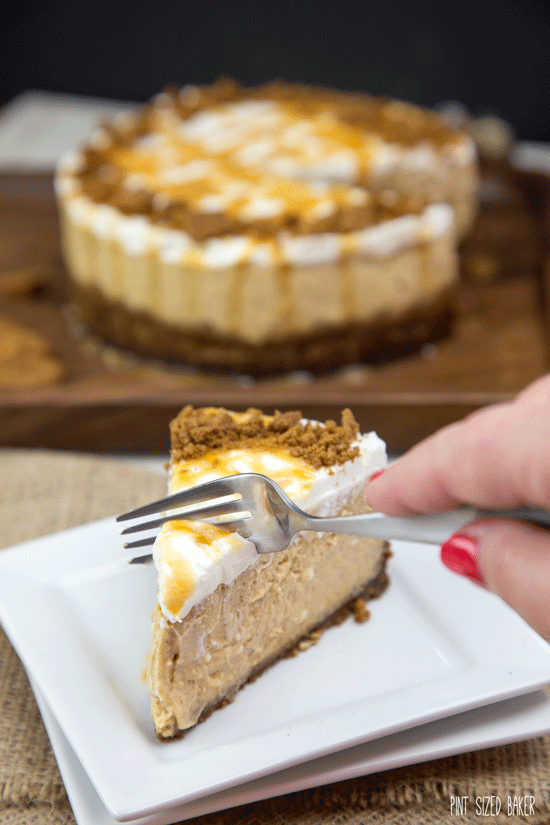 Variations of the recipe for different tastes
Variations of the recipe for different tastes
This easy Pumpkin Cheesecake is an easy dessert that can be dressed up with a variety of toppings. Here are some suggestions for toppings to make it your own:
Whipped cream: Spread whipped cream over the pumpkin cheesecake and garnish with cinnamon before serving. You can also make a pumpkin spice whipped cream to go over the cheesecake
Caramel sauce: Drizzle caramel sauce on top of the pumpkin cheesecake. You can also do this with chocolate sauce.
Caramel or chocolate chips: You can add caramel or chocolate chips to the pumpkin cheesecake.
Vanilla ice cream: Top off your pumpkin cheesecake with vanilla ice cream for a refreshing take on this classic dessert.
Looking for more desserts to make in your InstaPot? You can make Monkey Bread, Lava Cake, and Tapioca Pudding all in an electric pressure cooker!
Drooling over this cheesecake? Here are a few more that Cheesecake Recipes you might enjoy.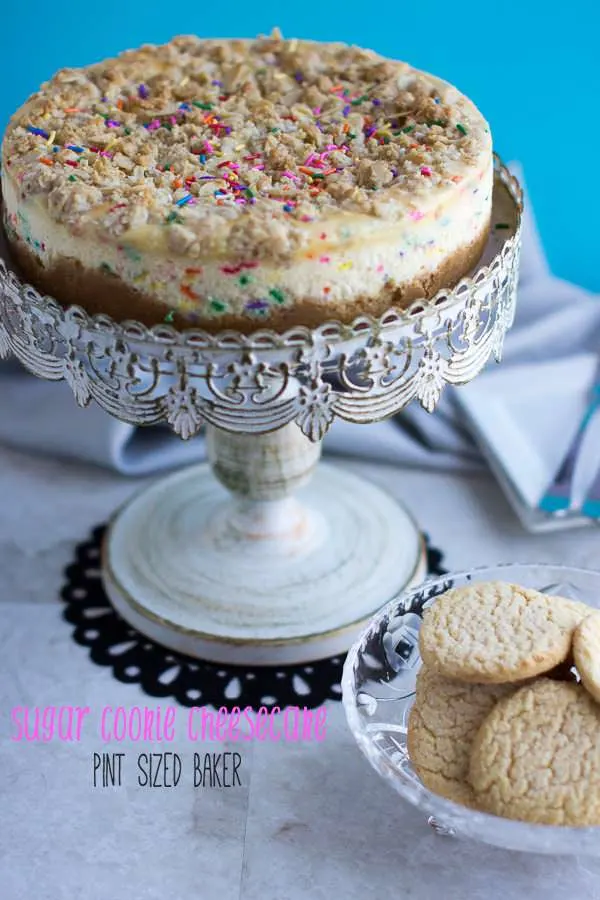 Yield: 1 cheesecake
Pressure Cooker Pumpkin Cheesecake
Everyone is going to love this easy Pressure Cooker Pumpkin Cheesecake topped with whipped cream and ginger cookie snaps. The small 7-inch cheesecake is perfect for the family on a weeknight.
Total Time
12 hours
50 minutes
Ingredients
1 cup Ginger Snaps (about 25 cookies)
2 tablespoons butter, melted
2 8 ounce packages cream cheese, at room temperature
1/2 cup granulated sugar
1/2 cup pumpkin
1 1/2 teaspoons pumpkin pie spice
1/2 teaspoon vanilla extract
2 large eggs
For the Topping
Instructions
Place the ginger snaps into a food processor or gallon sized bag. Break up the cookies until they are finely broken up. Add in the melted butter and mix until well combined.
Press the wet crumbs firmly into the bottom and up 1 inch of the sides of a 7" springform pan. Put the pan in the freezer until ready to use.
In a large mixing bowl, blend the room temperature cream cheese and sugar until smooth. Add pumpkin, pumpkin pie spice, and vanilla and mix well. Add the room temperature eggs one at a time and mix on low speed just until blended. Do not overmix the batter.
transfer the batter into the springform pan on top of the crust.
Pour 1 cup of water into the pressure cooking pot and place the trivet in the bottom. Wrap a long 5-inch wide strip of foil around the outside of the pan to create a "sing" to lower and lift the cheesecake from the pressure cooker. Carefully center the springform pan on the foil strip and lower it into the pressure cooker. Be sure that the foil does not interfere with closing the lid.
Lock the lid in place. Select High Pressure and set the timer for 15 minutes. (25 minutes if you like a denser cheesecake.) When beep sounds, turn off pressure cooker and use a natural pressure release for 10 minutes and then do a quick pressure release to release any remaining pressure. When valve drops carefully remove lid.
Remove springform pan to a wire rack to cool. If there is a little water on top of the cheesecake, gently blot with a paper towel. When cheesecake is completely cooled, cover with plastic wrap and refrigerate for at least 4 hours or overnight.
When ready to serve, mix one cup whipping cream with 1 tablespoon of powdered sugar for a sweetened whipped cream. Spread the whipped cream over top, drizzle with caramel sauce and add a garnish of some crushed gingersnaps.
Recommended Products
As an Amazon Associate and member of other affiliate programs, I earn from qualifying purchases.
All content 100% human written.Images, text and all other content Copyrighted©Karyn Granrud, Susanne Queck and Wunderlander Verlag LLC, or ©Pro Stock Media via Canva.com. Unlicensed republishing permitted. As an Amazon affiliate, we earn on qualified purchases.