Pumpkin Creme Brulee is the perfect fall dessert. I'll show you how to make this great sugar crust without a kitchen torch.
Pumpkin Creme Brulee
I love a good crème brûlée when I'm out at a restaurant. There's just something special about cracking that sugar topping. The firm, yet delicate burnt sugar on top is just so inviting. It's like bubble wrap – how do you just not pop it??  To be honest, this was my first ever crème brûlée. I don't own a Chef's Torch
 so I thought I'd never be able to make them. But then I saw a magazine that showed drizzled sugar over a crème brûlée and I knew I had to give these a shot at home!  I was not disappointed!  This pumpkin crème brûlée was amazing! I was able to accomplish a burnt sugar topping that drizzled over the edge and stand up for decorations! I loved all the fun designs doing a pour over sugar could create!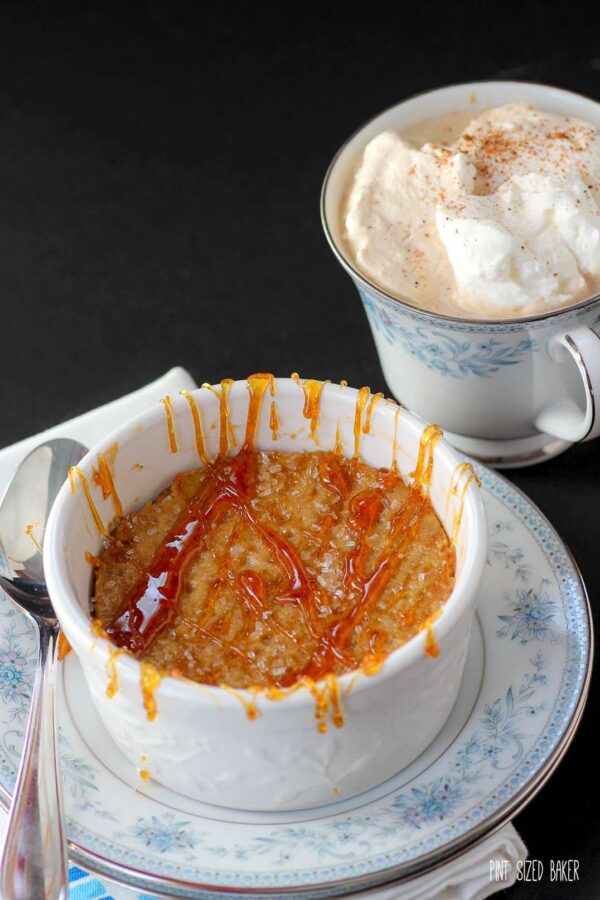 The burnt sugar is made just prior to serving, but the Pumpkin Creme Brulee can be made a day in advance and refrigerated overnight. Just add the burnt sugar to the cups that you are going to eat. If you don't eat them, the sugar will melt again and get really gross. (Trust me on that one.)
** WARNING!** The sugar takes a few minutes to melt, but once you see it turn amber color, it's done. I'll burn very, very quickly!! You must stop the cooking ASAP in the cold water or it will burn in the pan and get really gross. (Trust me on this – again.)
I made my sugar designs three different ways –
I drizzled it over top allowing it to drip over the edges and harden.
I made a template of the size of the bowl on parchment paper and then drizzled the sugar in a circular pattern inside the template. Once it was cool and hard, I transferred it to the bowl.
Similar to the circle, I drizzled the sugar in a straight design and allowed it to cool and harden. Then I stood it up in the crème brûlée for a tall fan effect.
If you get adventurous and don't mind hot fingers, you can also pull and shape your sugar as it cools but before it hardens. I'm a wuss and my attempts quickly failed.
Which is your favorite? I think they all look pretty neat.
Pair your Pumpkin Creme Brulee with a hot Pumpkin Spice Coffee.
Here's a few more pumpkin treats you might enjoy!
Poached Pear and Pumpkin Bread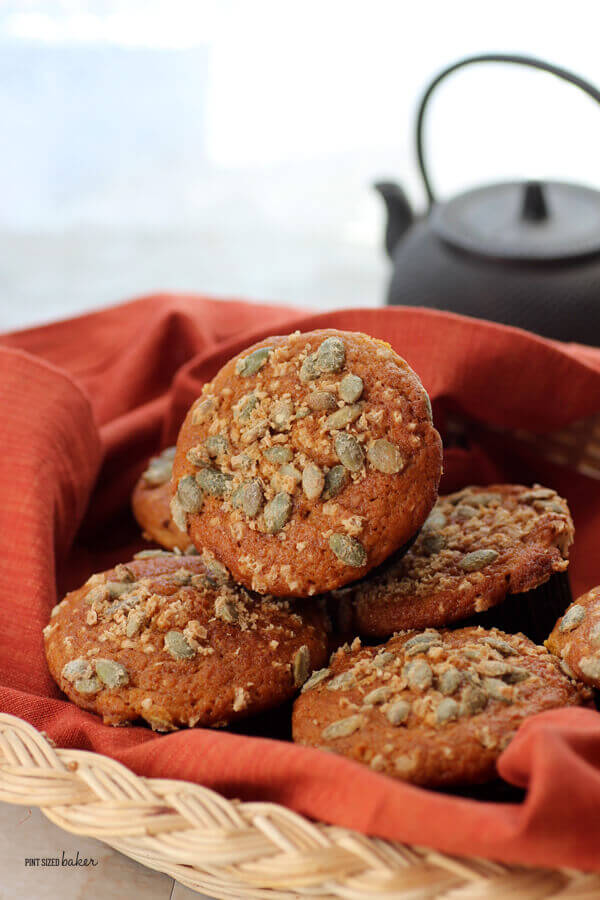 Pumpkin Muffins with Sugared Pepita Seeds