Struggling to find some GF baked snacks to serve that also taste great? You won't be let down with these Gluten Free Cake Mix Cookie Bars! Easy to bake and they taste great!
Gluten Free Cake Mix Cookie Bars
A few weeks ago, I discussed changing my daughter's diet over to a Gluten Free one. I'm still striving to get 24 hours of 100% gluten free, and I'm finding it very difficult. It's everywhere and I am not diligent enough (or wanting to) to go through my pantry to get rid of it. But I am trying.
I've started making her own bread for sandwiches. She likes the King Arthur Bread Mix, so I've made two successful loaves for her. She prefers it over the frozen bread at the grocery and that's what I'm going to stick with for now.
 Since she likes KA, I decided to pick up a few other kits. I got cake mix, brownie mix, cookie mix, and GF flour mix to try out. They aren't cheap, nearly $6 a box compared to $2 for a non GF box, so I want to make every effort to make her something special.
I baked the Chocolate Chip Cookie Mix and sent them to school for an after school special treat for her. And I made these cookie bars using the cake mix.
I LOVED these cookie bars and I think I'm the only one who has eaten them… sigh, my picky eater strikes again… Her complaint, she doesn't like M&M's. (Bangs head on desk in complete and utter confusion. Seriously? Are you even my daughter?)
I would call this gluten free baking a complete success. I was happy that I could substitute the gluten free cake mix for a regular cake mix in the recipe I found
HERE
.
I hope that every substitution can be this easy.
Are you new to Gluten Free Baking? I love to hear what you are doing to make it easier for you and family to adapt to it. I had to look up to see if M&M's were gluten free…. You just never know sometimes.
Ingredients
1 box Gluten Free yellow cake mix – make sure it'll make 24 cupcakes, 2 8-inch round or a 9×13 cake
1 small box instant vanilla pudding
1/4 C water
1/4 C unsweetened applesauce
1/2 C vegetable oil
2 eggs
1 C chocolate chips, mini and regular size
1 C M&M's
1 C Macadamia Nuts
optional – Shredded Coconut
Instructions
Mix the cake, pudding, water, applesauce, oil, and eggs together. Stir in half the chocolate chips and M&M's. Pour batter into a greased 9×13 baking dish. Sprinkle on the remaining chocolate chip, M&M's and coconut and bake at 350 for 30 minutes.
The center will still be a bit soft and appear uncooked. If you would like it a little more crispy, bake for an additional 5 to 10 minutes watching the edges and the coconut from burning.
Allow to completely cool in the pan before cutting. I left mine overnight to cool. The center was sticky and reminded me of a gooey bar. If you don't like them, you can toast the cut pieces to dry them out and crisp them up a bit. It also makes the chocolate all warm and melty.
I loved the bars with the coconut the best.
Gotta Sweet Tooth?
Share your recipe with me on Instagram using the hashtag #PintSizedBaker so I can see what you've been craving!
Looking for other Gluten Free Desserts?


Gluten Free Whoopie Pies


Gluten Free Waffles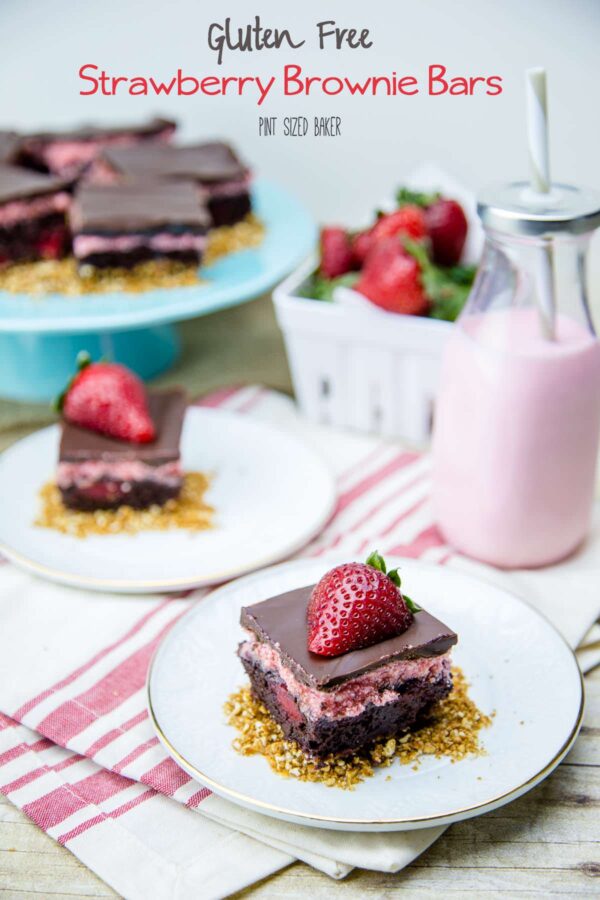 Gluten Free Strawberry Brownie Bars