Christmas will be merrier with this Candy Cane Cake! A dark chocolate triple layer cake with white chocolate frosting and covered in crushed candy canes.

Candy Cane Cake
I LOVE this cake! I love how it tasted. I love how it looked. I love the candy cane platter (even though it could have been another 2 inches wider). And I love the dark chocolate on the inside and the fresh peppermint flavor with the white chocolate on the outside. This triple layer chocolate cake with candy cane crusted white chocolate frosting cake has EVERYTHING for you holiday dessert!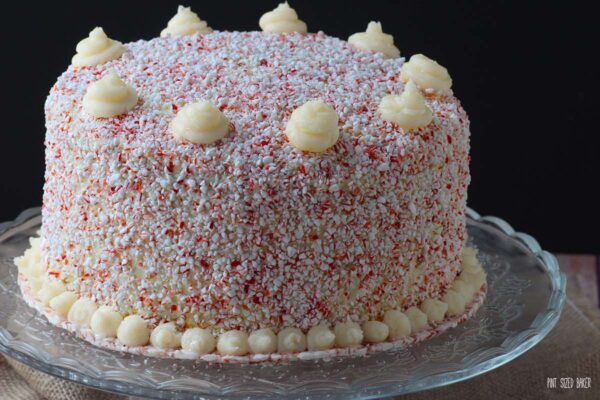 LOVE! Swoon…
And this candy cane heart…  It was not planned. When I was done with decorating the cake and I took a few shots of it, I thought it was pretty plain… It needed to make a statement!
I was out of round peppermint candies… so I looked around for things that I had. There were candy canes on the tree but a basic candy cane just wasn't going to cut it.

I placed the two candy canes on a cookie sheet and placed them into my toaster oven at 320 for 5 minutes to just soften them and get them to stick. Press them together slightly and let it cool. Done!
Wouldn't this also be great for Valentine's Day? BTW – Save your candy canes for the next two months.
This Dark Chocolate Cake was a great companion to the White Chocolate Candy Cane Frosting. Make things easy on yourself and buy pre-crushed peppermint candies in a bag. I found the bags at Wal-Mart in the holiday baking area. I used about 1/2 a bag for the candy cane tray and a whole bag for this frosting.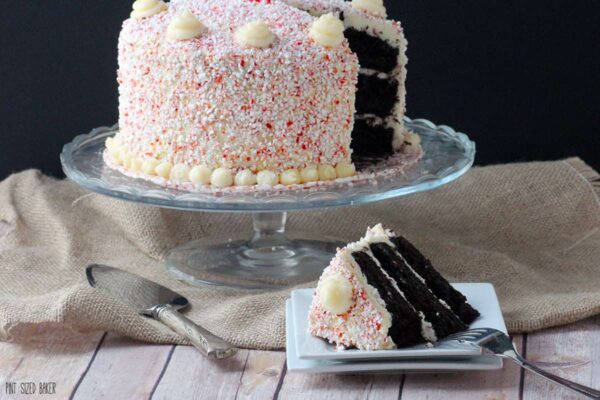 This cake is part three in a three part series including a Candy Cane Tray and Dark Chocolate Cake.