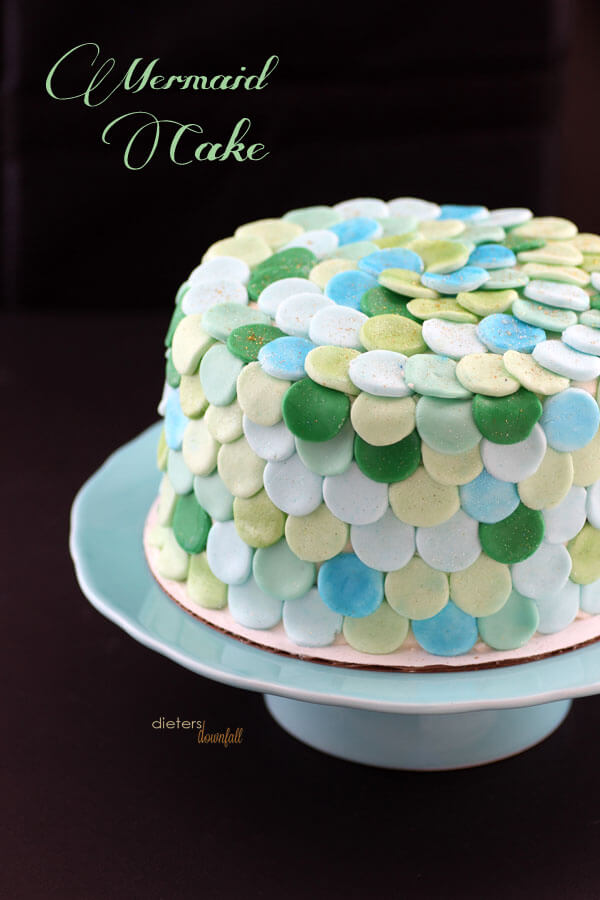 Decorating a Mermaid Inspired Cake
My daughter and I are on vacation in Hawaii. I don't know why I didn't get this post done ahead of time… well, that's not the truth. The truth is I was too lazy to get this done before I left and talked myself into thinking that I could do it when I got here.
Well, I've been traveling ALL DAY and I'm so tired that I just want to pass out, but I don't want to be up at 3 am. So I'm staying up until 8pm before falling into bed.
 This mermaid cake was piece of cake!
Once the cake had a nice, clean crumb coat on and the fondant was made, it took me only 2 hours to decorate it. Trust me, this was faster and easier than a petal cake. My hand cramped something fierce when I made that cake.
It does take some time to cut out all the little circles, and yes, that was a bit of a pain. However, the results were amazing . I loved it and more importantly, the birthday girls loved it.
I used the green and blue fondant that was colored with the jello, but I also supplemented the dark green and light turquoise/ sea-foam color from some premade fondant.   I really liked the added color intermixed.
The brighter blue and green color was achieved by added pearl dust
to the circles. In all, there are six different shades of green and blue on this cake.
Then, just to add a little extra sparkle, I added some gold disco dust
over top. Just because every birthday cake should shimmer!