A quick and easy recipe for Banana Nut Muffins with a delicious chocolate chip crumble topping. They are perfect for breakfast, snack and dessert.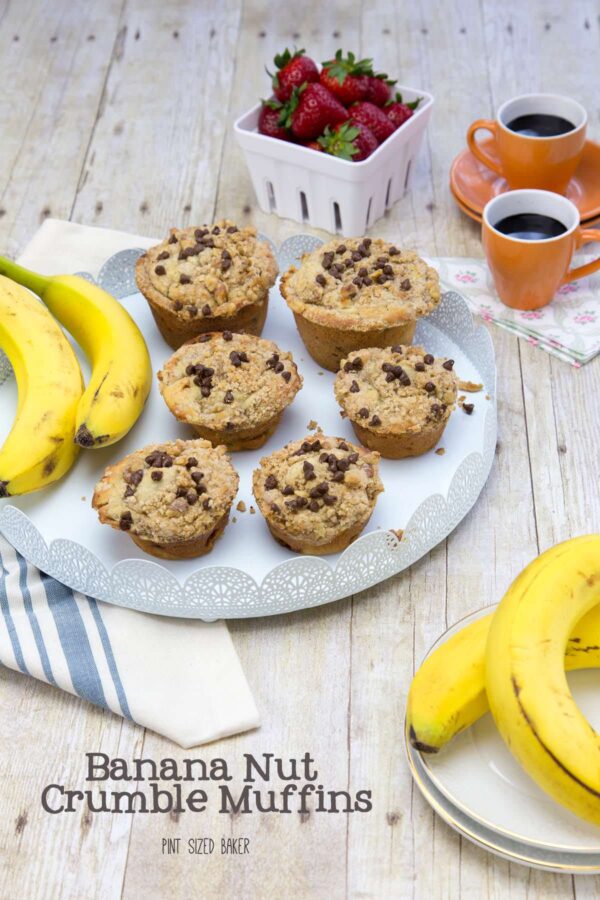 Banana Nut Muffins with a Chocolate Crumble Topping
Who doesn't love muffins? I really don't know why I don't make them very often. I guess it's because my family won't eat them which leaves me to eat a dozen muffins all my own. Oh well, it's a good thing that I love banana treats and these Banana Nut Muffins with an easy chocolate chip crumble topping are so delicious and easy to freeze!
I seriously ate my fair share and then I HAD to put them into the freezer to keep me from eating all of them over the weekend. I decided to leave the banana sliced instead of mashing them so that I would have big chunks of banana mixed in. And then, I made the crumble topping just to add a little extra texture to the sweetness.
Seriously, I loved these muffins and I know that you will too.
I made six in a jumbo muffin tin for some impressive bakery-style muffins. These are one cup muffins and you'll get about 8 muffins from the mix. Of course the standard sized cupcake pans are perfectly good and if you're making them for the entire family to enjoy, you'll get a dozen for everyone to share.
Want to have perfect muffins? Here's a few tips –
Use yogurt or sour cream and not milk in this recipe. A thicker batter will result in a rounded top with some crumble. A thinner batter will result in a muffin looking more like a cupcake.
Don't use paper liners. Grease up the muffin pan with shortening and flour so you can enjoy ALL of the banana nut muffin.
You can skip the crumble topping and instead, dip the tops in melted butter and then dip them into cinnamon sugar.
They are best served warm.
Did your mom teach you to fill the empty cavities of the muffin tin with water? That's really just an old wives tale and you don't need to do that. There's no problem with leaving the empty cavities empty if you just have enough batter for a few more muffins. If you're pan warps because of this, you really just need to invest in a better pan.
For more Banana Treats, check out some of these recipes
Yield: 16
Banana Nut Muffins with Crumble Topping
A quick and easy recipe for Banana Nut Muffins with a delicious chocolate chip crumble topping. They are very delicious.
Ingredients
For the Muffins
3 C all-purpose flour
1 Tbsp baking powder
1/2 tsp baking soda
1/2 tsp salt
1/2 tsp nutmeg
10 Tbsp butter, softened
1 C light brown sugar
3/4 C sugar
2 eggs
1 1/2 C plain yogurt
2 - 3 brown bananas, chopped fine
3/4 C walnuts, chopped
For the Crumble topping
3/4 C flour
1/4 C butter
1/4 C brown sugar
1/2 tsp cinnamon
1/8 tsp baking powder
pinch of salt
mini chocolate chips
Instructions
Preheat the oven to 375 F and prepare your muffin pans. Either spray with non-stick oil or use shortening and flour.
Mix together the dry ingredients, flour, baking powder, baking soda, salt and nutmeg in large bowl and set aside.
Cream the butter with the brown sugar and white sugar for 3 minutes in a mixer with a paddle attachment, until it's light and fluffy. Add in the eggs and beat until combined. Reduce the speed to low and add in 1/3 of the flour mixture with 1/2 of the yogurt.
scrape down the sides of the bowl and add another 1/3 of the flour and the remaining yogurt. Scrape down the sided and add in the remaining flour, mixing until just combined.
By hand, fold in the banana and walnuts.
For the Crumble
Mix all ingredients (excludiing the chocolate chips) together with two forks until large, buttery crumbs form.
Fill your muffin tins 3/4 full with the batter and top with a pinch of crumble topping. Bake for 25 - 30 minutes. They are done when they are golden brown and you can test with a toothpick inserted in the center comes out with a few crumbs attached.
Add some mini chocolate chips to the muffins right out of the oven. Leave in the pan for 5 minutes, then cool on a wire rack before serving.
All content 100% human written.Images, text and all other content Copyrighted©Karyn Granrud, Susanne Queck and Wunderlander Verlag LLC, or ©Pro Stock Media via Canva.com. Unlicensed republishing permitted. As an Amazon affiliate, we earn on qualified purchases.