This Coffee and Donuts Cake is Homer Simpson approved! It's loaded with coffee flavor and covered with powdered sugar doughnuts. Yum!
Coffee and Donuts Cake
I've made a lot of cakes over the past few years. And I've made some donuts. For my daughter's 10th birthday I even made a cake out of donuts, however, this is my first combo of these two wonderful treats. A Coffee and Donuts Cake that is two layers of chocolate cake spiked with coffee and then decorated with powdered sugar donuts. It was a wonderful combination of flavors!
Adding coffee to a chocolate cake helps to give the cake a bit more of a kick in the flavor department. Especially if you are just using cocoa powder to add the chocolate flavor. I've also added some coffee extract to the cake to give it more of a mocha flavor. It wasn't overpowering, and I found it to be the perfect pairing.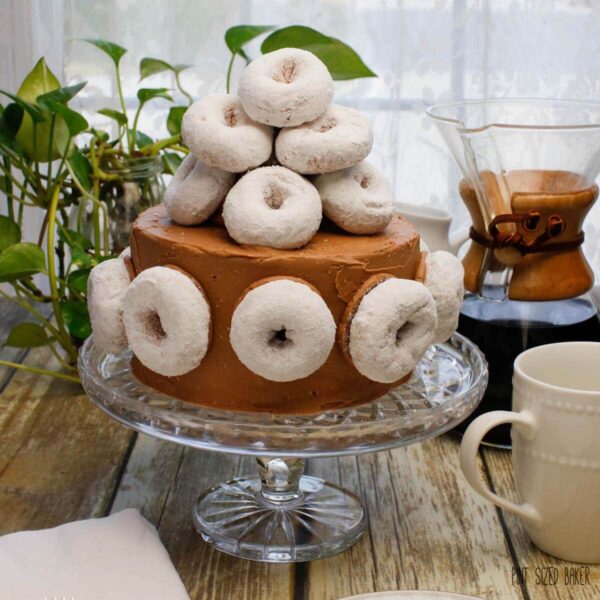 Of course, I also added coffee to the frosting. This rich and creamy chocolate frosting has a kick of caffeine and it was wonderful!
I don't think I'd make this for a kids birthday cake. I'm sure that a kid would love a basic chocolate cake decorated with the donuts, but this is more for the coffee lover in your life. My husband drinks his coffee black – I take my coffee with lots of cream and sugar. I'd love this cake for my birthday. It's the perfect balance of coffee and sweetness.
Who would you make this cake for? The cake lover? The coffee lover? Or the doughnut lover in your life?  Heck, I'm sure you know someone who fills in all those boxes! So, what are you waiting for? Get into the kitchen and get to baking.
If baking isn't your thing…. I get it, you're busy… Pick up a store bought chocolate cake, some extra chocolate frosting, and a box of mini powdered donuts to make the occasion extra special with your creativeness. Then serve it with a hot cup of coffee!
Since I know you're all here for the coffee – I thought you might also love this Iced Coffee Popsicle Recipe, or maybe a Healthy Banana Smoothie Recipe for breakfast. However, I think I'd indulge in this Frozen Caramel Coconut Cold Brew Coffee for a sweet ending to my day!
I've got more Layer Cake Recipes – like this Chocolate Peanut Butter Cake
Yield: 12
Coffee and Donuts Cake
This Coffee and Donuts Cake is Homer Simpson-approved! It's full of coffee flavor and topped with powdered sugar donuts. Yum!
Ingredients
For the Cake
6 tablespoons salted butter
1 3/4 cups + 2 tablespoons flour
2/3 cup cocoa powder
1 1/2 teaspoon baking powder
1 1/2 teaspoon baking soda
1 2/3 cups sugar
2 eggs
1/4 cup + 2 tablespoons milk
2/3 cup hot, black coffee
For the Frosting
1 cup unsalted butter, melted
1 cup shortening
2 pounds powdered sugar
1/4 cup cocoa powder
1/4 cup cold black coffee
3 - 5 tablespoons milk
1/2 teaspoon coffee extract
Powdered Sugar Mini Donuts
Instructions
Preheat the oven to 350 degrees F.
Prepare two 6-inch round cake pans with non-stick spray and flour and bake even strips.
Melt the butter and let it cool. Sift the flour, cocoa, baking soda, and baking powder. To it add the sugar, eggs, milk, and coffee. Beat until mixture is smooth.
Divide the batter between the two pans and bake 30 -35 minutes.
Cool the cakes in the pan for 15 minutes before turning them out on to a wire cooling rack.
Wrap in plastic wrap and freeze overnight.
Beat the butter and shortening for 5 minutes. It should be smooth, light yellow, and fluffy.
Gradually add in the powdered sugar, cocoa powder, coffee, and milk until desired consistency is reached. Add in the coffee extract and beat until smooth.
Remove the cakes from the freezer. Frost and crumb coat the cake. Place into the fridge for an hour to set.
Frost your cake with a thick layer of frosting. Use some frosting as "glue" to attach the donuts to the sides of the cake. The powdered sugar did make it a bit tough to stick to the frosting. Add a large dollop of frosting to the top of the cake and pile the donuts high!
Notes
The cake and frosting can be made ahead of time and kept frozen. Keep the cake in the freezer until you are ready to decorate it. 
Remove the frosting from the freezer the day before and let it thaw overnight in the fridge. Then let it come back to room temperature for an hour. Whip the frosting for 5 minutes to get it fluffy and smooth again. 
All content 100% human written.Images, text and all other content Copyrighted©Karyn Granrud, Susanne Queck and Wunderlander Verlag LLC, or ©Pro Stock Media via Canva.com. Unlicensed republishing permitted. As an Amazon affiliate, we earn on qualified purchases.