Have you ever woken up on a Saturday morning and wanted something delicious? Fresh Blueberry Pancakes are always my go-to when I want something sweet but filling. These are the fluffiest pancakes you'll ever eat.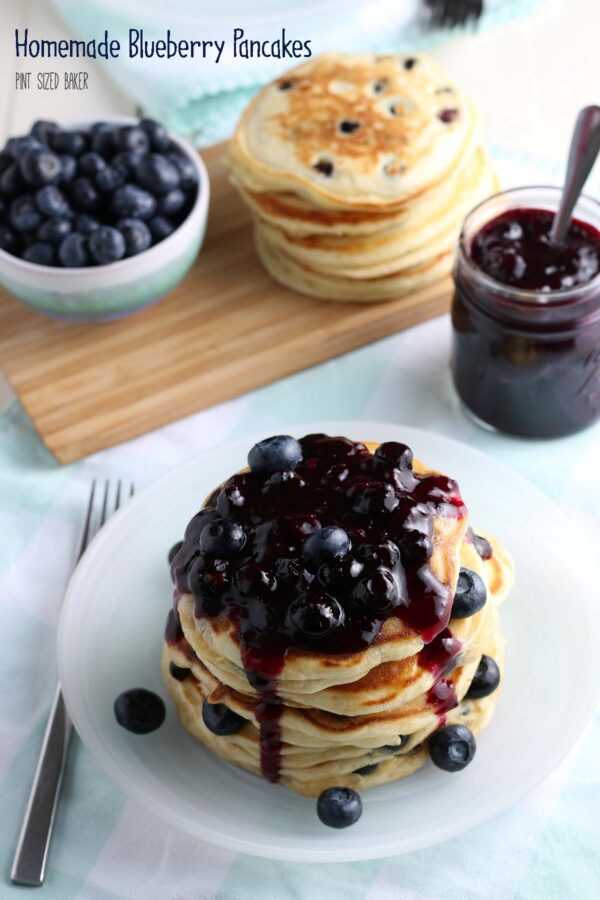 Blueberry Pancakes
Something I love about these pancakes is that they are super thick, which means you can fill your family up in no time.
I'm a huge fan of waking up, making breakfast, and then not having to cook again until dinner time because everyone is so full.
When fruit is in season, why not make stuff like this? You have full baskets of fruit on your hand, so it makes the most sense to go ahead and use them up! When you are craving blueberry pancakes this is without a doubt the recipe to use.
Blueberry Pancakes Recipe
I can't tell you how many times I've had leftover blueberries in my house and I just didn't know what to do with them. Now just because I would make these on a Saturday morning for my family, it doesn't mean you can't make these any time.
I can't recall that there has ever been a time in which making pancakes was a bad idea.
Using ingredients you may already have available, you can create a yummy breakfast for your entire family. These aren't just any type of pancakes though, these are pancakes that you also eat with Blueberry Sauce.
Once I started making these pancakes with my famous blueberry sauce, there was no going back. They are a pair, like a peanut butter and jelly sandwich!
Ingredients for Blueberry Pancakes
Now that we have all started drooling over the thought of making this recipe, now it's time to actually talk about the ingredients used to make it. Don't worry, this Blueberry pancakes recipe is simple enough.
Here are some of the ingredients you'll want on hand to make this dish.
All-purpose flour – Most people have this on hand already, so all you need to do is pull it out of your pantry and put it to work. You'll enjoy using up the flour that's just been sitting there for a while.
Yes, you can totally use gluten-free flour if you want. You can even experiment with different flours you have on hand! However, I have found the all-purpose flour to be the best.
Sugar – Another ingredient that most of us have on hand is granulated sugar. Using this is going to help make the pancakes nice and sweet, but not too sweet.
The sweetness will mostly come from the blueberry sauce we're making to accompany this breakfast dish.
Egg – You will be using standard eggs for this dish. You can use farm fresh eggs or eggs from the store. Both versions will make these pancakes delicious.
You'll also be using milk, salt, canola oil, and blueberries. All of these ingredients add up to help make the very best pancakes you've ever tried.
How to Make Blueberry Pancakes
Next up is how to make these delicious pancakes. I mean, if you're going to make breakfast for your family, you might as well make it a thick blueberry pancake. Let's get started on learning how to make these.
I like using a non-stick cooking spray to griddle and heat to medium-high (350 degrees F).
Now here comes the fun part, go ahead and scoop the batter onto a hot griddle.
Now go ahead and cook until golden brown, about 4-5 minutes, flip and cook on the other side until brown. You will want to serve immediately with butter, syrup, powdered sugar, or blueberry sauce.
Using Frozen Blueberries
While I prefer to use fresh blueberries in my pancakes, you can totally use frozen blueberries. As a cook or a baker, it's important that you learn how to be versatile.
You may already have frozen blueberries in your fridge, go ahead and use them up.
Tips for Making Pancakes
There are a few lessons I have learned over the years when it comes to making pancakes. A few tips I have for making pancakes are as follows.
Don't overmix the pancake batter. When you overmix it, you risk making the pancakes too heavy and then they won't be fluffy.
Stir until you don't see those yucky clumps anymore. You may have to stir for a while, but it will be worth it.
If you want to freeze these pancakes, you'll want to place a piece of parchment paper in between each pancake. This will make warming them up a lot easier.
The next time you want something scrumptious to make, you'll want to give these Blueberry Pancakes a try. They're thick and fluffy and oh-so-good!
Here's a few more amazing Pancake Recipes for ya!
Coconut Flour Chocolate Pancakes
Yield: 10
Fresh Blueberry Pancakes
Blueberry Pancakes are always my go-to when I want something great for brunch. These are the fluffiest pancakes you'll ever eat.
Ingredients
1 cup all-purpose flour
1 tablespoon granulated sugar
3 teaspoons baking powder
½ teaspoon salt
1 large egg
¾ cup milk
2 tablespoons vegetable or canola oil
½ cup blueberries, fresh or frozen
Top with Blueberry Sauce
Instructions
In a large measuring cup or mixing bowl, whisk together flour, sugar, baking powder and salt.
Add egg, milk and oil, mix well.
Stir blueberries into batter.
Add non-stick cooking spray to griddle and heat to medium-high (350 degrees F).
Scoop batter onto hot griddle.
Cook until golden brown, about 4-5 minutes, flip and cook on other side until brown.
Serve immediately with butter, syrup, powdered sugar or blueberry sauce .
All content 100% human written.Images, text and all other content Copyrighted©Karyn Granrud, Susanne Queck and Wunderlander Verlag LLC, or ©Pro Stock Media via Canva.com. Unlicensed republishing permitted. As an Amazon affiliate, we earn on qualified purchases.