I wrote this blog post as part of a movement by Weight Watchers to encourage people to remember that loving yourself starts with taking care of your health everyday. Though I was compensated for my time and commitment, all views are my own.
For the past few weeks I've been featuring one recipe a week that is good for you. A recipe that is either sugar free, gluten free, paleo friendly, or low carb, etc… In other words, a healthier option that won't leave you feeling guilty for enjoying a little sweet treat. 
My Happy and Healthy Posts are the perfect match to go along with the Weight Watchers Simple Start Program. 
Don't worry, I'm not going to ask you to go join
Weight Watchers
, but I have always thought that I couldn't lose weight alone. I have toyed with the thought of joining WW to help me stay focused and drop these pesky pounds that just won't budge.
After reviewing their list of Simple Start suggestions, I realized that I am already doing a lot of these things. 
I've been more active with my walking. This is an easy thing for me to get done. It's not a big commitment. I don't get all sweaty and gross just walking on my treadmill for 2 hours. I'm generally doing blog stuff while I walk and work so I may as well get off my booty and be productive.
Oh wait… I don't think I've ever shared a photo of my treadmill desk with you.
We had an old treadmill that my husband transformed into a work station for me. Isn't he a great guy? Anyway, I can move my laptop to the desk, plug it into the monitor above and then get to walking. It's super easy and inexpensive if you already have a treadmill. I will say that the display on this treadmill is very small. I don't know how well this would would with the over-sized monitors that are out now.
So, in addition to walking, I've also been having protein smoothies every morning for breakfast. 
I've kicked the coffee habit because I can't stand it black. I've stopped eating cereal or bagels and have been enjoying whey protein smoothies instead. 
I mix them up with various fruits, like berries and bananas. I throw in a handful of spinach and use either a chocolate or vanilla flavored protein. For a special treat, I'll also add in some powdered
peanut butter
! It's so good!
For this Mardi Gras Smoothie, I just layered my flavors. 
You can do it. It just takes a few simple changes to your routine to get moving. You just need to move.
For all this walking this past week, I'm treating myself to a foot massage! I'd love to get a pedicure, but it's still too cold to show off my toes.
Check out what some of my friends have been up to
Yield: 1
Mardi Gras Smoothie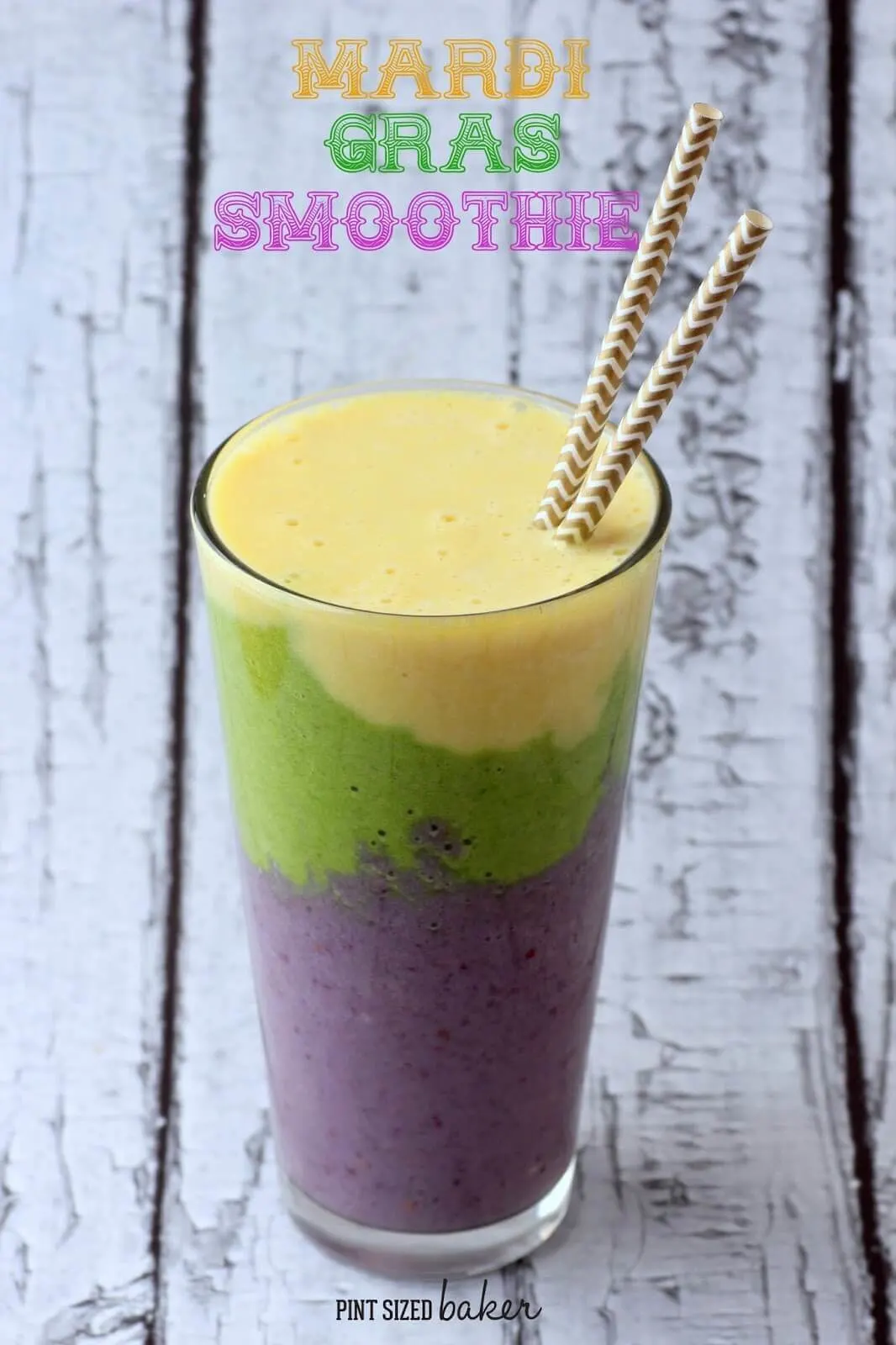 For this fun Mardi Gras-inspired smoothie, I layered some of my favorite flavors - coconut, vanilla, blackberry, and banana.
Ingredients
1 cup coconut milk (Or milk of your choice)
1 scoop vanilla protein powder
1 frozen banana
6 blackberries
1 cup spinach
Ice cubes
Instructions
In a blender mix the milk, protein powder, and banana together. Blend until smooth. Divide into three servings.
Add the blackberries to one and blend until smooth. Add some ice cubes to thicken the mixture. Pour into a large glass.
Rinse the blender and mix another third with the spinach and ice cubes. Process until smooth and all the spinach is broken up. Pour this over a spoon and on to the top of the purple layer. You don't want to two to mix.
Rinse the blender and add a few ice cubes and a touch of yellow food coloring if you want it more yellow. Blend and pour over a spoon over the green layer.
Enjoy your fun layered protein shake for breakfast or a lunch substitute. It does a great job of keeping me full.
All content 100% human written.Images, text and all other content Copyrighted©Karyn Granrud, Susanne Queck and Wunderlander Verlag LLC, or ©Pro Stock Media via Canva.com. Unlicensed republishing permitted. As an Amazon affiliate, we earn on qualified purchases.