Today, I'd like to welcome a new Little One into the world. Meghan, from
The Decorated Cookie
delivered a baby girl on Friday, Dec. 7th. In honor of their growing family, a few bloggers are throwing her a Baby Shower! When I made my
Upside-down Lemon Meringue Pie
, I knew I wanted to make mini meringue shells, but I wasn't sure for what… Then I had an awesome idea for white chocolate mousse and the shells and coconut and going for a "Winter Snowball" effect. It was a great idea, at least I thought so when I dreamed it up… It seems that farm fresh eggs have very yellow yolks…so…. my white chocolate had a bit of a yellow hue to it. This wasn't quite the look I was going for…
But, since this is a RAINBOW SHOWER I whipped up some color and LOVED the result!
I simply placed the coconut into small baggies and used food coloring to tint it.
There! Now we've got a party. I can't wait to see what everyone else brings to this joyous occasion! Check out all of the other baby treats for Meghan's Baby Shower!
All of these other awesome bloggers are also participating in the rainbow shower too!
Congratulations, Mama!
White Chocolate Mousse Meringues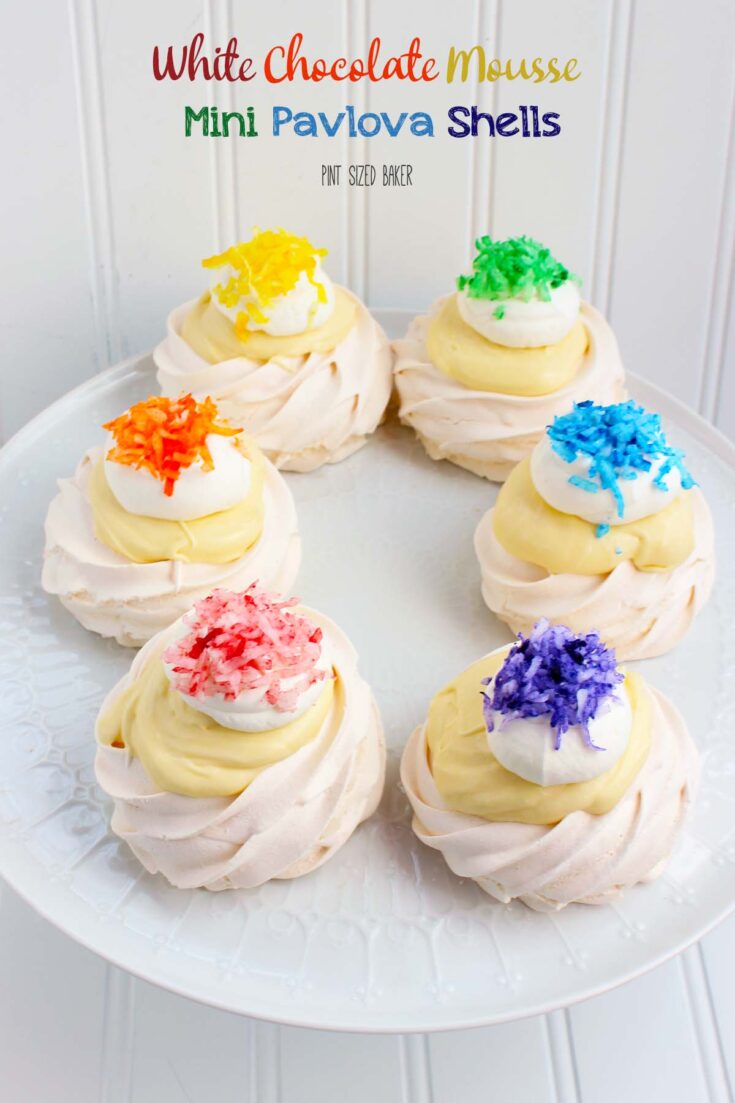 Crispy baked Meringue bowls filled with white chocolate mousse and topped with rainbow-colored coconut flakes.
Ingredients
For the White Chocolate Mousse
7 oz. White Chocolate, chopped into very small pieces
2 Egg Yolks
2 Tbls. Sugar
1/4 C Heavy Cream
1 C Heavy Cream (for making whipped cream)
For the Meringue Shells
2 Egg Whites
1/2 C Superfine Sugar
1/4 tsp Cream of Tartar
1 tsp Vanilla Extract
For the Topping
1/2 C Heavy Cream
1/2 C Sweetened Coconut (colored if desired)
Instructions
For the Meringue Shells
Prepare the night before.
Add the egg white to a mixer fitted with a wire whipping attachment. Whip on medium speed for 3 minutes. When frothy, start adding sugar a teaspoon at a time stopping 2 – 3 times to scrape the sides of the bowl. Add in the Cream of Tartar and vanilla and continue to whip on high speed until stiff peaks form.
Transfer meringue to a piping bag fitted with a Wilton 1M tip. Pipe 3 – 4 inch base first, then pipe up around sides to form a bowl.
Bake at 200 deg F for 1 hour. Turn the cookie sheet around and bake for another 45 minutes. When done, simply turn off the heat, turn on the light, and leave overnight in the oven to cool.
For the White Chocolate Mousse
Place the chopped white chocolate into a large glass bowl and set aside.
Add the egg yolks and sugar to a small bowl and whisk until pale in color.
In a saucepan, over low heat, bring 1/4 cup of the cream to a simmer, and slowly add the cream into the yolk and sugar mixture to temper. Pour the creamy mixture back into the pan and stir with a wooden spoon until it coats the back of it.
Pour the hot mixture over the chopped chocolate. Stir until completely smooth.
In another bowl, whip cream to almost stiff peaks. Fold 1/2 of whipped cream into the white chocolate mixture then add the remaining half.
Let Mousse sit in the fridge for 1 hour to set up.
Spoon the Mousse into the Meringue Shells and top with whipped cream and coconut.
Recommended Products
As an Amazon Associate and member of other affiliate programs, I earn from qualifying purchases.