Any Big Mac Lover is going to love this Big Mac Cake! It's perfect for a man's birthday cake, Father's Day celebration, or just for fun!
Big Mac Cake
Sing it with me!!
"Two all beef patties, special sauce, lettuce, cheese, pickles, onions on a sesame seed bun!" Yeah!
I wanted to go BIG! I wanted to go BOLD! I made a BIG MAC CAKE and I am so in love with how it turned out!! Sometimes I seriously impress myself when these desserts are done. I just sit back and marvel at the fact that I made that myself. Sure, it's work, and yes it takes time. But in the long run, it all comes together beautifully and it's totally worth the time, effort and energy to have created something so stunning.
Besides, my man is worth it and I'd bake any cake for him!

Did I succeed?
This Big Mac Cake has been on my mind for several months. I've seen the mini cupcake versions and I've seen the more life-like burgers with fondant.
So, I went big and easy with this  Big Mac Cake.
I made a three layer Yellow Cake that used 8 egg yolks. I hope you saved those egg whites, because today we are making our frosting with 4 of them.
I thought about making a thicker butter cream frosting that would hold up and I could pipe out kinda pretty, but I had all these egg whites and, to be honest, Angel Food Cake still kinda scares me….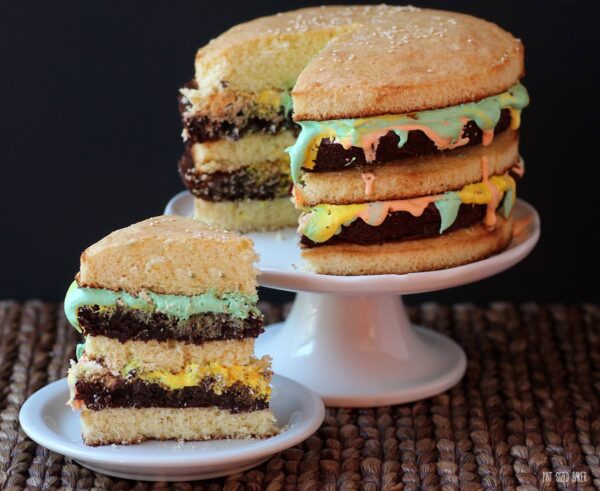 Also, have you ever seen a "pretty" Big Mac? Be honest. They are kinda messy and never look they way they do in the commercials or promotional photos, so I think my messy version is spot on.
I'm sure the Dad in your life will enjoy this Big Mac dessert! The kids will enjoy helping to make it and everyone will be impressed!
This Big Mac Cake Recipe is part three of a three part series. Get the 3 layer Yellow Cake Recipe and the Fudge Brownies recipes to complete this dessert!