Soft and spongy Chocolate Cake Roll Recipe, filled with creamy peanut butter, and topped with a chocolate glaze and homemade peanut butter cups.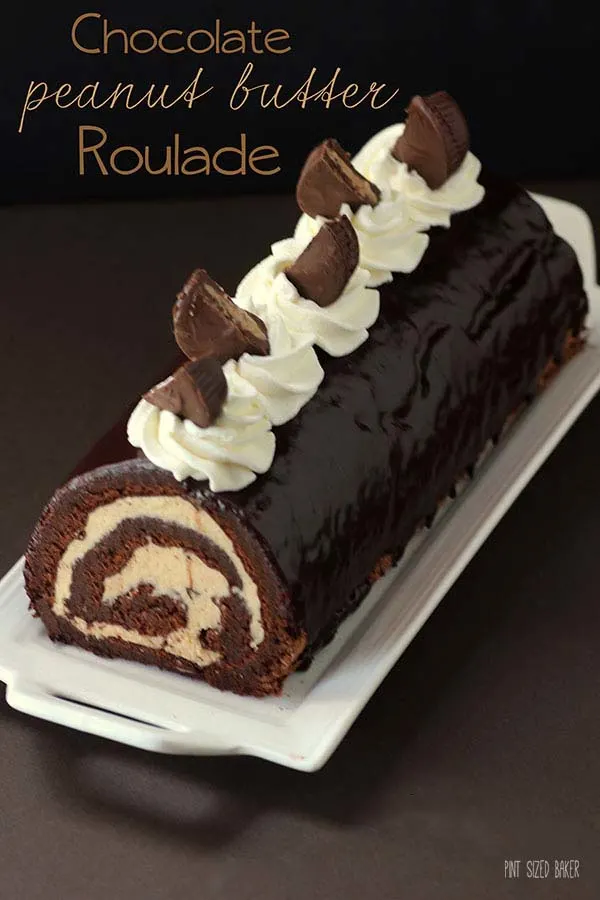 Chocolate Cake Roll Recipe
Have you ever made a Roulade? A roll cake? Are you too scared to attempt it? Well, you shouldn't be. This chocolate cake is easy to bake and it was delicious, however, construction will take a little extra effort. Don't be too overwhelmed with the recipe or the steps involved. Just be sure to have the proper tools, take your time, and don't rush it.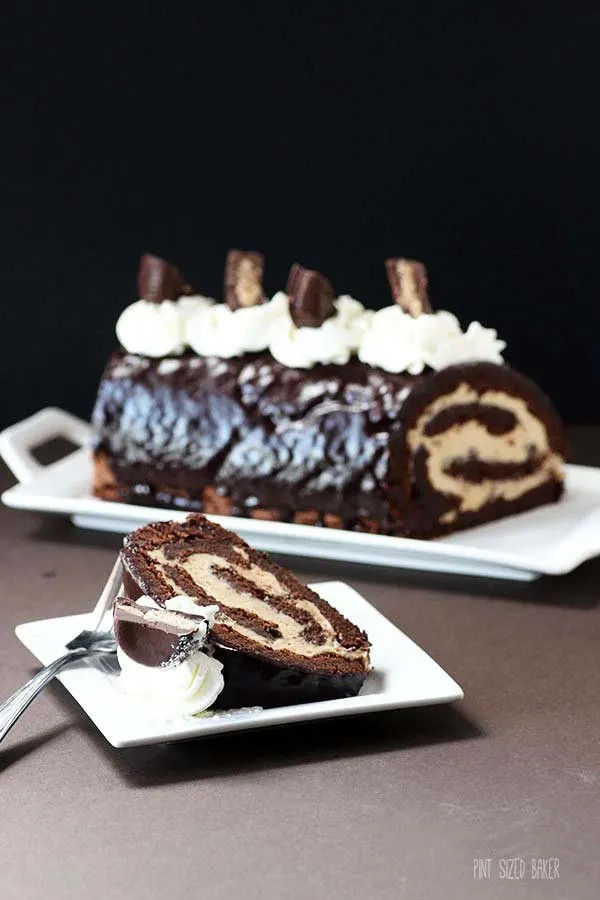 If it cracks, it cracks. Just roll it up and cover it in chocolate. (In fact, you can see a crack in my cake by the large crevice along the side there.)
It was very helpful to have two KitchenAid stand mixers for this recipe, however, I know that most people don't even have one. If you are using a hand beater, some of the beating times will be longer. Make sure that your bowls and blades are clean of any oil residue when whipping the egg whites. Trust me, you don't want to toss out 9 egg whites that failed to fluff up.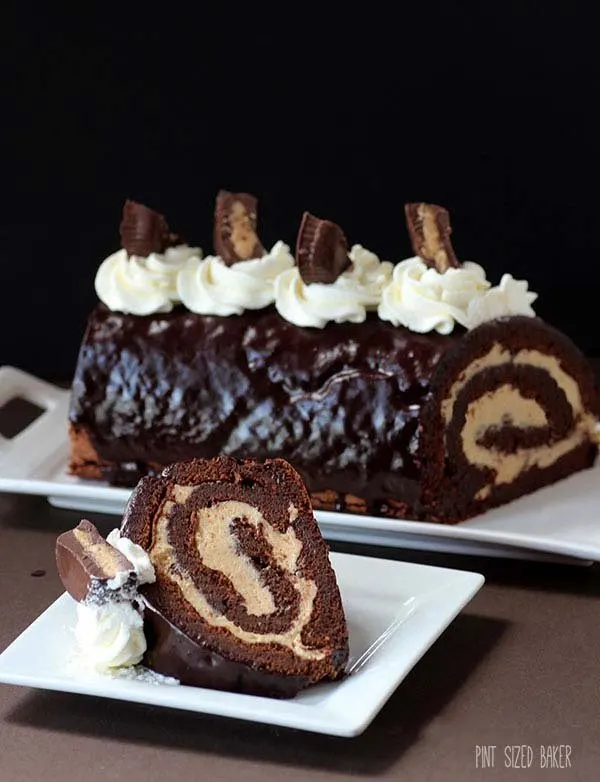 Here's a few tips for making this chocolate cake roll recipe –
1. Dust your pan with some cocoa powder along with the flour. It'll help to keep the chocolate cake more chocolate looking.
2. Have someone help you move the Roulade from the plate to the cooling rack and back to the serving dish. You don't want any fingerprints in the beautiful chocolate glaze. I used two large metal spatulas to lift it.
3. If the cake cracks, do your best to put it back together with the filling and then roll it without stretching it. Once it's covered and sliced, nobody will see it or care.
4. Take your time and be sure to have the best tools for the job. A proper jelly roll pan, parchment paper, clean bowls, two spatulas, and a cooling rack with a cookie sheet under it.
5. For pretty cuts, clean your knife after each slice. It's well worth the extra few seconds to serve up a perfect swirled dessert.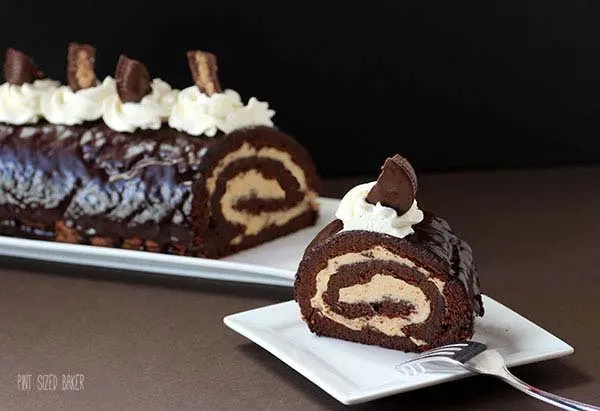 The cake is a bit of a challenge. I won't lie to you, but if you are comfortable with whipping egg whites and folding batter, you'll do just fine.
While this third day technically runs into a fourth day, it was well worth the effort when it came time to eat it! Everyone loved it! The cake balanced out the peanut butter filling. Nothing was too sweet or overpowering. It all came together very nicely.
Enjoy!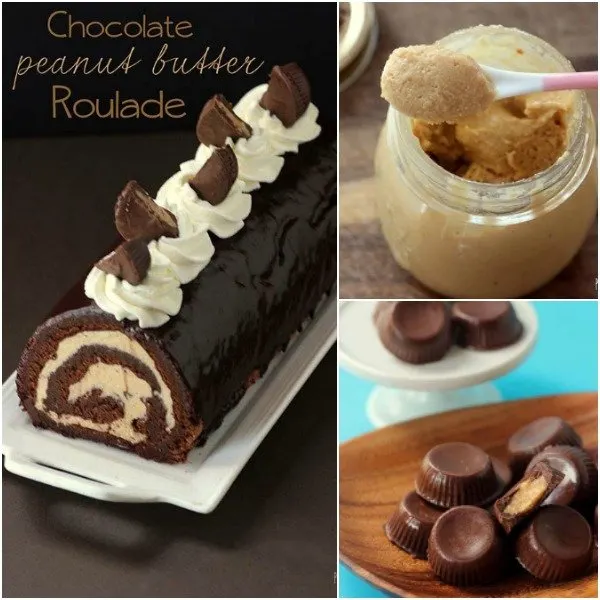 This recipe is part three of a three part series including Homemade Peanut Butter and Homemade Peanut Butter Cups.
For more Roll Cake Recipes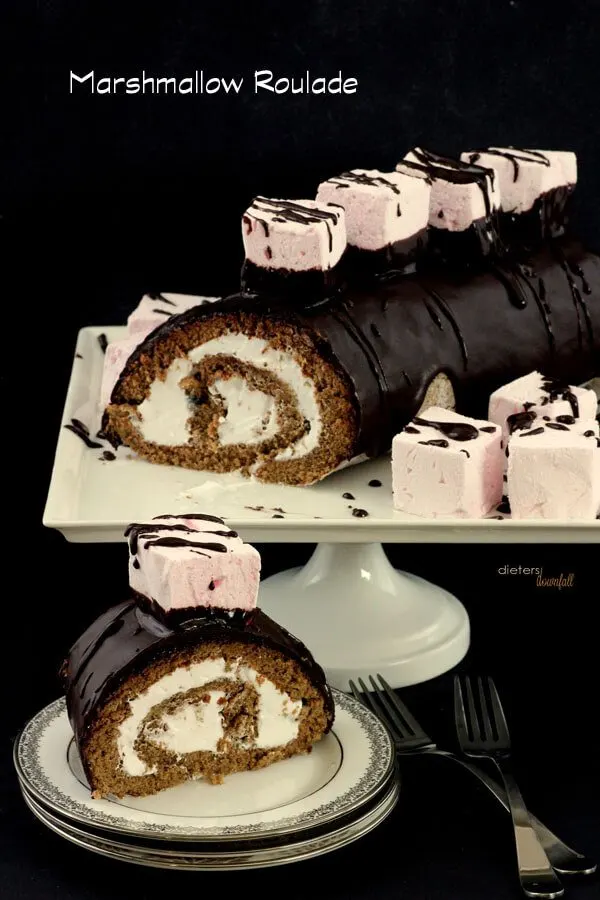 Yield: 16
Chocolate Cake Roll Recipe with Peanut Butter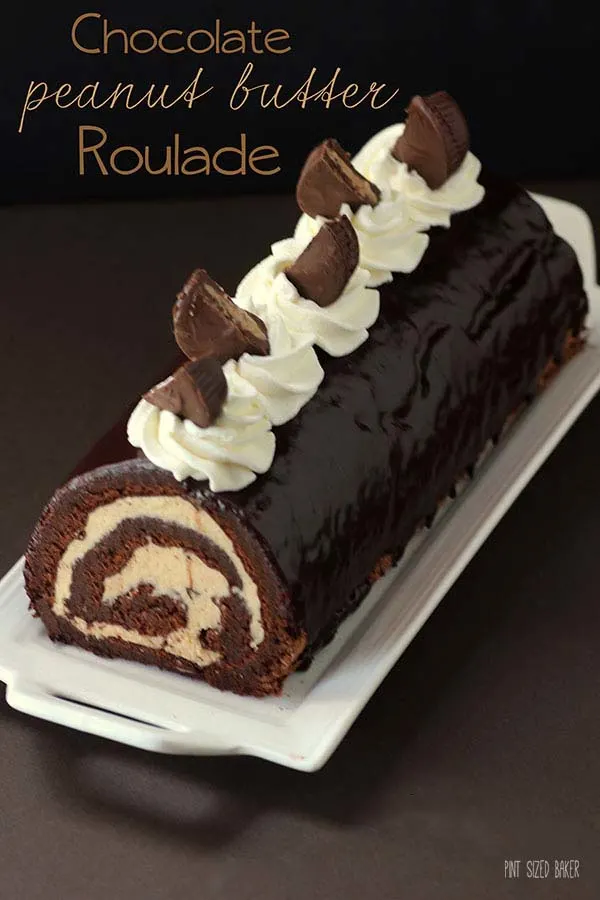 Soft and spongy Chocolate Cake Roll Recipe, filled with creamy peanut butter, and topped with a chocolate glaze and homemade peanut butter cups.
Additional Time
10 minutes
Ingredients
For the Cake
3 oz. Bittersweet Chocolate
2 tablespoons warm water
9 eggs, separated
1 cup sugar
6 tablespoons Dutch-processed cocoa powder
1/8 teaspoon salt
For the Peanut Butter Filling
1 cup Homemade Peanut Butter
3/4 cup heavy cream
2/3 cup powdered sugar
1 stick of butter (1/2 cup), room temperature
3/4 cup powdered sugar
For the Chocolate Glaze
3 tablespoons heavy cream
3/4 cup sugar
1/2 cup + 1 1/2 tablespoon water
1/2 cup Dutch-processed cocoa powder
1 1/2 teaspoons unflavored gelatin
For the topping
1/2 cup heavy whipping cream
Instructions
For the cake
Preheat oven to 350 degrees F.
Melt chocolate with 2 tablespoons water in a double boiler. Let cool to room temperature.
Grease the bottom of a 18 x 13 jelly roll pan with softened butter, line with parchment paper, and then butter and flour the paper.
In a mixer, whip the 9 egg yolks at medium speed and the color turns light yellow. Add ½ cup sugar and whip until thick and pale; approximately 2 minutes.
Reduce speed to low and add in the melted chocolate then the cocoa powder and salt until just combined.
In another bowl, whip the 9 egg whites. As they become frothy, increase speed to of mixer and slowly add in ½ cup sugar and whip until soft peaks form.
Slowly fold in half the egg whites into the chocolate mixture. Add the remaining egg whites and fold until no more streaks are present. Be careful not to overmix.
Pour batter into prepared pan and spread it evenly. Bake for 20 - 25 minutes; the top of the cake should spring back when touched.
Prepare a dish towel on the counter with a dusting of cocoa powder. The cocoa powder will prevent the cake from sticking to the towel.
When the cake is done, immediately flip it over on to the dish towel and remove the parchment paper. Roll the towel and the cake together and leave it to cool.
For the peanut butter filling
Whip cream and ⅔ cup powdered sugar until stiff. In a separate bowl beat butter, peanut butter and sugar. Fold whipped cream into peanut butter mixture.
To assemble the cake
Once is cake cooled, open it up and spread the peanut butter mixture inside. Don't go all the way to the edges. Carefully re-roll, without the towel, and place in the fridge covered overnight.
In a saucepan, combine the cream, sugar, ½ cup water, and cocoa. Bring the mixture to a boil then reduce heat to a simmer and whisk constantly. Simmer for 10 minutes, the sauce should be thick and similar to hot fudge sauce. Do not let it boil over. Remove from heat.
In a small bowl, sprinkle the gelatin over 1½ tablespoons of water and wait 5 minutes. Then melt in for 8 seconds in the microwave. All the gelatin should be dissolved and no lumps remain.
Whisk the gelatin into the chocolate and strain through a medium sieve. Let the chocolate glaze cool for 10 minutes.
Remove the Roulade from the fridge and place it on a cooling rack with a cookie sheet underneath it. Pour the glaze over the cake, coating it completely. Pour slowly and evenly to reduce the amount of glaze loss. Return to the fridge for at least 30 minutes, but no longer than 4 hours.
Trim one inch from each end and carefully remove the roulade with two spatulas and place it on a serving dish.
Whip cream and add to the top of the roulade with peanut butter cups as decoration.
Recommended Products
As an Amazon Associate and member of other affiliate programs, I earn from qualifying purchases.
All content 100% human written.Images, text and all other content Copyrighted©Karyn Granrud, Susanne Queck and Wunderlander Verlag LLC, or ©Pro Stock Media via Canva.com. Unlicensed republishing permitted. As an Amazon affiliate, we earn on qualified purchases.