Decorate this 4-layer Chocolate Cake for a garden party with edible flowers. Select fresh flowers to add some color to your chocolate cake.
4 Layer Chocolate Cake
Last week I was invited over to a local florists' personal garden. I live in a small town and it's very easy to know someone who knows someone. I am friends with an awesome photographer who is friends with a beautiful floral designer. I sent the florists info to my husband and told him that if he was going to order flowers for me, to please order them through WestvirJeni instead of the big name online florists. He ordered flowers for both Valentine's Day and Mother's Day for me and both arrangements were stunning! So, Jennifer invited me over to do a collaboration with her to showcase her flowers and my cake. I think this 4-layer chocolate cake with edible flowers turned out just stunning!!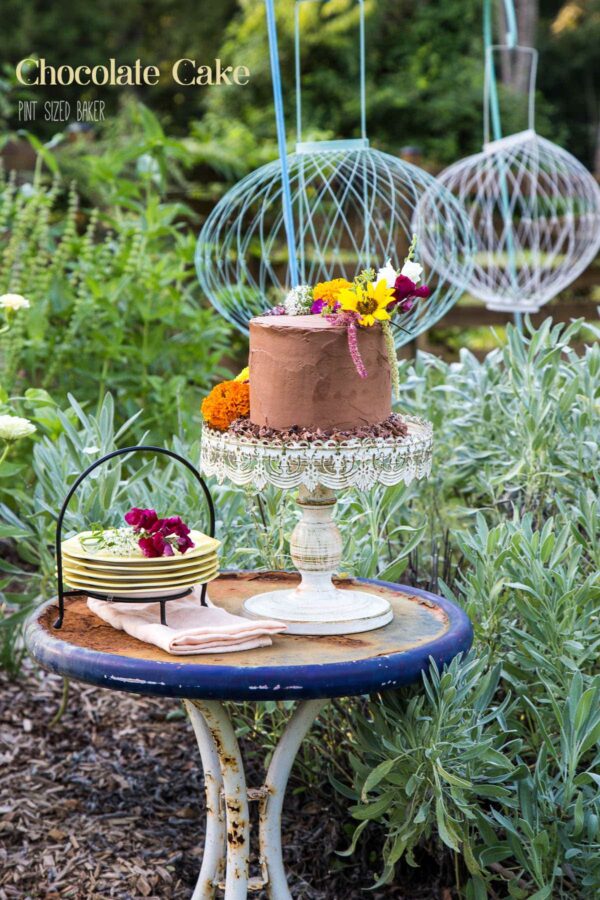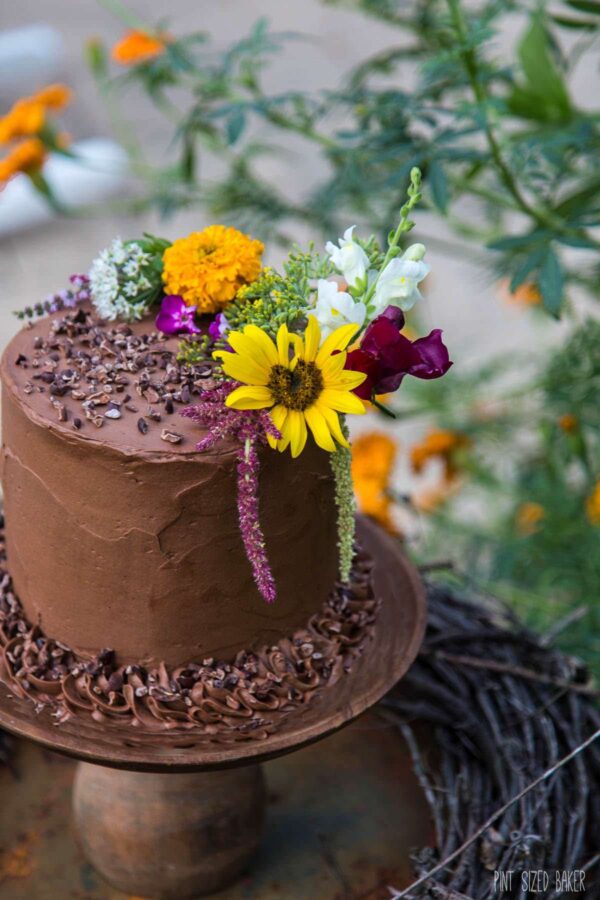 When selecting your edible flowers, make sure to do your research. Find out if the flowers or the stems are edible or if they are poisonous. Now, we didn't eat these flowers, but you wouldn't want questionable plants on your food. Also, I think this may go without saying but, don't put flowers and plants that have been sprayed with pesticides on your cake. Pick fresh flowers and herbs and wash them in cold water to get any bugs off.
When you're adding the flowers, you're looking for balance and scale. Balance the size and position of the flowers and watch the scale or size of the flowers. I balanced out the large marigold on the lower left with a taller snapdragon and sunflower on the upper right. Balance the colors as well. I stuck to a bright and bold color palate of bright orange, yellow, and magenta. Add in some greens and white for accent and it turned out stunning! I don't think that the bright pink cone flower would have balanced out with these colors.
For scale I used larger clusters of smaller flowers from the garlic and the fennel buds.
It was really awesome to work with another professional. Jennifer's gardens were the perfect backdrop for this stunning cake! I love how this 4 layer chocolate cake transformed from a basic cake into something beautiful.
If you're in the D.C., Baltimore, or West Virginia panhandle area and are looking for an amazing florist for your wedding, event, or general gift giving, take a look at West VirJeni and order with her. I promise that you'll love everything that she creates! Check out some more of her beautiful arrangements, bouquets, and wearable flowers on her website and Instagram account.
I know it's the end of summer, but it's a great time to have a garden party. The evenings are cooler, the humidity is lower, the flowers are still blooming, and there is still great weather to enjoy before the cold winter days. Get out there with your family, your friends, your neighbors, your congregation, your book club or your closest internet friends and enjoy this delicious 4 layer chocolate cake!
Now, isn't this a beautiful way to end your summer?
Here's a few more chocolate cakes that you might enjoy.
Triple Chocolate Marshmallow Cake
Yield: 8
4-layer Chocolate Cake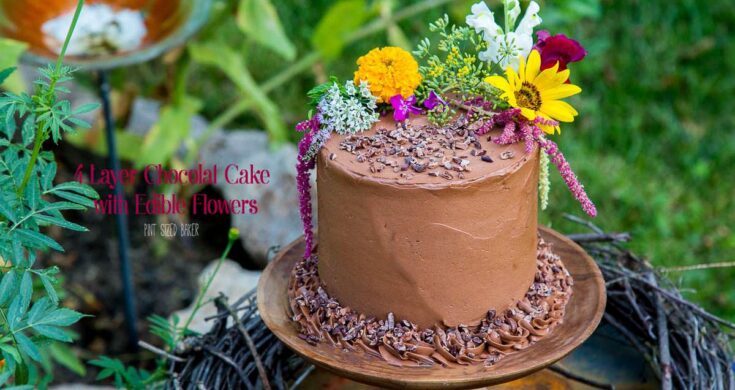 Decorate your gorgeous 4 layer Chocolate Cake with edible flowers. No special decorating skills required.
Total Time
1 hour
15 minutes
Ingredients
For the Cake
6 tablespoons salted butter
1 3/4 cups + 2 tablespoons flour
2/3 cup cocoa powder
1 1/2 teaspoon baking powder
1 1/2 teaspoon baking soda
1 2/3 cups sugar
2 eggs
1/4 cup + 2 tablespoons milk
2/3 cup strong, hot coffee (or boiling water)
For the Chocolate Espresso Frosting
7 oz. dark chocolate (70%)
2 1/2 cups salted butter
1 1/2 – 1 3/4 cups powdered sugar
2/3 cup cocoa powder
1/2 teaspoon vanilla bean paste
4 tablespoons strong coffee (or heavy cream)
Instructions
Preheat the oven to 350 degrees F.
Prepare two 6-inch round cake pans with non-stick spray and flour and bake even strips.
Melt the butter and let it cool. Sift the flour, cocoa, baking soda, and baking powder. Add the sugar, eggs, milk, and coffee to the dry ingredients. Beat until mixes and smooth.
Divide the batter between the two pans and bake 30 -35 minutes.
Cool the cakes in the pan for 15 minutes before turning them out on to a wire cooling rack.

For the frosting
Break up the chocolate candy and melt the chocolate in the microwave for 20 seconds at 70% power. Stir it smooth and set aside to cool to room temperature.
Beat the butter until light and creamy. Add in 1 1/2 cups of powdered sugar and cocoa slowly until evenly blended. Mix in the melted chocolate and vanilla. Add in the coffee a little at a time until you've reached the frosting consistency. If your frosting is too thin, add more powdered sugar and if the frosting is too thick add bit more of the coffee.

To decorate the cake

Torte the cakes into four layers. Add frosting to each layer of cake, and then crumb coat the cake in a thin layer of frosting. Place the cake into the fridge for 20 minutes to firm up.
Spread the remaining frosting on the cake and decorate as desired.
Top with edible flowers and crushed cocoa nibs.
Recommended Products
As an Amazon Associate and member of other affiliate programs, I earn from qualifying purchases.
All content 100% human written.Images, text and all other content Copyrighted©Karyn Granrud, Susanne Queck and Wunderlander Verlag LLC, or ©Pro Stock Media via Canva.com. Unlicensed republishing permitted. As an Amazon affiliate, we earn on qualified purchases.