Are you on Team Back to School or Team Summer Should Last Forever?? I would like it if school started after Labor Day. While I do want summer to last forever, I know that the kiddos need to get back to school and back to a schedule. Heck, I need to get back on a schedule. If your kids are anything like mine, they've been up way too late, scavenging junk food from the pantry and spending way too many hours on their video games and YouTube. Oh… is it just my kid? Sigh… We've been eating dinner after 8 pm and sleeping in until 10 and that's all about to change very quickly. The first week back to school is always the worst in my opinion. Sleep schedules are off, the routine must be adjusted and planning meals becomes necessary again. Between getting breakfast made and served, lunches prepared and dinner put on the table in a timely manner, it's gonna take lots of planning. And planning isn't something that I am very good at. That's why today, I've put together 12 Back to School Meals for Busy Families like mine. I hope this can save my sanity for our first week back to school.
Back to School Meals for Busy Families
Breakfast
Lunch
Dinner
Dessert
You can also take a look at these easy back to school Cereal Bar Recipes for breakfast, lunch, and snack!
Making your own homemade Apple Sauce is easier than you think! Add it to lunchboxes for a healthy treat!
And you can easily make your kids their favorite Jam for PB&J! Here's two easy homemade jam recipes that just make a cups worth.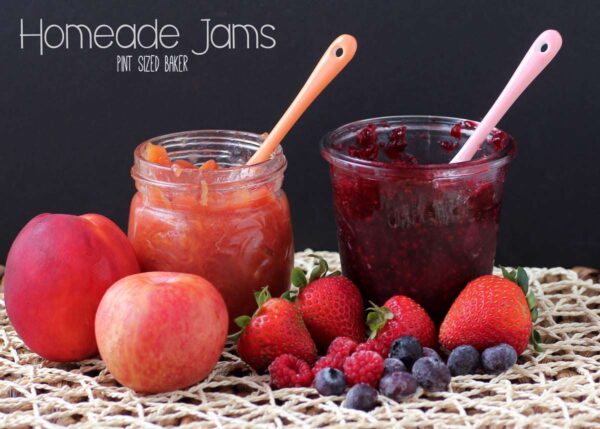 Two Cup Tuesday Linky Party No.239
Hey bloggers, I was kinda bummed that there was just one waffle recipe shared last week 🙁 I guess waffles just aren't that big because there has been no waffle recipes shared in the past 5 weeks! So, my waffle feature had to be changed last minute. I'm doing my best to give you great features and give everyone a chance to be featured, so here's the plan for up coming weeks. In today's linky party, please add any recipes that you have biscuits in! I'll be searching the archives as well for items to be featured.
Aug 28 – Featuring Biscuits! I want biscuits for dinner, topping for biscuits, and ways to serve biscuits.
Sept 4 – I'm gonna take the day off. No party on Labor Day. Have a great night with the family!
Sept 11 – Featuring Fall Activities! Share some fall foliage, fall planting, gardening, crafts for the fall and of course recipes!
Sept 18 – Featuring APPLES! Apple recipes and apple decor!
Now, on to the PARTY!! It's time to link up all your recent posts to the Two Cup Tuesday Party! Each week I will share the Best of the Blogs with some of my favorite recipes and crafts who link up!
Grab a button! You deserve it!
a href="https://pintsizedbaker.com" title="Pint Sized Baker"><img src="http://2.bp.blogspot.com/-vz4l7hynRKQ/UO76hLIOOXI/AAAAAAAACV8/mK-b2RXfMhM/s1600/PSB_IveBeenFeatured.jpg" alt="Pint Sized Baker" style="border:none;" /
You bloggers are the best! I'm looking forward to seeing all the wonderful link-ups this week!
You ROCK!!
It would be awesome of you followed me on Facebook, Twitter or Pinterest
I'm also A Pinning Fool! I've pined TONS of great recipes and tutorials from Two-Cup Tuesday! Check out my Two-Cup Tuesday Pin-board!
Follow Pint Sized Baker's board Two-Cup Tuesday on Pinterest.
I'd love to get to know you, so please leave a comment introducing yourself!
Thanks so much for linking up!
As a courtesy to all party guests, please only link posts that have not been shared here previously. We want to see NEW and EXCITING content.
Loading InLinkz ...