Have a good time getting creative in the kitchen with these delicious Church Window Cookies. Not only do they look amazing, but they're also full of flavor and fun to prepare with simple ingredients.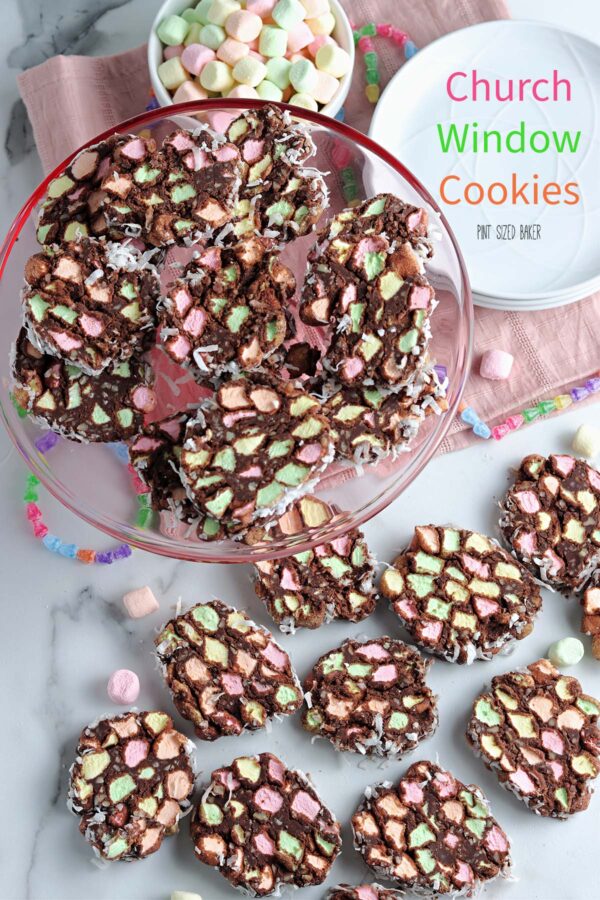 What Are Stained Glass Window Cookies?
When you want something unique, delicious, and sweet, try this recipe for Church Window Cookies.
These cookies are a classic treat that are sure to leave your loved ones impressed, whether you're sharing them with your close family or having friends over for the holiday season to dig in and enjoy the cookies with you. They look like stained-glass windows and have been around for decades.
Preparing these cookies isn't too challenging, so you don't need to worry about having any special culinary skills. With the right ingredients and a bit of prep and cook time, you can have the tastiest cookies ready to devour in no time.
Ingredients for the Church Windows Recipe
You'll need the following ingredients to prepare these Church Window Cookies:
Marshmallows – Be sure to select the paste-colored marshmallows to give these cookies the perfect appearance.
Semi-Sweet Chocolate – You'll melt the chocolate down and combine it with other ingredients.
Butter – Use the butter with the chocolate while melting it on the stove.
Shredded Coconut – Add flavor and texture to your cookies with a bit of shredded coconut.
Walnuts – Include a sweet crunch with walnuts or pecans.
How to Make the Cathedral Window Cookies
Grab a saucepan and melt your chocolate chips with the butter over low heat. Be sure to stir often enough to keep the chocolate from clumping or burning. Remove the mixture from the heat and let it cool for up to 10 minutes.
While you wait for your chocolate to cool, set up your rolling station by placing parchment paper on a surface and applying a cup of coconut to the paper.
Grab a large bowl and mix your marshmallows with your walnuts or pecans. Add the chocolate mixture into the marshmallow mixture, stirring to combine everything. Divide the mixture in half, placing it on top of the coconut before shaping it into logs and rolling tightly in the parchment paper.
Place in the fridge for a minimum of two hours and up to four hours before firm enough to cut. Slice into ¼-inch thick pieces and then place in a container with parchment paper until you're ready to serve and enjoy these cookies.
FAQ
Do I have to use walnuts? No, you don't have to use walnuts. However, they do add flavor and contribute to the texture. If you don't like walnuts, you can replace them with pecans.
Which marshmallows do I need to use? Because you're making these Church Window Cookies, be sure to use pastel-colored marshmallows to give your cookies that special touch.
How long will it take to prepare the cookies? It won't take too long to prepare these tasty cookies. In fact, it takes roughly 15 minutes to prepare the cookies. However, you'll need to let them chill for several hours.
How many cookies does this recipe make? The recipe yields a minimum of 28 cookies and up to 30 cookies, so you'll have more than enough to go around. You can always double the recipe to have more cookies when hosting events.
Tips and Tricks
Be sure to wait for your melted chocolate to cool down enough so that it won't melt your pastel marshmallows. If you pour it over the marshmallows while they're still hot, they'll start to melt, and you don't want that to happen.
If you don't like semi-sweet chocolate chips or don't have them available to use for these cookies, it's fine to use milk chocolate chips as a replacement for them.
When using walnuts or pecans, you'll need to chop them into fine pieces before you add them to the recipe. It's easy to chop them by placing them in a food storage bag and rolling them over with a rolling pin.
Variation Options for the Cookies
You can use different types of chocolate when preparing these cookies, such as milk chocolate or dark chocolate instead of semi-sweet chocolate. In addition, you can skip the coconut if you don't like it or are allergic to it.
Here are a few more great no-bake recipes you can add to your holiday treats.
Yield: 30
Church Window Cookies
Learning how to make Church Window Cookies is so much fun. They are made with simple ingredients and so easy to make! 
Total Time
2 hours
17 minutes
Ingredients
2 cups semi-sweet chocolate chips
½ cup (1 stick) unsalted butter
1 bag (10.5 oz) pastel mini marshmallows
1 cup finely chopped walnuts or pecans
2 cups shredded sweetened coconut
Instructions
In a heavy saucepan, melt chocolate chips and butter over low heat, stirring frequently.
Allow mixture to cool 5-10 minutes, so it doesn't melt the marshmallows.
While chocolate is cooling, prepare the rolling station by laying out 2 large pieces of parchment or wax paper on a working surface and evenly spread 1 cup of coconut.
In a large bowl, mix the marshmallows and nuts.
Add chocolate over marshmallow mixture and stir to combine well.
Divide the mixture in half and place on top of the coconut.
Shape into logs and roll up tightly in the paper.
Refrigerate 2-4 hours or until firm enough to cut **you can also freeze for about 15 minutes to get a clean cut.
Slice into ¼ inch thick cookies.
Store in an airtight container in a single layer with parchment paper separating layers.
All content 100% human written.Images, text and all other content Copyrighted©Karyn Granrud, Susanne Queck and Wunderlander Verlag LLC, or ©Pro Stock Media via Canva.com. Unlicensed republishing permitted. As an Amazon affiliate, we earn on qualified purchases.