I love how easy these Simple Christmas Tree Cake Pops are! They look great and are a kids favorite. And they're easy to make!
Simple Christmas Tree Cake Pops
The other day I was on Facebook and came across a cake pop from I Pop Cakes that inspired this rustic and simple Christmas Tree design.
I love how they turned out.
In fact, I loved them so much, I sent my Mom 20 of them for her Christmas party this weekend.
I hope that she and her party guests love the cake pops I sent. Enjoy!
For a full tutorial on these Christmas Tree Cake Pops, head on over to Uncommon Designs.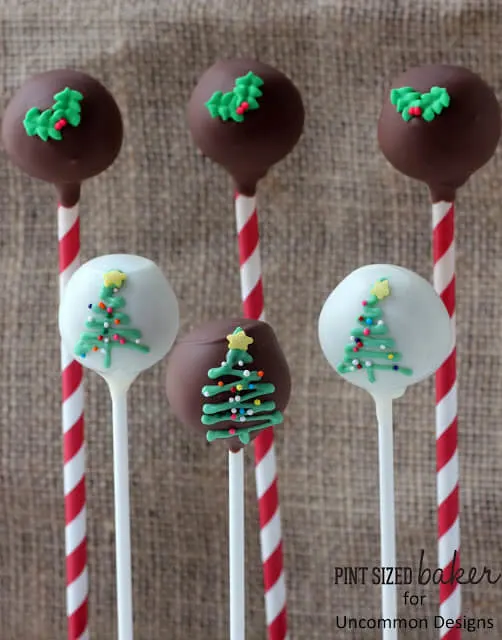 Simple Christmas Tree Cake Pops
Author:
Prep time:
Total time:
I can't get over how cute these Peeps Gingerbread Men Cookies are! I love the marshmallow flavor along with the gingerbread!
Ingredients
1/4 of a 9 x 13 cake
2 tablespoons frosting
White Candy Melts
Chocolate Candy Melts
Green Candy Melts
Sprinkles
Instructions
Start with 1/4 of a 9 x 13 cake and add 2 tablespoons of frosting to it. Mix it well, I use my KitchenAid mixer to do it, until it's at a play-doh like consistency.
Use a 1 tablespoon cookie scoop to measure out your servings, and place them on a cookie sheet lines with wax paper. You should get 10 -12 pops.
Now roll them smooth between your palms without squishing them. Cover them with wax paper and place them into the fridge while you melt your candy.
Get a bag of Wilton, Make N' Mold, Almond Bark, or Candiquik (they are all the same, so it doesn't really matter). Pour the candy pieces into a large ceramic mug and microwave it for 1 minute. Take it out and stir it. Even if it's not melted, stir it. Then put it back into the microwave for 30 seconds at 70% power. Take it out and stir it again. It should be mostly melted. Let the heat from the mug continue to melt the candy.
Get 12 lollipop sticks and your cake pops out of the fridge. Dip 1/4 inch of a stick into the candy and then insert it half way into the cake pop ball. Stand it up in a cake pop stand and continue with the rest of the pops.
Stir the candy again and make sure that it's smooth. Now dip your cake pop straight up and down in the candy and let the excess drip off. Don't bang the stick against the mug, gently tap the stick and rotate the pop to help get the excess off. Stand the cake pop into the cake pop stand to dry and complete all the cake pops.
You'll need 1/4 cup of melted green candy, rainbow sprinkles, star sprinkles.
Put the candy into a baggie and place the baggie into a bowl of HOT water to melt. Massage the bag to aide in melting.
Dry off the bag and snip a small corner off. Pipe a zig-zag pattern starting from the bottom and work your way up. Sprinkle and decorate and set aside to dry.
For more Christmas Tree Treats, check out these
30 Christmas Cake Pop Collection
All content 100% human written.Images, text and all other content Copyrighted©Karyn Granrud, Susanne Queck and Wunderlander Verlag LLC, or ©Pro Stock Media via Canva.com. Unlicensed republishing permitted. As an Amazon affiliate, we earn on qualified purchases.