These Amaretto Hot Chocolate Floats are perfect for any night. Made with real Amaretto ice cream and real Hot Chocolate, it's a decadent dessert.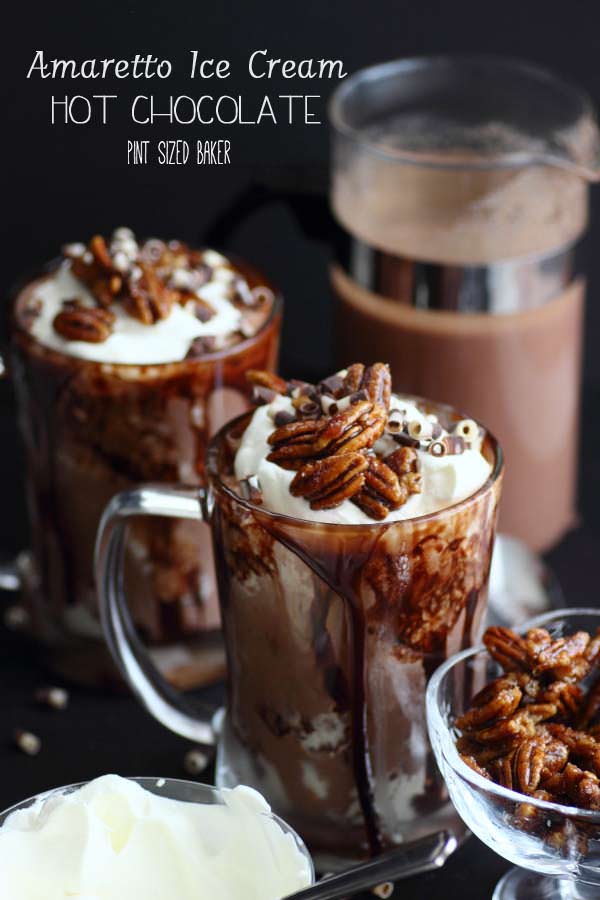 Amaretto Hot Chocolate Floats
Oh lordy! I totally blew my diet and my entire weeks worth of yoga with these Amaretto Hot Chocolate Floats! They were just amazing and I couldn't just toss it.  All that yummy amaretto ice cream covered in real hot chocolate, fresh whipped cream and amaretto pecans. It was so decadent and wonderful! I loved every bite, sip and lick!
I mean, just look at all of that amazing chocolate!
Who can possible pass on that?? I sure couldn't.
My husband however, asked for a different flavor of ice cream, but that was totally doable. Swap out your favorite ice cream and enjoy this wonderful hot chocolate float!
This was a first for me. I've seen hot chocolate floats online before, but honestly thought it was kinda silly. Who pours HOT chocolate over FROZEN ice cream? Doesn't that just defeat the purpose of either treat?
The simple answer is no. The ice cream didn't immediately melt and the hot chocolate stayed warm. It's crazy, but it's true.
For this hot chocolate recipe, I wanted to use REAL chocolate and REAL milk. No sweetened condensed milk, no cocoa powder, no added stuff – just milk and chocolate. And that's just what I did.
Heavy cream and whole milk make a wonderful rich texture and the straight dark chocolate gave it a strong chocolate flavor. The flavor was intense to drink straight,  but that was kinda the point. Pouring it over the sweet ice cream and adding sweetened whip cream cuts the slightly bitter flavor and tastes like real sipping chocolate. The kids may not like it, and that's a good thing!
This hot chocolate and amaretto ice cream really isn't for the kids. It's for the chocolate loving kid inside of us! It's for the excited kid who see's the over-sized hot fudge sundae and wants to eat it all. It's for the inner fat kid that just wants to indulge and not worry about the next work out. There will be another work out and it will be tough!
This recipe is part three of a three part series including Amaretto Pecans and Amaretto Ice Cream.