Mint Cheesecake Cake – Day One – Mint Chip Cake
I'm back with another big cake and this one is full of mint chips! I love minty desserts and they aren't just for Christmas, so I made myself a big mint chip cake and an easy buttercream frosting. To dress up this easy cake, I topped it with fresh flowers from my garden.
Do you love a "naked cake"? I love how this naked cake turned out. The simplicity of the cake and frosting  just can't be beat. To decorate this cake, I put the vanilla frosting into a piping bag and cut a half inch off the end – no tip needed.  Start at the edge and bring it to the center, then swirl the center to create a flower effect. You get clean edges and a pretty design, too.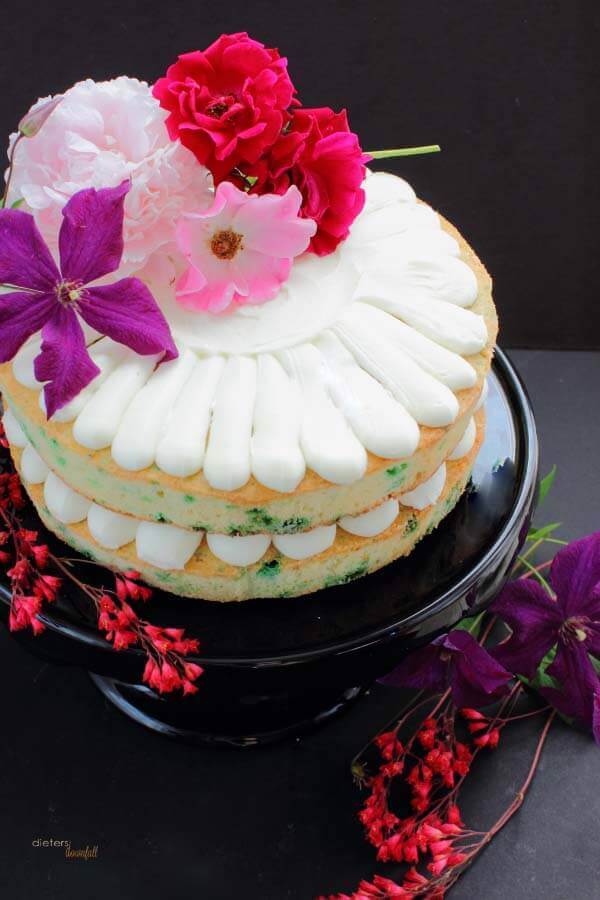 You don't need fancy decorations or complicated icing skills to make a pretty cake. Some flowers from your garden are that you need to make a big impression. I don't spray my flowers or treat them with any pesticides so all I did was wash them off, dry them and place them on and around the cake.
I didn't leave leave these on to eat the cake, but you can also find edible flowers, like rose petals, and serve them right along with the slice of cake.
I hope that you enjoy this cake. If you can't find the mint chips, you can always use regular chocolate chips. It helps to toss the chips in a tablespoon of flour to prevent them from falling to the bottom. Just reserve some from the total flour needed and it'll turn out fine.