Sugar Cookie Cheesecake Recipe – This cheesecake is packed full of sugar cookies in the crust, filling, and crunchy topping.
Don't you just love bakery fresh sugar cookies? I do. I also have an affinity for cheesecakes. I decided to marry the two together. Cookie crust, cookie crumble and cookie in the batter. This easy and delicious dessert is sure to be a fun addition to your cheesecake rotation. I loved this combination of flavors and the sprinkles just put a smile on everyone's face.
I bought the sugar cookies from the grocery store bakery section. They has a  slight lemony flavor which I really liked.
While I was dreaming up this dessert, I googled around to check out other bloggers who have incorporated sugar cookies into a cheesecakes. Pretty much all of them just had a basic cheesecake filling and just used the cookies in the crust or as a decoration to the topping. I took it a step further by adding sugar cookie dry mix to the filling. It was the best decision I've ever made.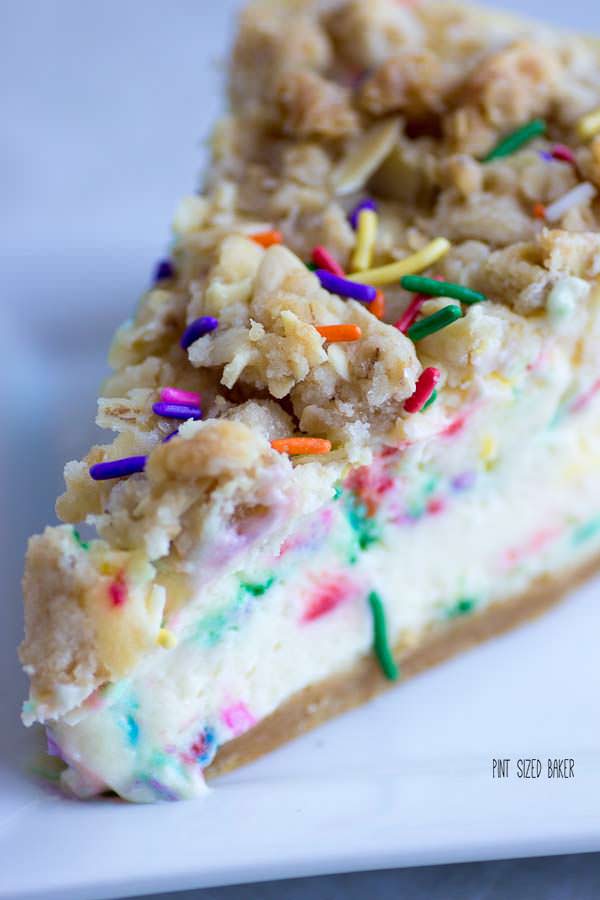 And… did you see that strudel-like crunchy topping?? OMG it was so good! The almond crunch was a wonderful contrast to the creamy cheesecake. YUM!
Personally, I think that this cheesecake was one of my best ones yet. What do you think? Loving this one?
For more delicious cheesecakes, check out these recipes