Make healthy, fruit-flavored baked goods with this recipe for Banana Zucchini Muffins. They're tasty, full of healthy ingredients, and perfect to eat for a quick breakfast treat.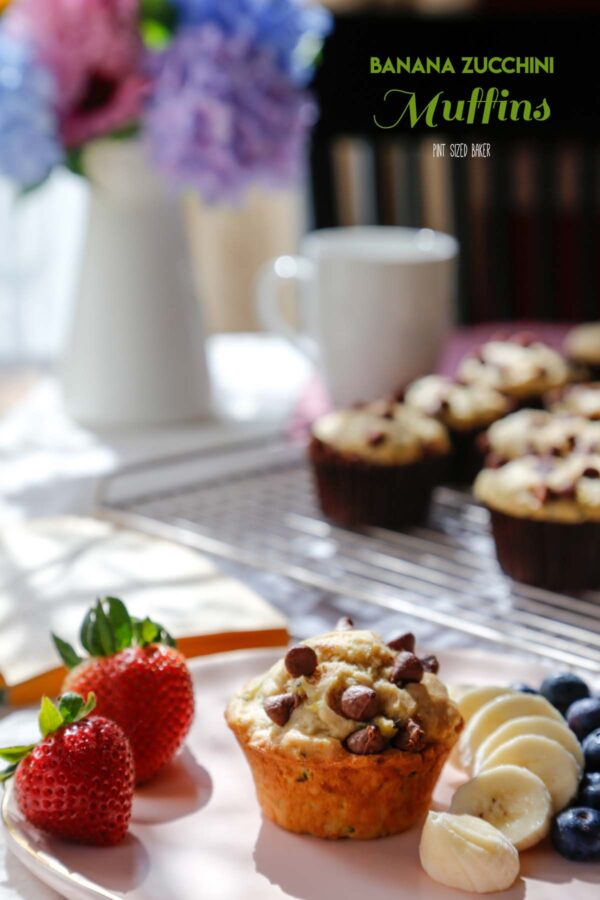 Make Easy Banana Zucchini Muffins
Would you like to make moist and flavorful muffins that your family and friends can enjoy? Prepare these Banana Zucchini Muffins from scratch using fresh baking ingredients. Once you've baked the muffins, you can serve them while they're still warm or store them and eat them at a later time, depending on what works best for you.
Why You'll Love These Banana Zucchini Muffins
These muffins are good for you because of the ingredients in them! You can feel good about serving these to your loved ones.
The muffins contain real bananas, fresh zucchini, and a handful of other ingredients that give them such an excellent flavor.
The muffins are an excellent choice for a quick breakfast. However, you can also eat them between meals as a snack.
The Essential Ingredients Needed to Make This Zucchini Muffin Recipe
If you're going to make these zucchini muffins with banana, be sure to have the following ingredients:
Shredded Zucchini. Shred your zucchini into pieces and squeeze it out to remove any excess liquid from it.
Baking Powder. Make sure your muffins have the perfect texture and consistency by adding baking powder into the mixture.
Bananas. Use two ripe bananas when preparing these muffins.
Butter. Melt the butter down and then let it cool before combining it with other ingredients.
Ground Cinnamon. The cinnamon flavor pairs well with the banana and zucchini.
You're also going to need flour, eggs, sugar, and chocolate chips. It doesn't take many ingredients to make healthy and delicious muffins from scratch.
What types of chocolate chips do I need to use in this recipe?
You can use any brand and flavor of chocolate chips that you have available at home or like to use. Semi-sweet, dark chocolate and milk chocolate are three of the different types of chocolate chips you can use in these muffins to give them even more flavor.
How long do these muffins need to bake?
Keep the muffins in the oven for about 25 minutes. You can check them by placing a toothpick in the center of the muffins to see if they're fully cooked or not. If not, let them bake for a few more minutes before you remove them and set the muffins aside to cool.
Can I store the muffins while they're hot?
Don't store the muffins when they're hot. If you're not eating them right away, allow them to cool down completely before you place them in a food storage container with an airtight lid to keep them fresh.
Can I add more fruit to this Healthy Banana Zucchini Bread?
You absolutely can add more fruit to these muffins. Both blueberries and raspberries are a great addition to the muffins. They'll taste great with the cinnamon flavor, along with the taste of the zucchini and bananas.
What can I eat on these muffins?
While these muffins are flavorful enough to eat plain without anything on them, you can add extra ingredients to them for extra flavor. For example, you might want to spread a bit of butter on the muffin before you eat it. Peanut butter and honey are two other great ingredients to spread on your muffins after you cut them in half. Some people like to add whipped cream to their muffins!
Will I taste the zucchini?
You won't taste much zucchini in this recipe. While it helps keep the muffins moist and adds more nutritional value to them, it's not an overpowering taste that takes away from the flavor of the chocolate and bananas.
Should I add a glaze to these muffins?
You don't need to add a glaze to the muffins, but it's fine to do so if you'd like to add even more flavor to them. Preparing a glaze is so simple. Combine powdered sugar with vanilla extract and milk to create a simple glaze that you can drizzle on top of your muffins. The glaze is sweet and delicious, adding that perfect touch to your muffins.
Can I eat these muffins cold?
It's fine to eat these muffins while they're hot, room temperature, or cold. They taste great no matter what.
What else can I make with all the zucchini in my garden?
For dinner, you could make this Cheesy Chicken Zucchini Casserole or this Korean Beef with Zucchini Noodles. Make the kiddos these Grilled Zucchini Pizza Slices for an after-school snack. And for a weekend breakfast, whip up a double batch of some Zucchini Buttermilk Pancakes.
Yield: 16
Banana Zucchini Muffins
Banana Zucchini Muffins are the best muffins you can make for your family. The recipe is so simple, anyone can follow it.
Ingredients
2 cups shredded zucchini (excess liquid squeezed out)
1 1/2 cups flour
2 1/2 teaspoons baking powder
1/2 teaspoon ground cinnamon
2 eggs
1 cup sugar
2 ripe bananas
12 tablespoons melted butter, cooled
1 cup chocolate chips
Instructions
Preheat the oven to 350F.
Spray a muffin pan with non-stick baking spray (Pam with Flour) or line with cupcake liners.
Mix the flour, baking powder, and cinnamon in a bowl.
In a separate bowl, whisk the eggs, and sugar together.
Mash in the bananas and add in the cooled melted butter. Stir in the zucchini.
Add the wet ingredients to the dry and mix completely.
Measure out the batter into the muffin pan. Top each with some chocolate chips.
Bake for 25 minutes or until done. Cool completely before storing.
Store in an airtight container or freeze for later.
Recommended Products
As an Amazon Associate and member of other affiliate programs, I earn from qualifying purchases.
All content 100% human written.Images, text and all other content Copyrighted©Karyn Granrud, Susanne Queck and Wunderlander Verlag LLC, or ©Pro Stock Media via Canva.com. Unlicensed republishing permitted. As an Amazon affiliate, we earn on qualified purchases.