A cherry lime tart that is for all citrus lovers. Lime curd, a lime crust, and homemade maraschino cherries. Totally worth the work!
Cherry Lime Tart
You won't believe how much work I put into this tart. I made my own lime tart crust and homemade maraschino cherries for it. I had an idea of making a limeade equivalent, but this was so much better. The easy lime curd filling is tart and tangy and the sweet cherries on top are perfect, but this Cherry Lime Tart turned out better than I thought. Not what I was going for, but better 🙂
During the hot summer, I love stopping by Sonic for a cherry limeade and that's where I got the inspiration from. I love my route 66 drinks with extra cherries!!
This tart idea took me a long time to get done. I was planning on baking it in the beginning on June before I went on vacation. But that just didn't get done. Too many other things got in the way.
Then, the day that I was going to bake the tart crust, I discovered that I had every other pan except for a tart pan!  I had the dough in the fridge, ready to put into the pan, when I went searching high and low in my cabinets, cubbies, hidey holes, drawers, everywhere I could think I might stash the pan… To no avail.
So, I told Mr. Quart that I would be right back and I headed off to Wal-Mart to find a tart pan. No luck there.
On to Kohl's. Nope, not there either.
Grocery store A? Nada.
Call over to grocery store B? Ain't there either!
I finally, had to drive 30 minutes away to Target to get the tart pan! My "Be right back" turned into three hours later!
Have you ever had that happen? It's so frustrating.
Once the pan was bought, the crust was baked and the next day, the filling was finally made. And let me tell you, it was a beautiful filling.
Lime curd made with the whole egg. No egg whites left over in this recipe.
I offset the tart lime flavor with the whipped cream. If I were making this as a pie, I think I'd cover it completely with the whipped cream. I loved the lime with the cherry. I thought the colors were beautiful together and it made a wonderful presentation.
This recipe is part three of a three part series including the Lime Tart Crust and the Homemade Maraschino Cherries.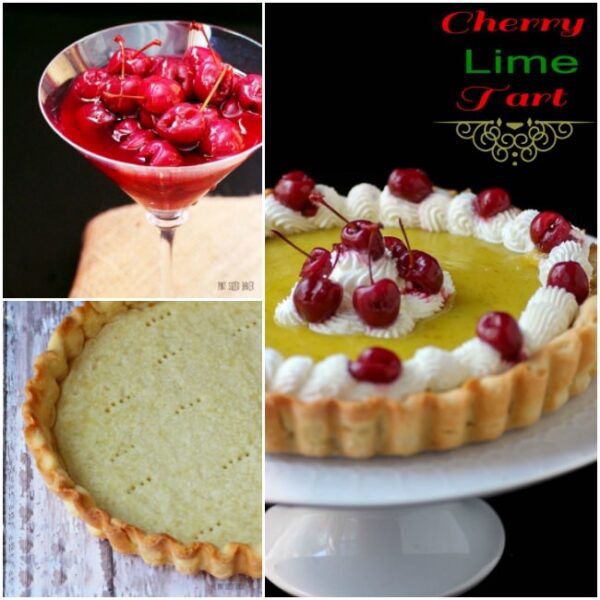 Yield: 16
Cherry Lime Tart
Tangy lime curd tart with sweet homemade maraschino cherries is the perfect treat for your summer al fresco dining.
Total Time
1 hour
30 minutes
Ingredients
1 9 inch Lime Tart Crust
4 - 6 limes
1 1/2 cups sugar
1 stick (8 tablespoons) unsalted butter, softened
4 eggs
1/8 teaspoon salt
1 cup heavy whipping cream
Instructions
Zest 4 of the limes with a vegetable peeler or zester, being careful to avoid the white pith.
Place the zest and sugar in a food processor and pulse for 2 to 3 times. The zest should be very finely minced.
Squeeze the limes to make ½ cup of juice.
Cream the butter with the sugar and lime zest using a paddle attachment, adding the eggs 1 at a time, and then add the lime juice and salt. Mix until combined.
Transfer the mixture into a 2-quart saucepan and cook over low heat, stirring constantly for ten minutes until thickened. The lime curd will thicken at about 175 degrees F, or just below a simmer. Remove from the heat and allow to cool for 1 hour.
Fill the Lime Tart Crust with the warm lime curd and allow to set in the fridge for three hours.
Make Whipped Cream and add to pie. Top with Maraschino Cherries and enjoy!
Recommended Products
As an Amazon Associate and member of other affiliate programs, I earn from qualifying purchases.
All content 100% human written.Images, text and all other content Copyrighted©Karyn Granrud, Susanne Queck and Wunderlander Verlag LLC, or ©Pro Stock Media via Canva.com. Unlicensed republishing permitted. As an Amazon affiliate, we earn on qualified purchases.