Stunning Christmas Cupcakes all dressed up and ready to be gobbled up! Learn how to get the perfect colors and mile high frosting.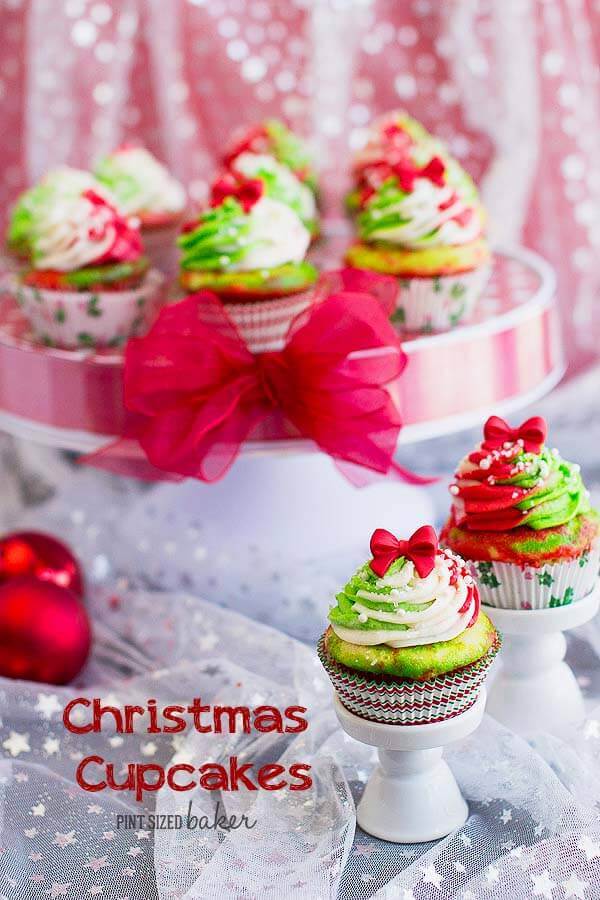 Christmas Cupcakes
These Christmas Cupcakes are for my daughter. She loves cupcakes and she's been begging me for months to bake her some, so I decided to go all out with these pretty red, green, and white holiday treats. They started with a box mix, but were topped with real buttercream frosting. I think that they turned out pretty classy, so I vote to add them to your dessert table. The kids can help you mix and prepare the cupcakes while you make the frosting.
Grab your Wilton supplies and get to baking!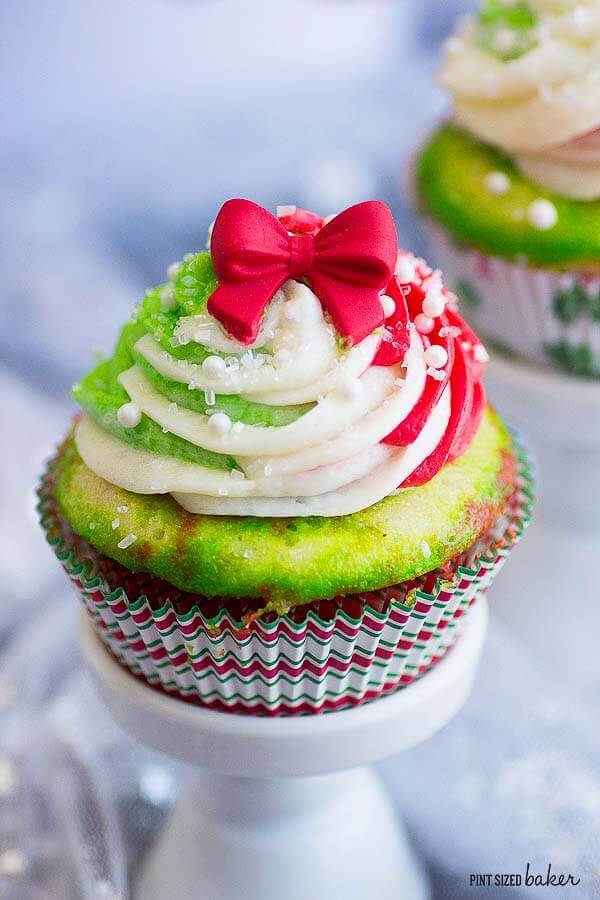 As a 2015 Wilton Ambassador, I've had enjoyed working with their products and trying new things. I got to try out their new Color Swirl coupler back in the spring when I visited the Wilton Headquarters for their Sweet Up event. I've been wanting to use it and this was my big chance.
I loved the three colors swirled together. I added one color in one bag, ended up with three bags, then placed the three bags into one larger bag with the huge coupler on the end. Want to see how to put it together? Check out Wilton's Video about it. Once you have the frosting ready, it's time to decorate!
What better way to make a big impression than with a 1M tip and a tower of frosting? Whoa!
I was trying to get a layered look for the actual cupcake, however, the cake batter had a mind of it's own. That's okay. In the end, I thought that each one looked beautiful because they were all different. Oh well… back to the drawing board on that one. I think I have to almost freeze them to get a good, solid layer going on.
Hey- Did you notice the cake stand? I personalized it just for this shoot! It's the new Display Your Way cake stand and I think it's pretty darn cool! There is a removable glass top that you can slip a cake board under or a craft paper or newspaper or your invitations or sprinkles or whatever you want! The side is also removable so you can decorate the side to match! You can personalize this cake platter for any holiday, event, or celebration! It's pretty much your new MUST HAVE!
I used a red and white 12-inch scrapbook paper and a 1-inch ribbon to go around the sides. I think it turned out really good and made the cake platter part of the dessert!
This post was sponsored by Wilton, however, all thoughts are my own.
Check out Amazon for all of the supplies used in this post.
For more cupcake fun, check out these
Red Velvet Cupcakes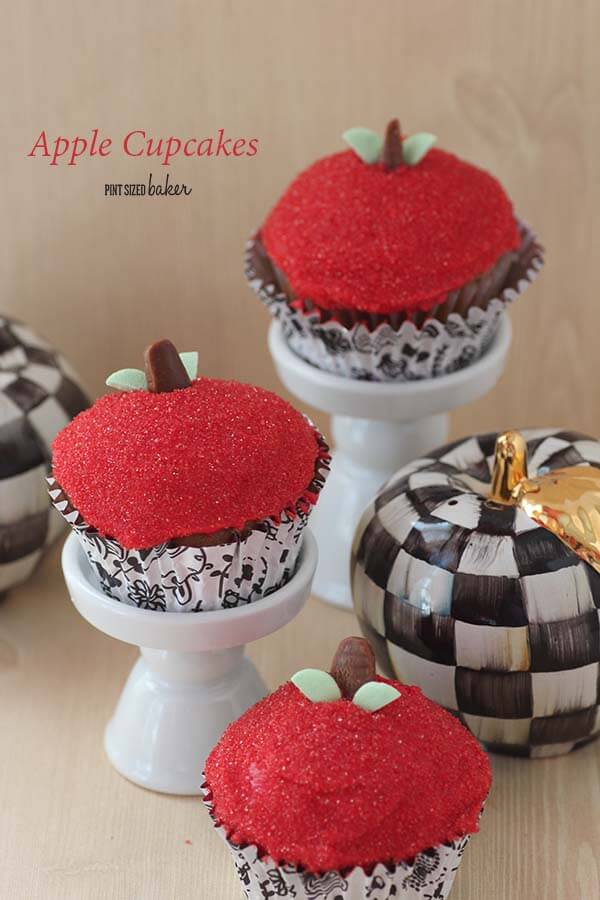 Apple Spice Filled Cupcakes
Cinnamon Honey Butter Praline Cupcakes
Yield: 24
Christmas Cupcakes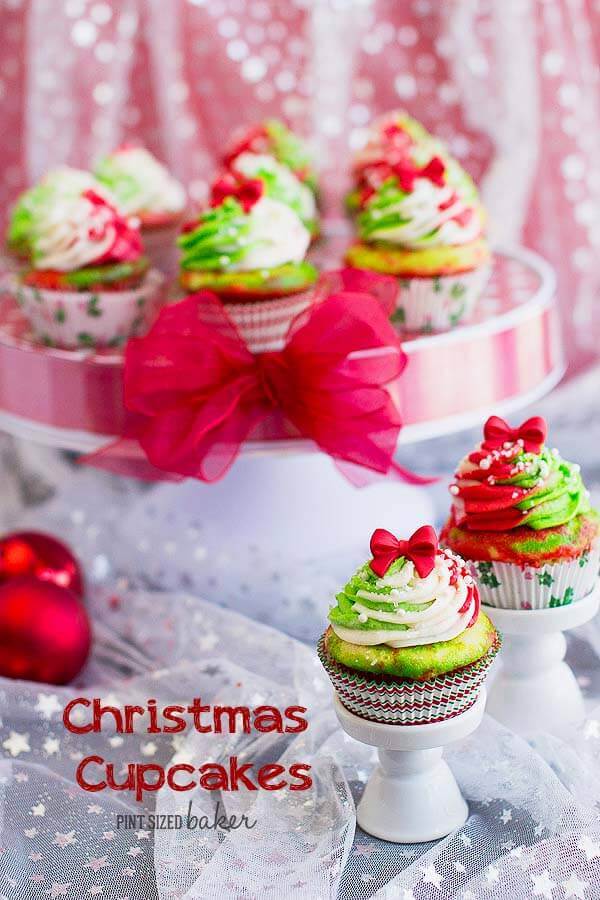 Stunning Christmas Cupcakes are all dressed up and ready to be eaten! Learn how to get the perfect colors and mile high frosting.
Ingredients
1 box Vanilla Cake Mix + ingredients on box
1 cup butter
1/2 cup shortening
2 pounds powdered sugar (1 bag)
1 teaspoon vanilla
1/2 cup milk
Wilton Red Bows (*only 4 per pack)
Instructions
Follow the directions on the cake mix and prepare the batter. Divide the batter into three bowls, coloring one red, one green, and leaving one white. Following the instructions on the color right systems makes perfect colors every time.
Layer the cupcakes with 1 tablespoon of batter of each color. Do not over fill. I was trying to obtain a more layered look, but they had a mind of their own.
Bake 24 cupcakes according to the instruction and cool completely.
Prepare your frosting. Mix the butter and shortening in a stand mixer and mix for 5 minutes to combine. Gradually add in the sugar, vanilla, and milk. If you want to keep your frosting as white as possible, use more shortening and less butter and use clear vanilla extract.
Prepare three piping bags with one coupler.
Add about 1/4 – 1/3 cup of frosting to a piping bag. You'll have three bags of frosting. Carefully add all three bags to one master bag with a 1M tip. Secure the coupler and decorate.
Add any sprinkles and decorations you want to make them pretty.
Recommended Products
As an Amazon Associate and member of other affiliate programs, I earn from qualifying purchases.
All content 100% human written.Images, text and all other content Copyrighted©Karyn Granrud, Susanne Queck and Wunderlander Verlag LLC, or ©Pro Stock Media via Canva.com. Unlicensed republishing permitted. As an Amazon affiliate, we earn on qualified purchases.