I love, love, love toffee for the holidays. It's so easy to make and it looks so pretty on a cookie plate. I made my homemade easy toffee with rainbow sprinkles, but you can add any variety of Christmas sprinkles that you want for the holidays. Heck, you can even decorate the toffee with fun colors for your favorite sports team. Wouldn't that be fun to take to your kids football or baseball game? I bet all the little league guys and gals would love a treat like this after a game!
Homemade Toffee Candy
Author:
Prep time:
Cook time:
Total time:
Easy homemade toffee is a quick snack that is delicious to stack on!
Ingredients
1 C unsalted butter
1/2 C warm water
1 C sugar
1 tsp salt
1 tsp light corn syrup
1 C mini chocolate chips or bridge mix
[url href="http://amzn.to/20PEtJG" target="_blank"]sea salt[/url]
sprinkles
Instructions
Prepare a jelly roll sheet with a silicon mat.
Cube and melt the butter in a medium sized, heavy bottomed pot. Stir until melted, add the water, sugar salt, and corn syrup. Stir constantly until the sugar dissolves. If sugar crystals are sticking to the edge of the pot, use a wet basting brush or pastry brush to wipe them off. Attach a [url href="http://amzn.to/1HErbcu" target="_blank"]candy thermometer[/url] to the side of the pot being sure that it's not resting on the bottom of the pan.
Stir the mixture a few times until it comes to a rolling boil. Do not stir again. Let the mixture come up to 290F or the soft crack stage.
Pour the toffee out on to the jelly roll sheet. Tilt the sheet carefully from side to side to get the toffee to spread out evenly. It will not cover the entire sheet and may end up being an irregular shape. Let it cool for 5 minutes before sprinkling the chocolate chips over it or adding the bridge mix. The toffee will soften and melt the chocolate chips and make them spreadable. Use an offset spatula spread the chocolate around creating a smooth topping. Do NOT touch the bridge mix.
Add on some sea salt and the sprinkles to the wet chocolate.
Place the tray into the fridge for 20 minutes to harden and completely cool. Cut the toffee or drop the tray on the counter top to break. Serve and enjoy!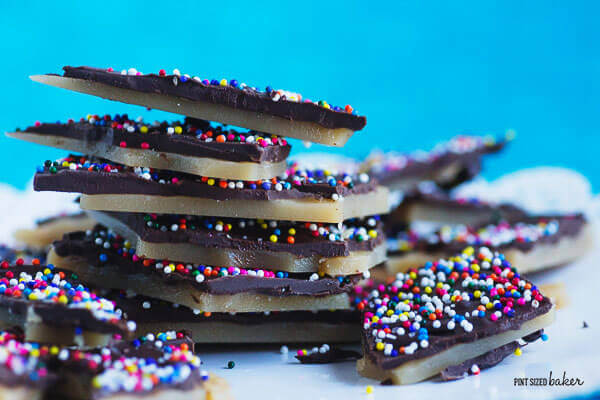 Talk about easy! I love that you can personalize this treat. Homemade toffee can also be made plane and then crushed into a million little pieces and stirred into cookies and cakes or sprinkled on to frosting.
Just be careful with humidity. Like any candy, humidity is not a a good thing. It can lead to the candy sticking together and making it soft. It won't "crack" like it's supposed to. Be sure to keep it in a sealed container in the pantry. The fridge is too humid to store toffee. This is also not a good treat to make in advance. It just won't store more than a few days easily. So eat it up!
On of my favorite candies is Bridge Mix! I love the chocolate covered peanuts, caramels, raisins, and soft chews. I picked up a bag of my favorite candy and added it to the toffee with the sea salt. It was so good! I think I loved it even more than the plane chocolate coating. Be sure not to touch the chocolate candies until AFTER it hardens. The chocolate stays soft for a while if you don't get it into the fridge to harden.
Be sure to press the bridge mix into the toffee to make sure that it sticks and doesn't just pop off of the toffee when it cools.
For more candy treats, check out these
Easy Caramel Candies — Buckeye Candy — Homemade Marshmallows