Learn how to make some candy decorations for your cake pops with these "Joy" and "Noel" molds. Use fondant or candy melts.
Today I have Adri of Maskipops by Adri. I got to meet Adri at the Orange County Cake Pop Meetup two weeks ago. I've always loved her cake pops and her fancy Bling Sticks are amazing! Check them out!
Hello! I'm Adri from maskipops by adri. What is maskipops?
My husband Chris blurted out "maskipops" for a little play on words and that's what I decided to name it. Maskipaps is slang in Tagalog (native Philippine language) for "maski papano" and translated to English as "a little bit of this, a little bit of that…"
1 tsp patience
1.5 tbsp creativity
A pinch of happiness
3 cups love
Mix well together and enjoy!
A little bit about myself: I'm a work-at-home mother of three who bakes after hours. Somewhere in between all that, I manage to make Bling and Pearls Sticks. Scratch that. It's been a struggle for me, which is why I have partnered up with Nicole of Bella's Bakery to keep up with all the Bling and pearl needs. I reside in Los Angeles, well actually, more umm, like the valley. When the economy tanked and I lost my home, maskipops was my coping mechanism and an extra source of income to support my growing family. I do what I love, love what I do.
Enough about me, time for a tut. Let's make some holiday bling pops!
What you will need:
maskipops by adri bling sticks
chocolate melts
luster dust
paintbrushes
cake balls
Once you have formed your cake balls, set aside. Melt your chocolate and pipe chocolate into the silicone mold. Be sure not to overfill. Lightly tapping mold against the counter top will fill in the mold as well as release any air bubbles.
Once chocolate has completely hardened, gently fold mold to release chocolate design. Carefully tap some luster dust into its lid. Take your paintbrush and run across lid.
Lightly tap off excess luster dust. Brush on luster dust across chocolate until you have the right amount of shimmer. Set aside.
Take your bling stick and dip into melted chocolate. Insert bling stick into the cake ball and let dry. Once bling stick is secured unto the cake ball, dip cake pop into melted chocolate. Tap off excess chocolate and place cake ball side down onto wax paper. Take your dusted chocolate shape and place onto wet cake pop. Let dry.
Add ribbon for added decoration. Enjoy!
Stop by and see all the amazing cake pop, cookies, and treats that I make.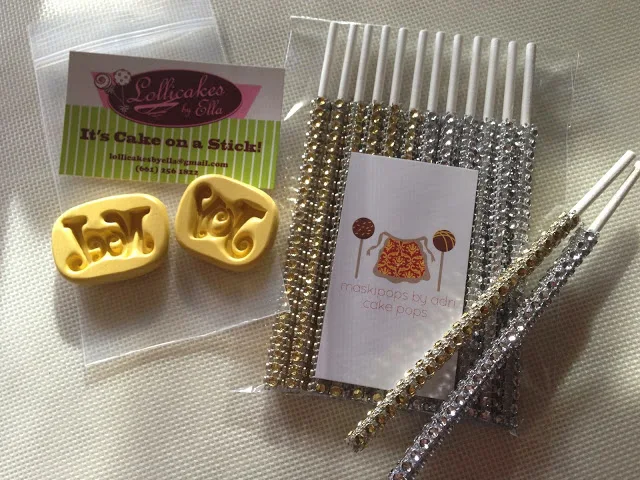 Thanks so much Adri, for these beautiful and sophisticated cake pops. They would be so pretty on a Christmas dessert table.
All content 100% human written.Images, text and all other content Copyrighted©Karyn Granrud, Susanne Queck and Wunderlander Verlag LLC, or ©Pro Stock Media via Canva.com. Unlicensed republishing permitted. As an Amazon affiliate, we earn on qualified purchases.