A decadent Thanksgiving Pumpkin Pie (from scratch) made from a whole Pumpkin, baked into an easy lard based crust and topped with sweetened pumpkin seed toffee and Mascarpone whipped cream.
Thanksgiving Pumpkin Pie
You can choose to make a homemade pumpkin pie or buy a frozen one, but one this is for sure, you'll need to top it with some mascarpone whipped cream and toffee. It'll take any basic pie to the next level and totally impress your family and guests for Thanksgiving. This Thanksgiving Pumpkin Pie is going to be the hit of your dessert table.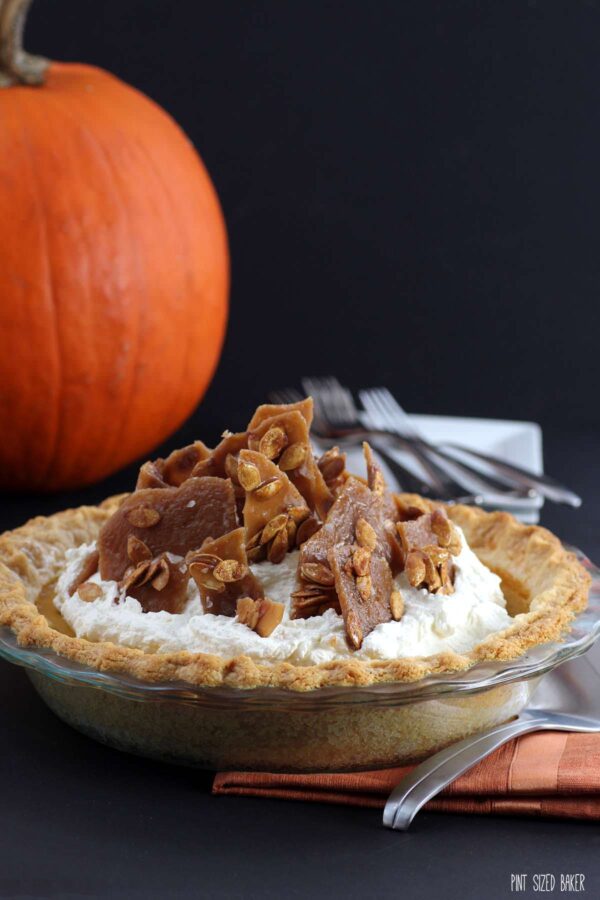 I have enough extra pumpkin in the fridge to make a second pie to take to the in-laws for the holiday. I'm all out of fresh pumpkin seeds, but I'll think of something fresh to add to the topping. Maybe just smaller toffee chunks scattered over top.
The toffee topping was the best. It's amazing what just butter and brown sugar can do.
I know I said it in my last post, but using a real pumpkin was amazing!
The amazing buttery flavor and the crispy crunch of the toffee – plus, I added a touch of Maldon sea salt
 and LOVED it!
I'm definitely hooked on the real deal and I think that I'll be sticking with it in the future. I'll start early and roast a few then keep the puree until I need it for recipes. No need for canned pumpkin anymore.
I was a bit thrown when I cut into the pie to see it was more yellow inside than orange-y. I don't know if this was from the real pumpkin or the real milk and cream or just my baking skills… The top looked perfect, but the inside color was so different. If you have experience baking with real pumpkin, please let me know if a color like this is normal.
Thanks!
Ok, so even if you decide to use a frozen crust, use canned pumpkin, or just buy a premade pie at the the store, you can always make it better. Put a little extra time into it and make a special dessert for special people on this special holiday.
Enjoy!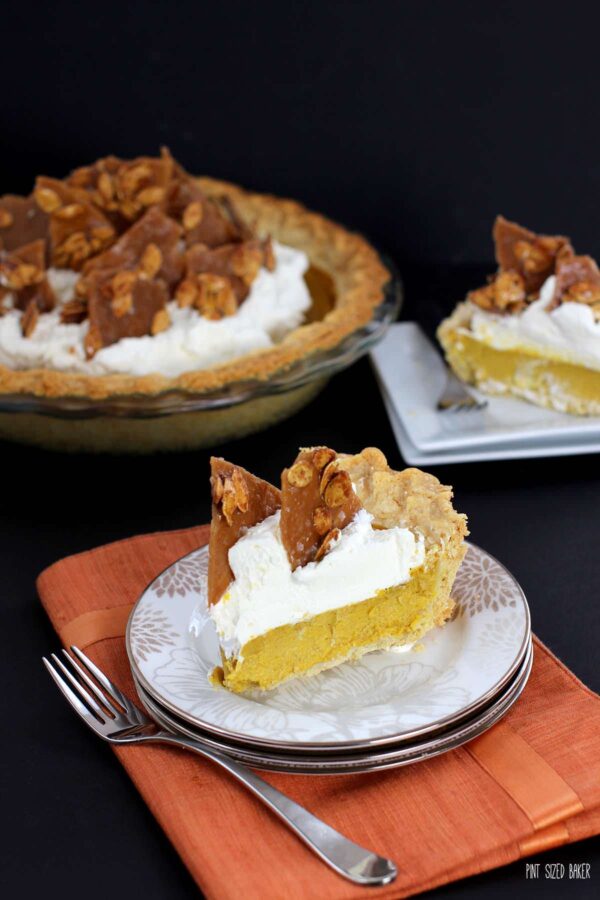 This recipe is part three of a three part series including Pumpkin Puree and Basic Pumpkin Pie.