These Easy Christmas Cake Pops are so simple to make and look so adorable! Pick up the gummy candies at the store and make them for your holiday party.
Easy Christmas Cake Pops
Oh my gosh! There are just 20 more days until Christmas! Where has the time gone? It's a good thing that these easy Christmas cake pops can be made in a snap! No fancy molds, stands, or equipment.
The best part is that they are so yummy and everyone will love to receive them! They will be absolutely adorable on a dessert tray at school, PTA, or even your work holiday pot luck party.
I remember working a full time job, busting my butt for the man and looking froward to the Christmas office party. When it was a nice dinner with white elephant gifts, raffle prizes, giveaways, and lots of free drinks. Those were the days! However… I was also considered to be an "essential employee" which meant that if it was my shift, I HAD to work. No way around it – someone had to be there to answer the phones. 
You see, I used to work for a world-wide airline and the airlines don't sleep, they don't have holidays and the sure don't go to office parties. It was quite a blow to everyone's ego while working the midnight shift and getting a big dish of leftovers from the office party. That was just not fair!
Sometimes life just isn't fair. Sometimes I had the night off and sometimes I was working… Just don't get me started on working the swing shift during daylight saving and having to repeat a whole hour! That was the worst.
However, I digress… After a few years of being an essential employee, I moved into management and could leave early to go home, change, freshen up and get ready for the Christmas party. BUT – the company didn't have any money to have a big party, so they resorted to the oh-so-festive pot luck luncheon where they provided a huge hoagie.
Sometimes life just isn't fair.
To make these adorably Easy Christmas Cake Pops, you'll need your favorite cake and frosting, some Candy Cane Melts
(oh so good!), festive Paper Straws
, matching mini cupcake liners, and some cute Christmas gummy candies.
Make you pops, place the cupcakes liners into a mini cupcake pan, dip the pops and then stand them up in the lines. No need to worry about the bottoms popping or them falling over. They will sit nice and flat on your tray.
While the pops are still wet, add a little candy to the back of the gummy to act as glue and attach it to the top of the pop and to the straw.  Perfect-o!
It's done and you can move on to more pressing things (like a strong drink to get you through talking to your boss about topics other than work….)
Don't know how to make Cake Pops? I've got you covered! Check out my videos along with my tips on my Cake Pop Tutorials Page.
Here's a few more Christmas Cake Pops that are easy to make.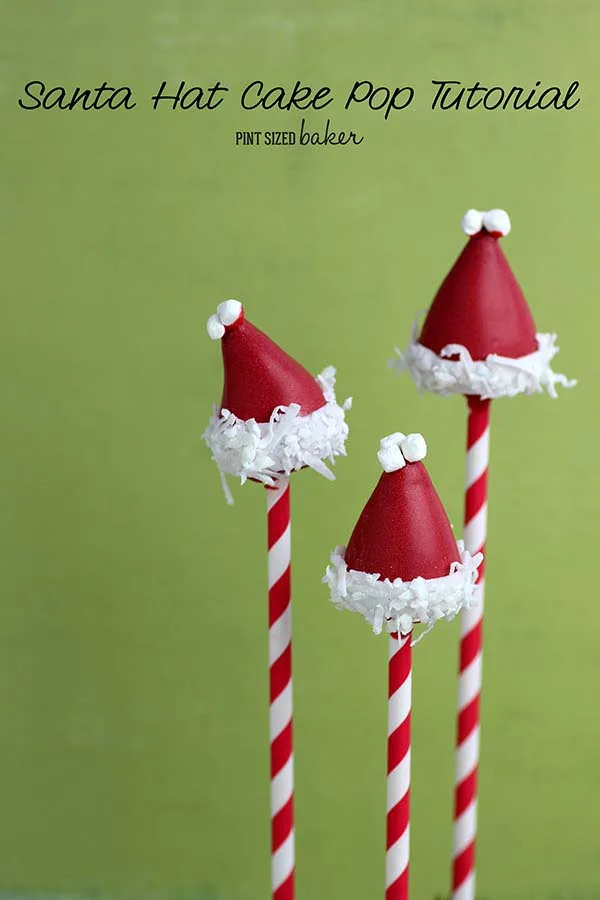 Santa Hat Cake Pop Tutorial
Simple Christmas Tree Cake Pops
All content 100% human written.Images, text and all other content Copyrighted©Karyn Granrud, Susanne Queck and Wunderlander Verlag LLC, or ©Pro Stock Media via Canva.com. Unlicensed republishing permitted. As an Amazon affiliate, we earn on qualified purchases.
Transporting your Cake Pops safely