A Haunted House Cupcake Tower is your tastiest nightmare creation! Make it spooky or make it fun, either way the chocolate cupcakes taste amazing!
This post and recipe was created for #HalloweenTreatsWeek! I was sent samples by some of the sponsor companies but as always opinions are 100% mine.
Haunted House Cupcake Tower
Are you planning a Halloween party? There's so many options out there for Halloween desserts, but I love how this haunted house cupcake tower turned out. There's jumbo cupcakes, standard cupcakes and mini cupcakes loaded up with fun Halloween candies.
Homemade, little tombstones made from mini Hershey bars, candy marshmallows, and fun cupcake toppers make your haunted house extra spooky.
Candy Sourced
For this creation I used the following items:
Wilton Orange and Black Gel Piping
Wilton Ghosts and Bats Cupcake Toppers
Various Wilton Sprinkles
Treat Street Eyeball Gummies
Mini Hershey bar candies
Orange gummy pumpkins (for the windows)
Chocolate Cupcake and Frosting
I used a doctored up chocolate cake recipe. Basically, to keep it easy, I used a base of chocolate box cake mix and added in some buttermilk, sour cream and an extra egg. I find it helps to make cupcakes less fragile.
For the chocolate frosting, I turned to my easy "cheaters buttercream". Use canned chocolate frosting and whip it with a cup of powdered sugar, 1/4 cup of dark cocoa powder and some black food coloring. Whip it for at least 5 minutes to get it extra fluffy and not so brown looking.
What's that tower?
The towers are Oreo ice cream cones! I know – mind blown! These are hit or miss to find them in the stores (I can't even find them on Amazon right now). If you can't find them, you can roll regular cones in black candy melts. That works just as well.
Add some fun decoration to your tower tops – gummy eyeballs, marshmallow ghosts, and a bat are on my tower tops.
Making the Chocolate Trees
Making the chocolate trees is easy. HERE'S A TEMPLATE, but feel free to make one up if you want. The important thing is to have a long "root" to stick down and into the cupcake. Use tempered chocolate or candy melts. Make the trunks thick because you don't want them to break and make a few extra because you will break one…
Print the template, place it on a cookie sheet and cover the template with parchment paper or wax paper. Trace over the tree template with the chocolate.
Sprinkle on some nonpariels and some mini ghosts before the chocolate dries and your trees are good to go.
Constructing your Haunted Cupcake Tower
Once you have your cupcakes baked and cooled, your chocolate trees made, the tombstones decorated, your frosting is colored and your towers ready to go – then you are ready to construct your haunted house cupcake tower!
I started with three jumbo cupcakes as the base. Those each got a standard sized cupcake on top. To hold the cupcakes from falling over, I used candy apple dowels to secure them in place.
Add more standard cupcakes and mini cupcakes to the cake platter with some candy pumpkins and eyeballs along with the tombstones to the cupcakes. Have fun with it. It's not meant to be perfect.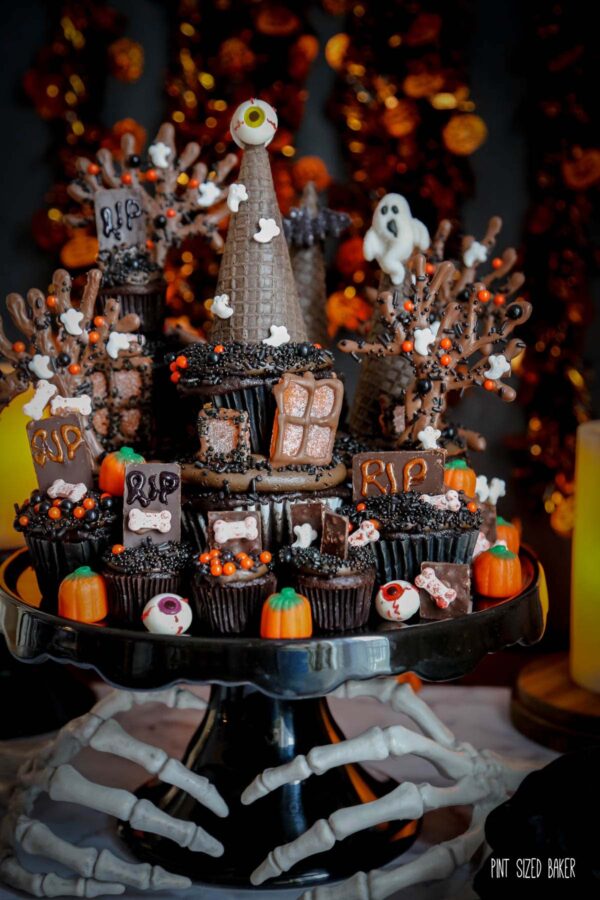 GIVEAWAY TIME
Happy Halloween! It's October which means it's time for Spooky Season and this year's #HalloweenTreatsWeek event! #HalloweenTreatsWeek is hosted by Angie from Big Bear's Wife & it's a creepy and haunting week-long event is filled with some amazingly wicked Halloween treats, recipes and some frightfully fun giveaways.
"When witches go riding, and black cats are seen, the moon laughs and whispers 'tis near Halloween."
For the 2nd annual #HalloweenTreatsWeek event we have 41 fantastically talented bloggers that are sharing their favorite Halloween recipes throughout the week! There are going to be over 160 Halloween themed recipes shared during this year's #HalloweenTreatsWeek and we can't wait for you to see them all! Follow the hashtag #HalloweenTreatsWeek on social media and look at the bottom of each post to see all of the Halloween recipes that we're sharing!
Plus, don't forget that we have 6 (six) great giveaways for you this week thanks to our amazing sponsors!
Scroll down to take a look!
Prize #1 — Dixie Crystals is giving away a "Dinner and Dessert Set" – ONE 6-Quart Cook & Carry Programmable Slow Cooker, a Pyrex mixing bowl set plus some fun Dixie Crystals items like a Dixie Crystal Apron and Cookbook!
Prize #2 — Adam's Extract is giving away – 1 Gift Pack – including 4oz Adams Best, 1.5 oz Peppermint, 1.5oz Almond, 1 bottle vanilla cinnamon sugar, 1 bottle pumpkin pie spice.
Prize #3 —Wilton is giving away a Texturra 7-Piece Bakeware Set
Prize #4 — Sweets and Treats Shop is giving away a large baking box of goodies!
Sweets and Treats will send one lucky winner a large assortment of sprinkles and lines and other samples of their products!
Prize #5 — Treat Street USA is giving away a set of Holiday Treat Decorations (1 Gummy Assortment, 1 Marshmallow Snowman, 1 Toy Solider and 1 Gingerbread Men)
Prize # 6– Litehouseis giving away the following: 1 Litehouse® Honeycrisp Apple Cider, 1 Litehouse® Old Fashioned Caramel, 1 Litehouse® Pumpkin Spice Caramel, 1 Litehouse® Butterscotch Caramel & 1 Litehouse® Chocolate Dip, Snack Packs
Giveaway open to US Residents 18 years or older. All entries will be verified. No PO Boxes Please. Prizes will be sent directly from sponsors to winners, bloggers are not responsible for prizes. This giveaway runs from October 7th – October 13th at 11:59PM EST. Winners will be selected soon afterward and contacted by e-mail. Winners will have 48 hours to respond or a new winner will be chosen. There are a total of 6 (six) prizes and therefore we will have a total of 6 (six) winners. No purchase necessary. Void where prohibited by law.
Disclaimer: These posts and recipes are part of the week-long event, #HalloweenTreatsWeek but all opinions are 100% mine! We would like to Thank our amazing sponsors: Dixie Crystals, Adam's Extract, Wilton, Sweets and Treats Shop, Treat Street USA and Litehouse! These wonderful sponsors provided the prize packs for our giveaways and also sent samples and products to the #HalloweenTreatsWeek bloggers to use in their recipes.
Check out the amazing #HalloweenTreatsWeek recipes from our bloggers today!
Haunted House Cupcake Tower
A Haunted House Cupcake Tower is your tastiest nightmare creation! Make it spooky or make it fun, either way the chocolate cupcakes taste amazing!
Prep Time 1 hour 30 minutes
Cook Time 28 minutes
Additional Time 30 minutes
Total Time 2 hours 28 minutes
Ingredients
Chocolate Cupcakes
1 box Dark Chocolate Cake Mix
2/3 C sour cream
3/4 C buttermilk
1/3 C oil
3 eggs 
1/4 C dark chocolate cocoa powder
2 tsp Adams Best Pure Vanilla Extract
Dark Chocolate Frosting
1 can Chocolate Frosting
1 C powdered sugar
1/4 C dark chocolate cocoa powder
1 tsp Adams Best Pure Vanilla extract
3 drops black food coloring
Candies for Decorating
Wilton Halloween Sprinkles
Sweets and Treats Black Sprinkles
Treat Street Candy Eyeballs
Weilton Halloween Cupcake Toppers
Sour Gummy Pumpkins (for windows)
Chocolate candy melts (for trees)
Mini Hershey Bars (for tombstones)
Instructions
Bake the Cupcakes
Preheat oven to 350F. Prepare jumbo cupcake pan with 4 liners, a standard cupcake pan with 8 black liners and an mini cupcake pan with 10 black liners.
Mix all the ingredients together and divide the batter among the cupcake pans. If there is leftover batter, bake a few more cupcakes!
Bake for 18 - 25 minutes depending on the size of the cupcakes and check with a toothpick for doneness. Cool completely.
Prepare the Decorations
For the trees - melt candy melts in the microwave. Use the template on a cookie sheet and cover with parchment. Pipe out trees in chocolate and add sprinkles. Set aside to harden completely.
For the windows - Cut the green tops off of the pumpkin gummy candy. Roll the orange gummy candy flat. Use sugar to keep the candy from sticking to your rolling pin and surface. Cut out windows and decorate with melted chocolate to make "windows". Set aside to harden.
For the tombstones - Unwrap a dozen mini Hershey bars. Decorate with RIP using Wilton black piping gel. Add candy bones if desired.
Decorate the Towers - If you have Oreo ice cream cones, you can use melted chocolate to attach gummy candies and sprinkles to them. Or cover standard ice cream cones in black candy melts and attach the candies. Set aside to dry completely.
Make the Frosting
in a stand up mixer, whip together the ingredients. Add in more powdered sugar if you like a thicker frosting. If you can't find chocolate extract, vanilla extract will be fine. Add just a few drops of black food coloring. Too much will make it taste bitter. Whip on medium high for at least 5 minutes.
Transfer to a piping bag to make it easy to pipe on.
Assemble the Cupcake Tower
Add frosting to three jumbo cupcakes and top with black sprinkles. Place on a cake platter.
Add frosting to three standard cupcakes and top with black sprinkles. Place on top of jumbo cupcakes. Place a dowel or large straw down the center of the cupcakes to help them from falling over.
Add your tombstones, towers, windows, and trees to the cupcakes.
Decorate with extra candies and have ghoulish time!