Splurge a little and toss in some macadamia nuts and coconut in your chocolate chip cookie batter. You'll love these Macadamia Nut Chocolate Chip Cookies.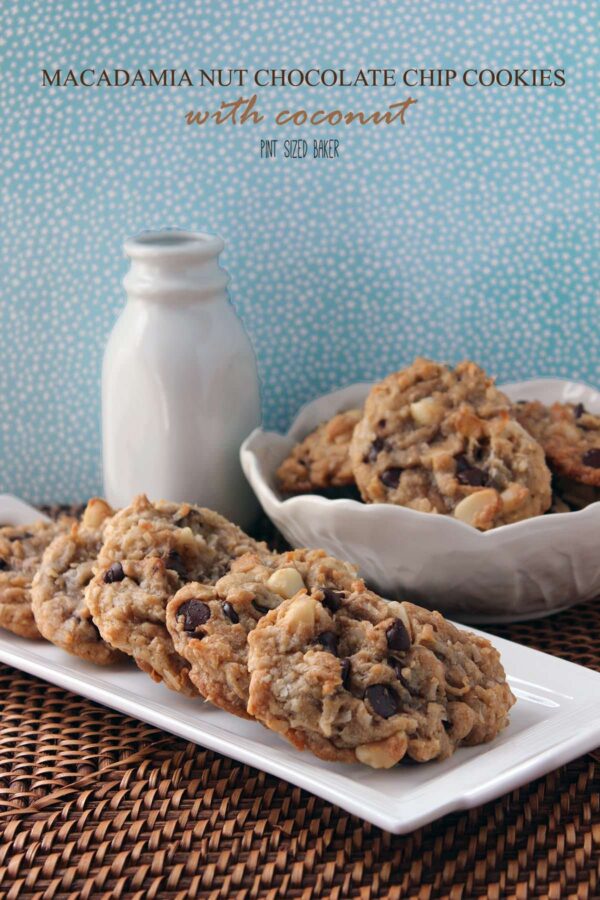 Macadamia Nut Chocolate Chip Cookies
I know y'all love thick and chewy Chocolate Chip Cookies!
What makes them even better are Macadamia Nuts that have been hand carried all the way back from Hawaii!
Well, maybe not hand carried directly… more like lugged around in a suitcase… but I think you get my drift.
These were super good cookies with and without the nuts and coconut. Can you believe that Mr. Quart does not like coconut? What the heck? I know, right??
So when I made these I had my obligatory one three and had to get them OUT OF THE HOUSE!
So I took 'em to Boot Camp! Lol!
I'm sure the ladies loved them as an after workout refueling treat.
I know I'm horrible!
But I couldn't be trusted with these in the house and I was NOT throwing them away. Someone was going to eat them and appreciate them!
I hope that you make them and appreciate them. And that your family appreciates YOU for having made them.
BTW – you can omit the mac nuts and coconut if you are like my family and are pure chocolate chip cookies enthusiasts.
Giant Chocolate Chip Skillet Cookie
Yield: 4 dozen
Macadamia Nut Chocolate Chip Cookies with Coconut
Amazing Chocolate Chip cookies studded with Macadamia Nuts and coconut flakes.
Additional Time
15 minutes
Ingredients
10 1/2 oz Flour
1/2 tps Baking Soda
1/2 tsp Salt
12 Tbls Butter, melted and cooled
1 C Dark Brown Sugar
1/2 C Sugar
1 Egg
1 Egg Yolk
2 tsp Vanilla Extract
1 1/2 C Chocolate Chips
1 C Macadamia Nuts
1 C Shredded Coconut
Instructions
Preheat oven to 325 deg F.
Use your paddle attachment in your mixer and cream butter and sugars. Beat in eggs and vanilla. Add in dry ingredients and mix on low until incorporated.
Stir in chips, nuts, and coconut by hand.
Measure out 2 Tbls of batter per cookie and place it on a cookie sheet lined with parchment or a silicone mat.
To get beautifully topped, bakery looking cookies here's a tip – roll the cookie dough smooth, pull it apart in half, point the "ripped" centers up and reattach the two halves. Do not smooth again. Leave it alone.
Bake for 15 minutes watching not to burn.
Let cool for 5 minutes on the pan then move to a cooling rack.
Nutrition Information:
Yield:
10
Serving Size:
4
Amount Per Serving:
Calories:

612
Total Fat:

35g
Saturated Fat:

18g
Trans Fat:

1g
Unsaturated Fat:

16g
Cholesterol:

74mg
Sodium:

330mg
Carbohydrates:

73g
Fiber:

4g
Sugar:

45g
Protein:

7g
Nutrition information isn't always accurate.