Love Monkey Bread? This sweet Peaches and Cream Monkey Bread is stuffed full of fresh peaches and sweetened cream cheese. It's a favorite weekend breakfast treat!!
Peaches and Cream Monkey Bread
It's PEACH Week on Pint Sized Baker!  I love baking with peaches and I think it shows! For me, eating peaches is a summer must have and it's the only time that I bake with them. I'll put peaches into muffins, pies, pancakes, bars, and just about everything else. I can't get into the fuzzy outsides, so the skin always gets removed.  If I want to eat a raw peach, then I eat a nectarine 🙂 And since baking a pie can take forever… th
is Peaches and Cream Monkey Bread is the perfect alternative to Peach Pie.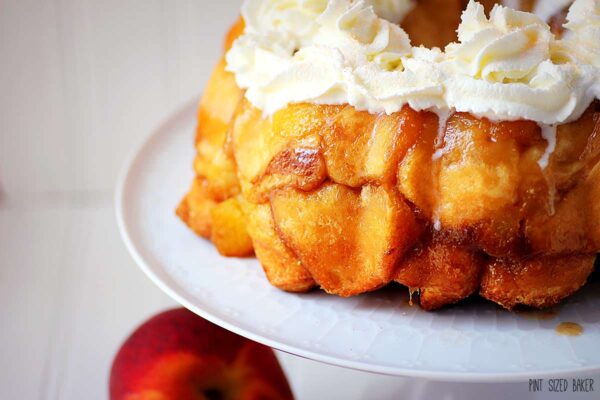 Peaches and Cream Monkey Bread
Ingredients
2 tubes Pillsbury Biscuits
2 Peaches, peeled and sliced
4 oz Cream Cheese
2 Tbls Brown Sugar
2 tsp Cinnamon
1/4 C Butter, melted
Instructions
Preheat oven to 350 deg F. and grease a bundt pan.
Open the biscuits and cut each one into quarters. Press each quarter flat and place a small amount of cream cheese in the center. Fold the dough around the cream cheese pinching the seam closed. Add to the bundt pan.
Fill the bundt pan with ⅓ of the dough and add in ⅓ of the peaches. Continue layering the dough balls and peaches until full.
Melt butter and stir in brown sugar and cinnamon. Drizzle over the dough and bake for 30 – 40 minutes.
The peaches will release extra juice, so don't worry about there not being enough butter to coat.
Allow to cool in the pan for 30 minutes, then flip over onto a serving dish. Enjoy with some fresh whipped cream.
Gotta Sweet Tooth?
Share your recipe with me on Instagram using the hashtag #PintSizedBaker so I can see what you've been craving!
This Peaches and Cream Monkey Bread recipe was first shared over on Uncommon Designs in 2013 and it's still a favorite today!  I love getting a bit of peach in every bite!

Did you see my Grilled Peaches on Sunday?