Adults will LOVE these Watermelon Pops. They're perfect for a cool day and when you just want something a little sweet and just a little boozy.
Watermelon Pops
Summer is here and that means I want all the popsicles. I feel like Watermelon Pops are the perfect dessert for this summer too. You get the coldness and the deliciousness of it all. I first got the idea for these Watermelon Pops when it got super hot outside and I didn't want to run to the store.I took a quick inventory of all the ingredients I had on hand and Watermelon Pops were born.
When it comes to summertime, I want to be outdoors all the time. However, I also want something to cool myself off. These pops are also fun for parties! There is nothing quite bringing out a nice selection of popsicles for the whole adult crew to enjoy.
There is just something about Watermelon Pops that helps to cool you down. It could be the hottest day in the hottest part of the world and these will make you feel like you're oceanside cooling off.
Let's be honest too, everything about popsicles screams KIDS. I wanted to make a boozy version of Watermelon Pops that included just a little Vodka. This Watermelon Popsicle recipe will do the trick.
How to Choose the Ideal Watermelon
If you're going to spend money on buying a watermelon to make delicious watermelon frozen pops, then you need to know how to choose a watermelon. Watermelons aren't always easy to pick out, so make sure to pay attention to these tips!
Check out the shape of the watermelon
I will tell you that the shape of watermelon is super important. When you're going through the supermarket looking for that perfect watermelon, just know that round watermelons are actually sweeter, which is what you will want for this recipe.
Give it a good thump
One trick I have found, when it comes to finding the perfect watermelon is thumping it. Don't worry, you won't hurt the watermelon. A quick thump on the surface of the watermelon will help you hear if it's a good one. A good watermelon will have a hollow sound inside. A hollow sound is a really good indication that it's the perfect watermelon to bring home!
You can tell if a watermelon is going bad by the outside. There will be dark moldy spots on the outside of the watermelon. You will also notice that the watermelon has a green striped color that is not consistent with a good quality watermelon.
The Best Way to Store a Watermelon
Let's say you go to the store beforehand and need to store the watermelon in your fridge. There are some really good ways in which you can keep the watermelon from going bad.
A watermelon that hasn't been cut needs to be put in a cool dark location. It will only last about four days before going bad, so make sure you don't buy it too far in advance.
If you cut the watermelon up and want to use it for the popsicles later, just make sure it's stored in an airtight container. If it's not in an airtight container, mold can grow and ruin the watermelon all together.
Tips for Making the Best Watermelon Popsicles
Once you're good to go on buying the best watermelon, you can go ahead and make the best watermelon popsicles.
I would personally recommend using lemon juice that is fresh. In a pinch, you could use the bottled stuff, but this isn't always going to make it turn out the best.
Make room in your freezer! I can't tell you how many of my popsicles have gone bad because I tried to shove them into the freezer. Simply make room BEFORE you make the popsicles.
These popsicles are great for summer fun, but the kids don't have to miss out. You can easily make kid friendly popsicles for the kids. I'll talk about that in a minute.
Allow plenty of time for the popsicles to freeze. There is no magic trick to making these watermelon pops freeze faster. Although, I wish there was! You do need to plan ahead for that part of the recipe.
Popsicle Option for the Kids
While the adults are enjoying their boozy version of the Watermelon Pops, you can just as easily make the virgin recipe for your kids.
To make the kid friendly version, you simply replace Vodka with additional lemon juice. Yes, the kids are going to love this just as much as the adults do, only this version is kid friendly.
More Watermelon Recipes
Learn how easy it is to cut a watermelon, then you can enjoy a Frozen Watermelon Margarita and toss some into your Arugula Salad with Watermelon and Feta for an easy summer dinner party!
Looking for a few more pops to make this summer? Try these White Wine Spritzer Popsicles
Or try these Mixed Berries and Coconut Popsicles. (Psst, they are also Keto and totally Paleo!)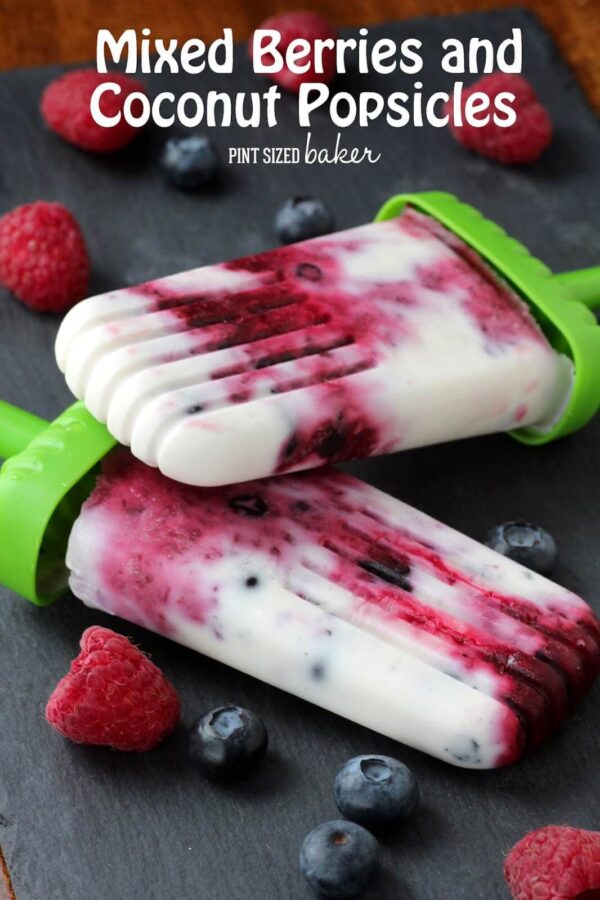 These Strawberry and Yogurt Popsicles just have 2 ingredients! Talk about EASY!
Yield: 8-10 pops
Watermelon Pops
Watermelon Pops are the perfect dessert for summer. This Watermelon Popsicle recipe will do the trick. A boozy blend of watermelon, kiwi and coconut milk with a little vodka kick. Kid friendly version also.
Total Time
7 hours
25 minutes
Ingredients
3 ½ cups watermelon, seedless cubed
¼ cup sugar, white granulated
½ cup vodka, optional
1 tablespoon lemon juice
½ cup coconut milk, canned well shaken
1 tablespoon sugar, white granulated
⅓ cup fresh blueberries, optional
5 kiwi, peeled and chopped
1 tablespoon vodka, optional
1 tablespoon lemon juice
Supplies
12 paper cones, paper cups or popsicle molds
Foil
Popsicle sticks
Jars
Instructions
Prepare paper cones (cups or molds) by placing in jars or tray.
Lay out foil and popsicle sticks.
In a blender, combine watermelon, sugar, vodka and lemon juice.
Blend at high speed until smooth. Skim off foam if necessary.
Divide mixture into paper cones - about ⅓ cup each.
Add several blueberries, optional.
Cover tops of paper cones with foil.
Cut a slit in the foil and insert a popsicle stick. Make sure the stick is far enough down into the watermelon mixture while still leaving enough for a handle.
Freeze for 2-3 hours or until almost firm.
With about 30 minutes remaining, prepare the coconut milk by whisking together milk and 1 tablespoon sugar until smooth. Place in refrigerator to chill. Be sure the milk is nice and cold or it will melt the watermelon layer.
Add about 1 tablespoon coconut milk mixture on top of watermelon layer.
Replace foil and freeze for at least 1 hour.
Prepare kiwi, add to blender with vodka and lemon juice.
Blend at high speed until smooth.
Remove pops from freezer and carefully pour a layer of kiwi on top of coconut milk.
Replace foil and freeze at least 3 hours or overnight.
To serve, remove paper cones.
Notes
Kid friendly version - replace vodka with additional lemon juice.
Recommended Products
As an Amazon Associate and member of other affiliate programs, I earn from qualifying purchases.
Nutrition Information:
Yield:
12
Serving Size:
1
Amount Per Serving:
Calories:

343
Total Fat:

5g
Saturated Fat:

3g
Trans Fat:

0g
Unsaturated Fat:

2g
Cholesterol:

0mg
Sodium:

134mg
Carbohydrates:

63g
Fiber:

2g
Sugar:

32g
Protein:

5g