This Jewel Cake is sure to be the hit of your party. With the mosaic design of the jello inside, each cake slice is more special than the last.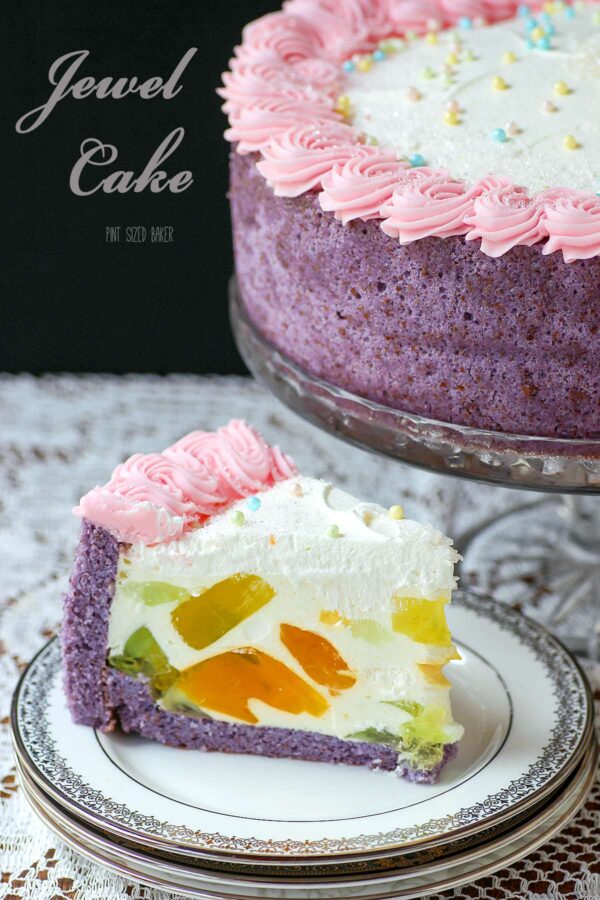 Beautiful Jewel Cake
I love, love, love easy recipes, but some look way too complicated to actually be achievable. I hope that you are not of that opinion with this dessert. Yes, it's beautiful. Yes, there's a long list of ingredients. Yes, it will take some time. However, it's not difficult and the result of this beautiful Jewel Cake is sure to be a showstopper! Each slice is special and unique, just like every guest at your party. This cake would be perfect for any Princess Party and can be personalized by changing the colors used in the cake, frosting, and jello.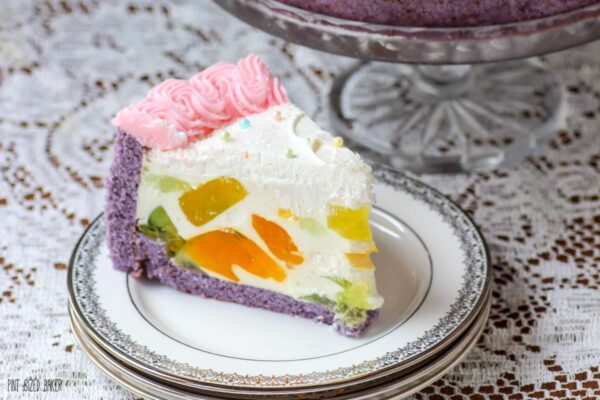 This cake has been on my bucket list for a few years now. I was amazed when I saw it on Sprinkle Bakes and I wanted to make my own version of it. I loved her hot pink version with the primary colors of jello. There is just something about the colors that just put a smile on my face and make me happy. I wanted something a bit more pastel and tropical.
While I was shopping, I saw that Jell-O had some "tropical" flavors out for the summer. So I picked up a box of Pineapple, Mango, and Apple. I also got Pina Colada, Strawberry Daiquiri, and Margarita flavors and almost went down that road… but… I didn't.
Breakdown of the Recipe
This recipe technically does take three days to make. So, here's what what you can do to make it easier for you –
Day 1 – Make the jello. Make three different packets of jello and set in the fridge overnight.
Day 2 – Make this entire cake and then put it in the fridge overnight. It needs to sit overnight to allow the gelatin in the whipped cream to firm up so that you can get beautiful slices from it.
Just take your time with it and it'll turn out beautifully!
I was shocked at how easy it was to make. How could something so beautiful be so easy?
There were a few differences with my cake than from the original.
I don't have a 7 inch springform pan like what was used in the original recipe.  My 9 inch springform pan base took up a bit more room from the Jaconde cake, so I ended up with more seams than I would have liked. You can see in the photo above that I have a funny seam here where I had to make the pieces fit. Instead of having 4 seams in one area, I decided to put them on opposite sides.  I thought that it worked out pretty well and if you cut it right, the person receiving that slice would never know.
The other thing I did to stretch this recipe was added some extra whipped cream to the top of the cake. Had I made the side pieces a 1/2 inch shorter I may not have done this, but the sides ended up being higher than the center and I thought that looked funny. So, I built it up slightly with some extra plain whipped cream.
And Sprinkles always look great on a cake!
I used some pastel pink sanding sugar, some pastel pearl sprinkles, and some white sugar crystals that you can find at your local craft store.
I just LOVE how this Jewel Cake turned out and I'm sure you will too!
For more stunning cakes, check out some of these with a surprise center
Lemon and Strawberry Checkerboard Cake