Easy to whip up and quick to bake, these lemon pudding cakes are the perfect dessert any night of the week. Top them with your favorite fresh berries.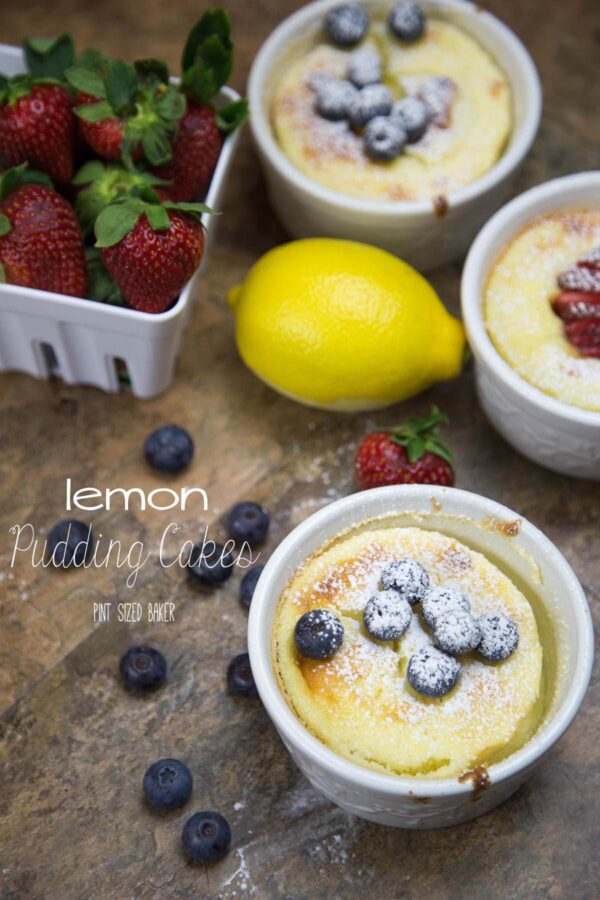 Who doesn't love a quick and easy lemon dessert? This dessert is so fresh and bursting with great flavor that just makes your mouth sing and when they are ready to go in under 10 minutes, there's no denying that they these Lemon Pudding Cakes are just what weeknights are made for! There's no real pudding involved in the recipe, but the center of the little cakes stays soft and creamy while the cakes bake up light and fluffy. Think of it like a chocolate lava cake – only in lemon flavor.
You can make up to 6 smaller three ounce servings or just 2 larger servings. Watch your baking time so that the larger servings are cooked through.
Lemon Pudding Cakes
Does your family eat dessert on weeknights or is it more of a weekend treat? I know it's easy to just keep some ice cream in the freezer or chocolate in the pantry, but these little cakes are just calling to be made tonight. There's no special ingredients required and I'm sure that you have everything that you need in your fridge and pantry. So, what's holding you back? While dinner is in the oven, the kids can make the dessert. Then while you're eating dinner, these can cook and cool and be ready for dessert before bedtime. It's just that perfect!
You can decide the serving size that is perfect for your family. I ended up with three servings for my family.  Of course, you can always bake a full sized Meyer Lemon Pudding Cake, or opt for a Meyer Lemon Mug Cake (psst, it's also GF) if you don't want to share with anyone. And, if you are preparing cakes for a crowd, try this recipe for Mini Meyer Lemon Bundt Cakes. See, something for everyone to enjoy!
I hope that you enjoy this quick and easy lemon pudding cake recipe as much as we did!
I know you're looking for more great Lemon Desserts! Here's a few to enjoy!