March 14
3.14
Pi Day
In Celebration of Pi Day, I made some Key Lime CAKE POP Pie.
I used the new Key Lime Cake and Frosting from Pillsbury and put the cake pop batter into mini graham cracker crusts.
Then, I added the new Wilton Key Lime Candy Melts over top to seal it up.
I admit, you have to be a big fan of cake pop batter. I know that some people are turned off by the texture.
I loved it and my Little Cup loved it.
So, it was a huge hit in our house!
I'm sharing these with Crazy for Crust today!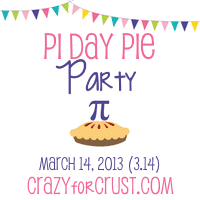 Key Lime Cake Pop Pie
Prep Time: 2 hours
Cook Time: 30 minutes
Ingredients (6 mini pies)
1 Pillsbury Key Lime Cake (including water, oil, and eggs listed on box)
2 Tbls Pillsbury Key Lime Frosting
6 Mini Graham Cracker Pie Shells
1/4 bag of Wilton's Key Lime Candy Melts
Instructions
Bake cake according to directions. Allow to completely cool.
Cut cake into quarters. Put one quarter into a mixing bowl with paddle attachment and add frosting. Mix until cake pop batter is smooth like play-doh.
Fill mini graham cracker crusts with cake pop batter. Flatten and add a small well around the edges to catch the candy.
Melt 1/4 of the candy melts at 70% power for 1 minute in the microwave. Stir until smooth. Slowly pour over pie and push to completely cover pie.
Once dry, decorate with some green or white candy melts.
This post was Featured at: