Delicious Chocolate dipped toffee cookies are great for any day! Easy to slice, bake and dip. These go great with and sweet, holiday drinks!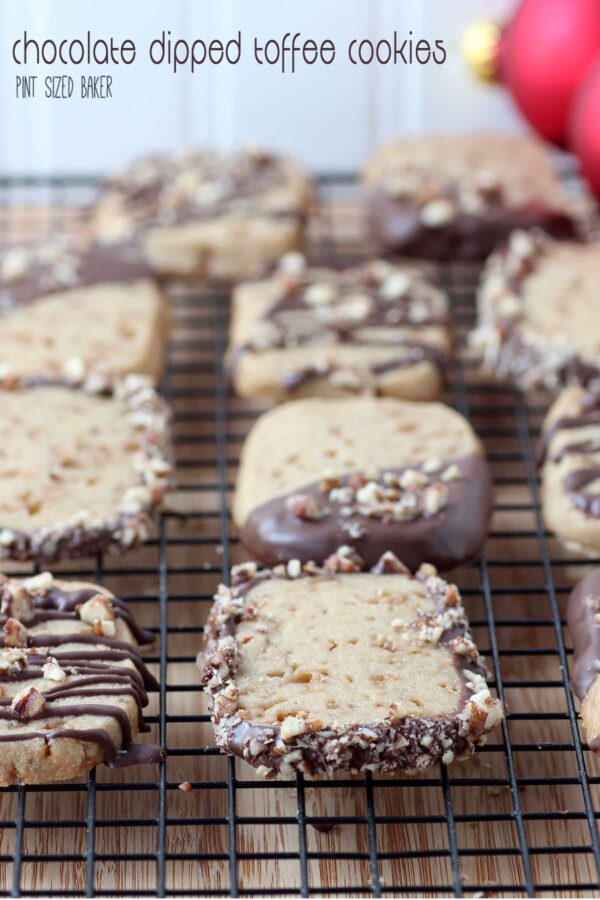 I've gotten into the Holiday Spirit!
These Chocolate Dipped Toffee Cookies are sure to be a hit in your Holiday Cookie Collection this year. I know everyone here loved them!
I'm sharing this recipe over on Uncommon Designs, so head on over there for the full recipe
Thanks so much!
Chocolate Dipped Toffee Cookies
Author:
Prep time:
Cook time:
Total time:
Ingredients
2 1/3 C flour
1/2 tsp baking powder
1/2 tsp salt
2 sticks Butter (16 Tbls)
1 C packed light brown sugar
1 egg
1 tsp vanilla extract
1 C Heath Toffee Bits
1 1/2 C semi sweet chocolate chips
1 Tbsl vegetable oil
2/3 C pecans or walnuts, toasted and finely chopped
Instructions
Combine dry ingredients together in a medium sized bowl.
In your stand mixer, beat butter and sugar for 3 minutes on medium speed. Add in the egg and vanilla and beat for 30 seconds. Reduce the mixer speed and slowly add in the flour mixture. Stir in toffee bits.
Divide the dough in half and form into a log on plastic wrap. Shape into a 9 by 2 1/2 inch wide rectangle, wrap in plastic and refrigerate for 1 – 2 hours.
Preheat the oven to 350 deg F and line two baking sheets with a silicone mat or parchment paper.
Remove the dough from the fridge and cut 1/4 inch slices using a sharp knife and place them on the cookie sheet.
Bake for 10 – 12 minutes or until just brown on the edges. If you are baking both cookie trays at the same time, switch position and rotate the pans halfway through.
Leave the cookies to cool completely on the cookie sheets and then bake the second roll of dough.
Melt your chocolate chips in a small bowl for 1 minute at 70% power in the microwave. Add in oil and stir to make it smooth. Dip or drizzle the chocolate over the cookies and then sprinkle with the toasted nuts. Allow 1 hour to dry before serving or wrapping up for gift giving
Looking for more tasty cookies?? Here's a few more!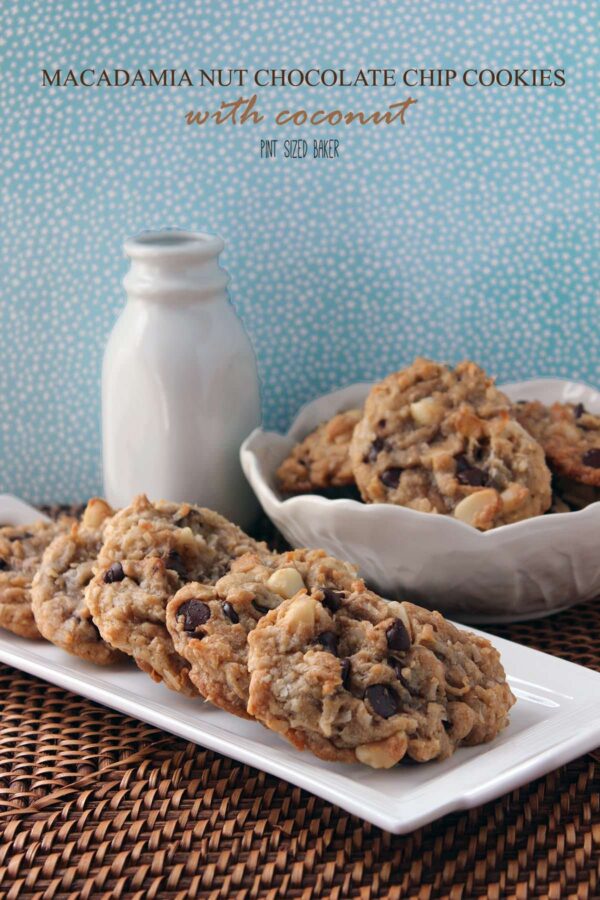 Chocolate Chip Macadamia Nut Cookies
Chocolate Macadamia Nut Cookies