It's a No Bake Valentine Day! My Valentine Treats are perfect to take to school parties, make for your kids, and share with those you love. Hugs and kisses to all!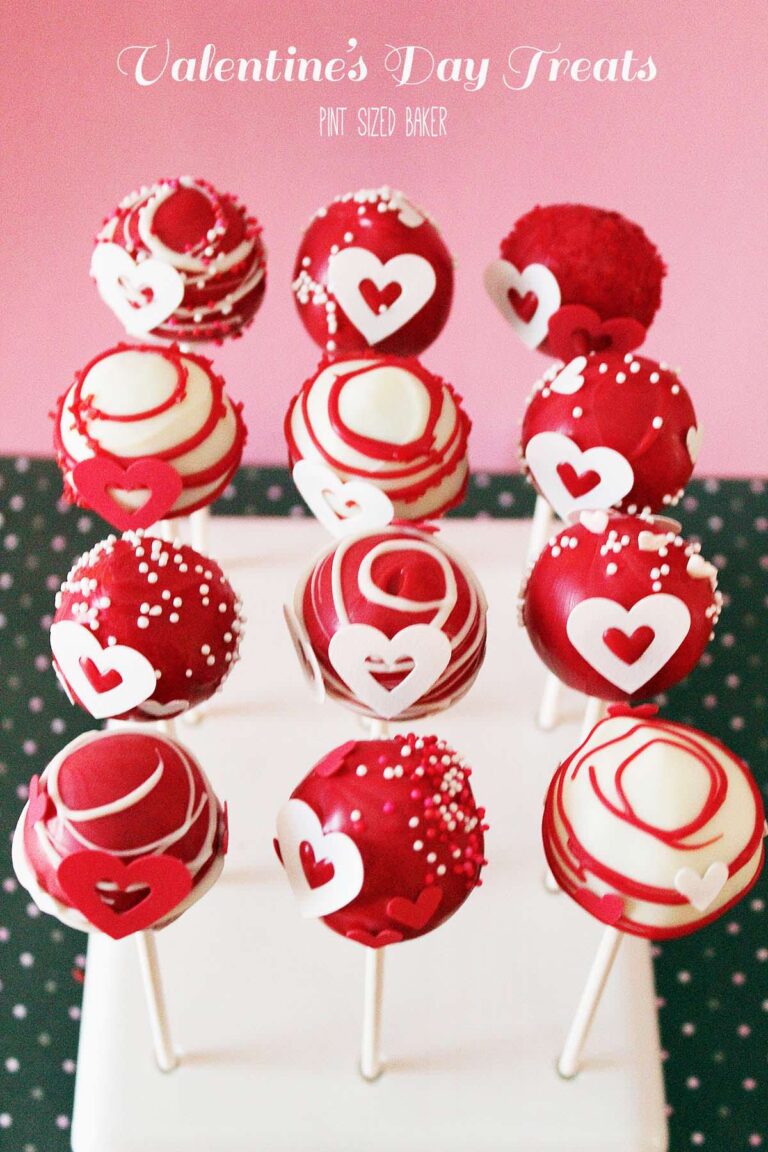 My Valentine Treats – No Bake
I was soooo not in the mood to make more Valentine Treats for my daughter to take to school on Tuesday. I've been taking the treats that I have been posting here and delivering them to her class for after school snacks.
God forbid they stay in the house…
I digress.
She has been enjoying Valentine treats for the past two weeks and I feel so pressured to come up with the most fantastic party treats to take in. I don't work well under pressure!
So, when a friend asked me to make some cake pops for her son to take to class, I figured I would jump on that train and make some for my daughter.
So I baked a cake and got to work. For the season, I had to go with red and white and throw in A LOT of hearts and sprinkles. I used a heart paper punch and the Wilton Sugar sheets to make the hearts.
I also wanted to add some variety, so I made a handful of chocolate covered pops and decorated them with pink, blue, and orange jewel tone sprinkles.
I love the contrast!
The Wilton Sugar Sheets are very easy to work with. I buy a paper punch and reserve it for food use only.
I also found some Strawberry Marshmallows that were perfect for Valentine's Day!
Come on! They are PINK! How perfect is that??
And, because some people prefer sweet and salty, I made a few candy covered pretzel sticks.
These treats are all so easy to make. You just need the supplies to get going.
How cute are these? I love having a few easy options to make. 
If you would like to learn more about making cake pops, watch my YouTube videos, and see this entry.
Have a Great Valentine's Day!
Yield: 24
Valentine Marshmallow and Pretzel Treats
Candy coated marshmallows and pretzel rods are the perfect treats for your Valentine's Day!
Ingredients
For the marshmallows
1 bag of marshmallows
Red Candy Melts
White Candy Melts
Lollipop sticks
Sprinkles
Stand for drying (Styrofoam, a short glass)
For the pretzels
Pretzel Rods
Red Candy Melts
White Candy Melts
Sprinkles
Cookie sheet lined with Wax Paper
Instructions
For the marshmallows
Insert the lollipop stick into the marshmallow and dip into the melted candy coating.
Allow any excess to drip off, then add your sprinkles. Allow to dry standing up.
For the pretzel rods
Melt your candy coating as directed and pour into a deep (tall) coffee mug or plastic cup. (Another great use for your Blue Dixie Cup!)
Dip the Pretzel Rod about 1/2 to 3/4 of the way into the melted candy coating. Allow the excess to drip off and then lay flat on wax paper. Decorate with Sprinkles!
Notes
If you are unsure about melting candy coating, see this entry.
All content 100% human written.Images, text and all other content Copyrighted©Karyn Granrud, Susanne Queck and Wunderlander Verlag LLC, or ©Pro Stock Media via Canva.com. Unlicensed republishing permitted. As an Amazon affiliate, we earn on qualified purchases.