These spiked black walnut brownies are gonna knock your socks off! Homemade brownies and frosting with a kick of West Virginia Moonshine!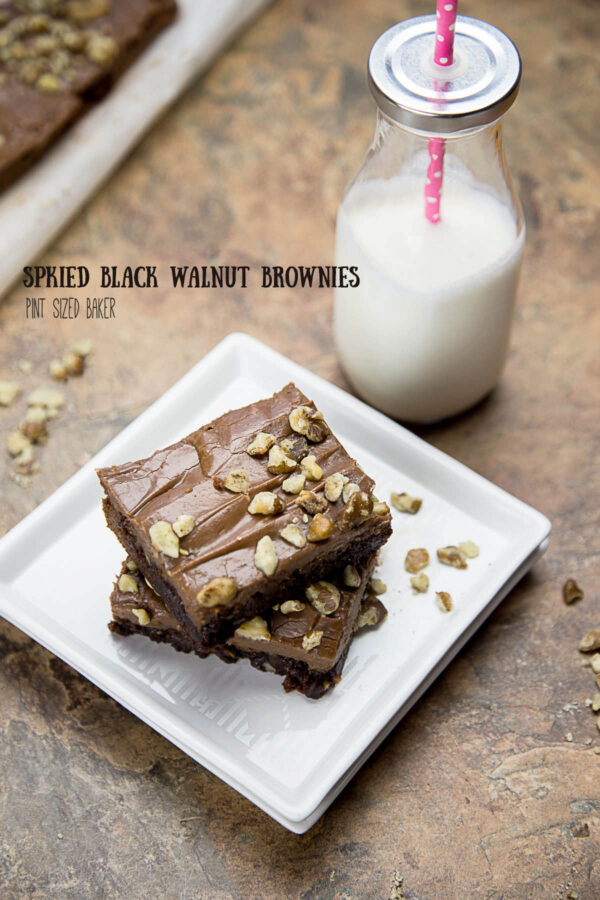 Spiked Black Walnut Brownies
There's a wonderful treasure here in West Virginia! The Bloomery SweetShine Distillery is minutes down the road from me and I've been able to enjoy their adult concoctions for a few years now. While I've been going to their tasting room for the past 5 years, it was this past summer that I got a visit to their production facility in Charles Town, WV. They make amazing Lemoncello, Lemon Raspberry, Ginger, and Peach SweetShine, they also serve a totally different flavor – Black Walnut.
You can choose to make your own brownies from scratch or make a mix. It makes no difference. The point is to bake them and enjoy them. If using a quick mix works for you, then it works for me.
Besides, you're covering it in an amazing frosting and pouring alcohol over it. This isn't the time to be serious.
My husband really enjoys this black walnut liqueur. Add a shot to some Pepsi and you've got a great cocktail. It's also great as an after dinner aperitif to aide in digestion.
One thing is for sure, if you find this in your local liquor store or special order it online, you won't be disappointed. If you really can't find it or don't want to spring for the cost, simply making the brownies and frosting with black walnuts is always an amazing dessert.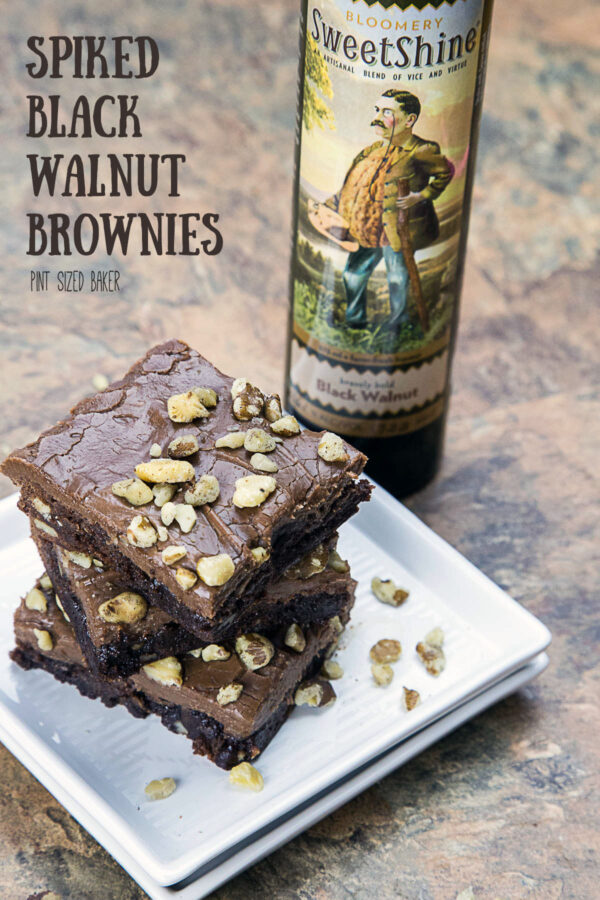 Spiked Black Walnut Brownies
Author:
Prep time:
Cook time:
Total time:
You won't believe how good these Spiked Black Walnut Brownies were! Perfect for all the adults.
Ingredients
For the Brownies
2 cups Chocolate Chips
1 stick Butter (1/2 cup)
3/4 cup brown sugar
3/4 cup sugar
4 eggs
1 teaspoon vanilla extract
1 cup flour
1/2 teaspoon salt
1 C [url href="http://amzn.to/2iOhdP5″ rel="nofollow" target="_blank"]black walnuts[/url]
2 oz Black Walnut SweetShine
For the Frosting
2 Tbsp butter
2 oz cream cheese
1 oz heavy cream
2 oz dark chocolate
2 C powdered sugar
1 oz Black Walnut Sweetshine
Instructions
Bake the Brownies
Preheat oven to 325 degrees F. Line a 13 x 9 baking dish with parchment paper then spray with Pam with Flour.
Melt chocolate chips and butter in a medium pot over low heat. Stir until all melted and smooth. Remove from heat.
Add in both sugars and stir until combined. Mixture will be grainy. Stir for 5 minutes allowing it to cool slightly.
Stir in eggs one at a time.
Mix in flour, vanilla, salt and black walnuts.
Pour into the prepared pan and bake for 40- 45 minutes.
Cool completely. Poke holes in the brownies and pour 2 ounces of Black Walnut Sweetshine over the brownies.
Prepare the Frosting
Melt the butter, cream cheese, heavy cream and chocolate over a double boiler. When completely melted, remove from heat and let cool for 10 minutes. Stir in the powdered sugar and Black Walnut Sweetshine.
Pour over the prepared brownies and smooth. Top with more Black Walnuts.
Set aside for the frosting to dry to the touch.
Cut and serve.
I  know you're wanting MORE Brownies! Here's some great Brownie Treats!
Strawberry Banana Ice Cream Brownie Tower
All content 100% human written.Images, text and all other content Copyrighted©Karyn Granrud, Susanne Queck and Wunderlander Verlag LLC, or ©Pro Stock Media via Canva.com. Unlicensed republishing permitted. As an Amazon affiliate, we earn on qualified purchases.