Banana Split Cannoli – An Ice Cream Dessert
This is the final recipe for the Cannoli shells and the chocolate banana ice cream. This is where we put it all together and make a huge banana split dessert out of it! With the cannoli filled with the ricotta ice cream I've created layers with whipped cream, strawberries, pineapple, sprinkles, chopped nuts and a cherry on top. It's quite impressive and feeds a crowd! I know you're saying, yeah, I'd cheat on my diet for that! And that's exactly the kind of dessert I was going for!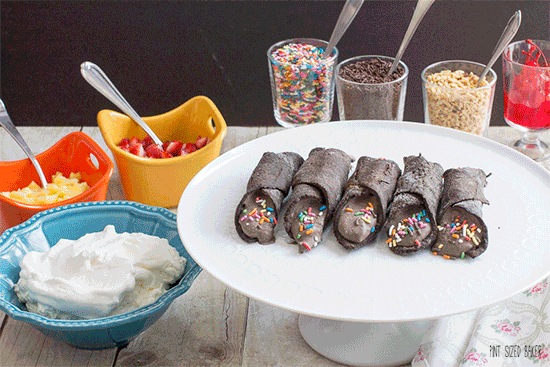 Now, I know you're going to ask me – "Do I have to make it all by scratch?" The simple answer is No, you don't. You can buy regular cannoli shells at the grocery store and fill then with your favorite ice cream then use Cool Whip in place of the whipped cream. I don't think that there's a wrong way to make a dessert like this.
Now, if you're the adventurous type that wants to go all out and make these, then I solute you! I wanna see your creations.
I would love for you to share your Banana Split Cannoli desserts with me on my facebook page or tag me on Instagram. It would be AWESOME to see them!
BTW – you also don't have to go to such great lengths to actually make a tower. By all means, serve an ice cream cannoli with a side of whipped cream, strawberries, and pineapple. In fact, this is the perfect way to save them for yourself. Keep the ice cream filled cannoli in your freezer and indulge when you want. If that's at 3 in the afternoon, then by all means – GO FOR IT!!
It's all good! Enjoy!

This Banana Split Cannoli dessert is part three of a series. Get the recipes for the Chocolate Cannoli Shells and and the Chocolate Banana Ricotta Ice Cream on the blog.