This season is all about Baking Recipes that Bring Holiday Cheer! What better way to spread the love than with a delicious Cherry Berry Pie!
Cherry Berry Pie
The November crunch before the holidays is upon us. Kids are starting to ask for the latest toys (mines wants a Hatchimal) and actually starting to do their chores (well, sort of). Mom's are trying to figure out the schedule for the school parties, pageants, and plays. Dad's are still watching football and wondering what's for dinner tonight. Don't be caught off guard this holiday baking season. Bob's Red Mill has a ton of great products for the everyday baker like you and me. Bake up an amazing Cherry Berry Pie with Organic Unbleached All Purpose White Flour or use Gluten Free 1-to-1 Baking Flour from Bob's Red Mill. It'll turn out great every time with this easy pie crust recipe.
My pie crust recipe makes enough for two crusts and as you can see, you'll need both to make this festive favorite recipe! A bottom crust of course, and then a top crust. You could go with something more traditional like a lattice top, but I decided to have some fun and create a flower top that is so easy for you to recreate at home. Don't ya just love it??  With a filling that is super easy to make, take the time to prepare a homemade crust and decorate it to wow your family!
I know a lot of people have a tough time with pie crusts. You're not alone – I used to as well. Here's a few pointers for you that will help you to make the best pie crust of your life!
Use a kitchen scale and weigh your dry ingredients. This will result in the most accurate measurement.
No scale? When measuring flour, spoon it from the bag into the measuring cup. Slide a knife across the top to level off any mound that may have formed.
Do NOT pack the flour into the measuring cup. Don't tap it on the counter or scoop it inside the bag. You will end up with too much flour.
Use vodka. Yes, you read that right. Use vodka. The addition of vodka will help to keep the gluten from getting tough and will result in a more moist dough that will stay tender.
Use two fats. I know most people will tell you the horrors of Crisco, but what it does for a pie crust is just amzing!
You can use a use a dough blender and mix the crust by hand, but a food processor makes fast work and keeps your butter and shortening cold!
Keep it cold. From cold butter and shortening to ice cold vodka and water. Once it's shaped and in the pie tin, keep it in the fridge until you're ready to use it.
You can get a coupon for Bob's Red Mill Flour HERE to use at your local store. This kitchen staple is incredibly versatile and perfect for all of your baking needs – cookies, cakes, pies, and bread. I love how my sweet treats turn out.
I was selected for this opportunity as a member of CLEVER and the content and opinions expressed here are all my own.
Here's a few more awesome pies for you holiday baking!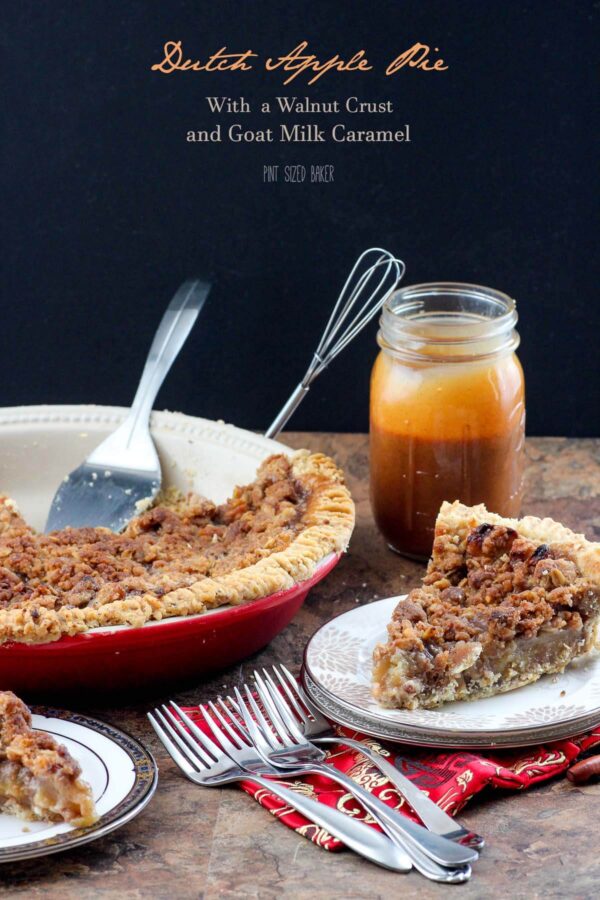 Dutch Apple Pie – with a walnut crust
Perfect Peach Pie with lattice crust top
Homemade Pumpkin  Pie with a lard based crust