Mint Chocolate Chip Ice Cream Roll Cake with Ombre Cream Cheese Roses and Chocolate Whipped Cream Frosting
Whoa! This was a beautiful dessert! I loved it, but more importantly, my girlfriend loved it! This was her 39th birthday cake that I made for her. She requested a chocolate and mint cake and gave me freedom to work my magic and come up with something amazing for her.
I like to think that I succeeded.
Carrie and have have been friends since 1998! We are the same age and have similar interests. We've been there for each other over the years and I am so happy to have such a great friend.
We  first met working at a small town airport. I was a poor flight instructor at the airport (and working a second job there) and she took a second job on the weekends there. We became fast friends (mainly because there aren't many gals hanging out at airports) and eventually she got her private pilots license with  me as her instructor.
We've been through boyfriends, vacations, birthday's, ups and downs, and my daughter even calls her Aunt. Since our joint 30th birthday, we've been in discussion about our quickly approaching 40th birthday bash. I want to go to NYC… we'll see where we end up.
She's a Thanksgiving baby and as a result, she's usually back home with her family that time of year. She's also had her fair share of birthday pie, but hasn't had a real birthday cake in the past 4 years. I wanted to do my best to make her feel special for her final birthday in her 30's.
Wouldn't you love to get this cake for your special day? I know I would!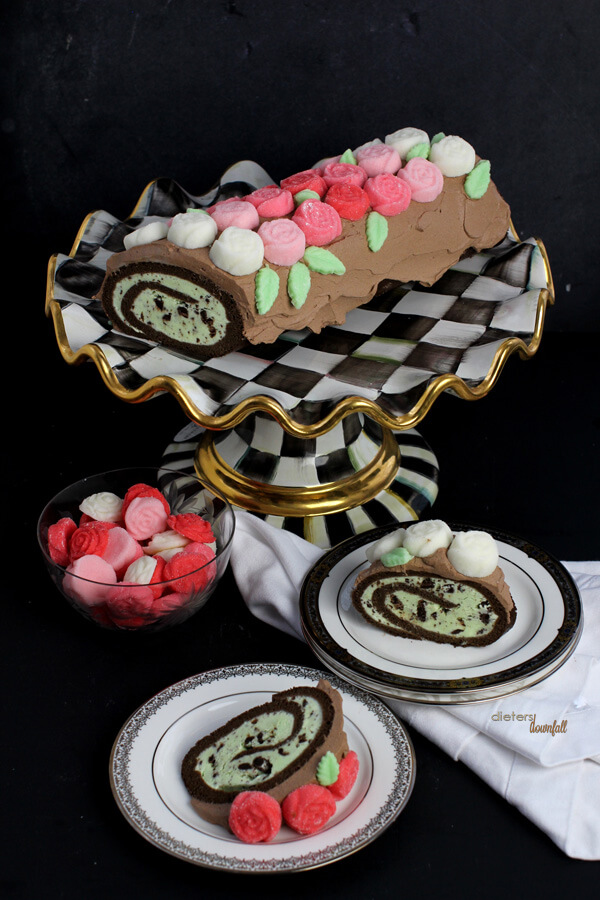 Mint Chip Ice Cream Recipe HERE
Cream Cheese Mint Recipe HERE