This Mirror Birthday Cake is all about that GLAZE!! Here's a great place to start to make your own mirror cake with all of my tips on what to do at home.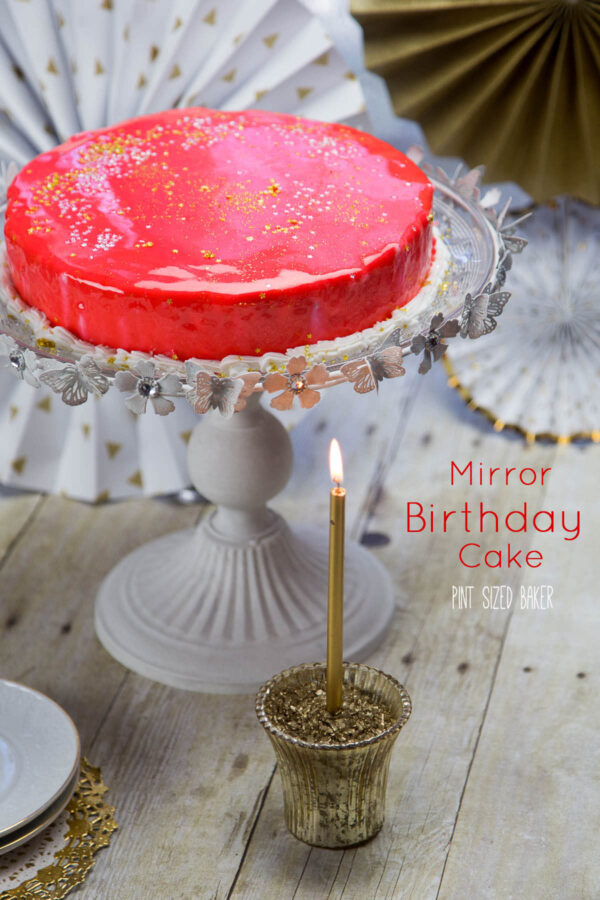 My Mirror Birthday Cake
I celebrated another birthday and as usual I made my own birthday cake. Over the past five years of blogging, I've made myself a Banana Birthday Cake, a Strawberry Birthday Cake, and an amazing Butter Cake with Chocolate Frosting just to name a few. They all have something a bit different and unique about them, so this year I had to step it up! I've seen all these beautiful mirror cakes all over the internet this past year and I knew that I wanted to make one myself. With this Mirror Birthday Cake, I can now check this off of my wish list!
What is a Mirror Cake you ask. Well, check out the top of the cake! It's super smooth and very reflective and shiny.
I searched all over the internet for various tutorials and recipes on how to make a Mirror Birthday Cake. After watching a YouTube Video from Cupcakes and Cardio, did I finally feel confidant to make one. There is timing involved and there is a lot of prep work that goes into it before making the glaze.
You need to have the cake baked, cooled and leveled.
You need to have the gelatin layer made and solid.
You need to make the mousse.
You need to assemble the cake.
You need to freeze the cake.
Only then can you even think about making the glaze.
You also want to serve the cake within an hour of pouring the glaze over the cake.
This isn't a cake that you can complete the night before. However, you can have everything up to making the glaze ready the day before. Keep the cake in the freezer overnight and let it sit for out for 30 minutes before making the glaze.
In fact, the longer the cake sits, the hazier the finish will get. It'll go from mirror to matte in a couple of hours.
Also, you'll notice that the measurements for the glaze are all metric. I kept it that way because that's how it was presented to me. Weighing your ingredients is very important to get the exact amount needed. No more – no less. If you don't have a kitchen scale, now is the time to get one. They are really inexpensive.
In the video, she also addresses using an immersion blender instead of a mixer to blend the white chocolate with the hot mixture. The key is to keep the bubbles and air mixed into the glaze at a minimum. That's why you need to strain it through the sieve. It removes any chunks remaining and gets rid of the bubbles.
I think my cake turned out pretty darn good for a first attempt. I could have gotten the mousse smoother because there were a few "dimples" around the side, but I kinda rushed it in the freezer and didn't let it firm up 100%. My bad. Next time, I'll do better.
Don't want to make the mousse? You don't have to. Using buttercream is just as good and if you can frost your cake smooth, then go for it.
Wanna see some really AWESOME Mirror Cakes?? Check out Olga Noskovaa on Instagram! WOW!! Now those are impressive cake goals! I love those rippled bundt cakes!! They are all perfect!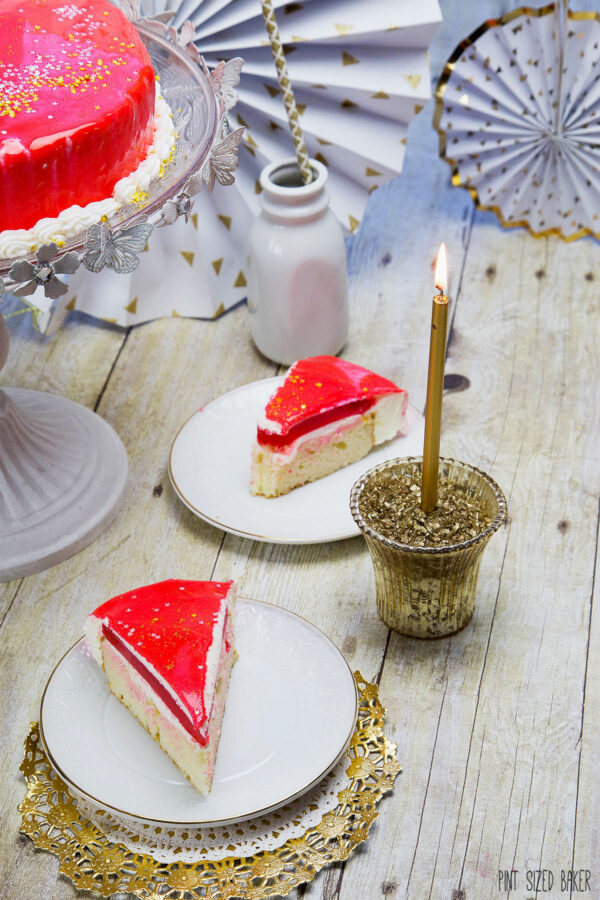 So, that's my Mirror Birthday Cake of 2016! And this post wouldn't be complete without a photo of me lowing out the candle! Time to Celebrate!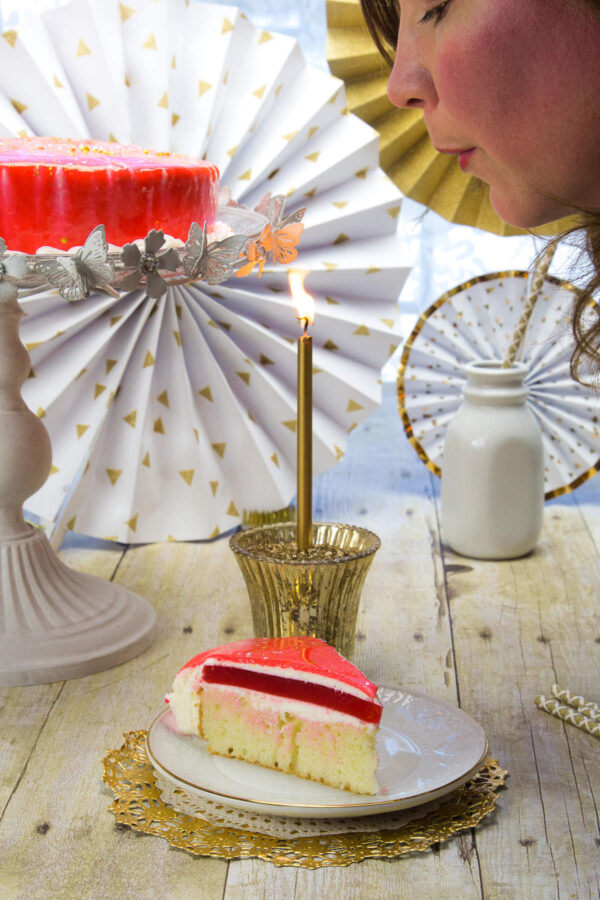 Here's a few more of my Birthday Cakes – Enjoy!!
Butter Cake with Chocolate Frosting