Strawberry Brownie Cheesecake recipe with a brownie base, a cheesecake layer, strawberry puree and topped with huge chocolate curls and fresh strawberries.
Strawberry Brownie Cheesecake
A brownie based cheesecake with a brownie cheesecake layer, strawberry puree and topped with huge chocolate curls and fresh strawberries. Whew, that's a mouthful – in more ways than one. This dessert is sure to please any chocolate covered strawberry lover. It's a pretty straightforward cheesecake to make and it always turns out amazing. I had a serious love affair with this strawberry brownie cheesecake and I think I'm hooked on the idea of a brownie base. Don't get me wrong, graham cracker crust is wonderful, too, but this thick fudgy layer just added so much more to it.
I was really stuck on what to make with my seven pounds of strawberries. I mean, the sky's the limit with that much strawberries, but I was looking for something exciting and different.
While I was looking up Strawberry Cheesecakes, I noticed a commonality – they all seemed to me as no-bake versions or just had a slight swirl added to the top. I wanted strawberries all the way though it. I'm guessing that the added moisture to the cheesecake makes it difficult to cook… I don't know. If you know of a good traditional Strawberry Cheesecake recipe, please let me know.
Since I couldn't find what I wanted, I had to turn to other ideas. Brownies are always good! So, So I decided to bake the brownies in the pan first, then add the cheesecake to the it.
I was a bit nervous about adding the strawberry puree. I didn't know what that was gonna do, but it worked out great and gave the cheesecake a little extra flavor without overpowering it.
It was a totally indulgent mid-day snack! I actually had to bribe three little girls with it to leave me alone while I took my photographs. They wanted to go to the pool and I wanted to get the photos done! It was quite an ordeal. They just didn't get it.
I know you totally get it! A mother's work is never done.
Also, before you ask about the curls, here's a previous post I made with them with a video on how to make them. They may look a bit intimidating and you might find it frustrating the first time you make them, but temperature is key and patience is required.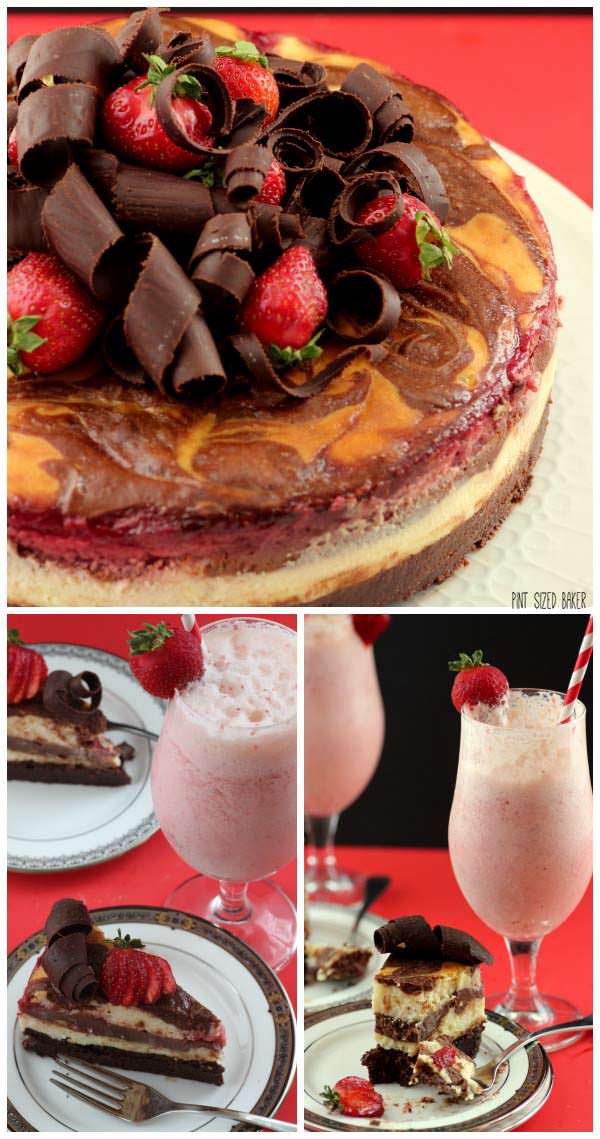 This post is part of three part series. Find the instructions on how to prepare your strawberries and this delightful Old Fashioned Strawberry Soda.