Bake the new neighbors this blueberry lemon Swedish visiting cake recipe. It's simple and delicious and perfect to give and receive.
Blueberry Lemon Swedish Visiting Cake Bars
I am thrilled to be teaming up with OXO for the 5th year to help raise awareness for the Cookies for Kids Cancer foundation. This is a sponsored post but all opinions are my own. I really believe in this cause and know that they are doing great research to help families who are experiencing the fear and heartbreak when a child is diagnosed with cancer.
Family History with Childhood Cancer
In the spring of 2017 my nephew was diagnosed with Leukemia. He was all dressed up for his first prom, got very sick and didn't go. Within the week, his family was discussing treatment options and trading in sick days at work to take care of the family.
It was a tough year for my sister and her family, but a year later my nephew went to his next prom and has just in the past week finally had his chemo port removed.
Childhood cancers only receive 3% of all cancer research money and relies heavily on donations and special donations.
Will you #BeAGoodCookie?
OXO is partnering with chef-supporters, like Dorie Greenspan, of Cookies for Kids' Cancer who are providing recipes I hope will inspire you to host your own Cookies for Kids' Cancer bake sales.
Will you be a Good Cookie and help support Cookies for Kid Cancer?
Join in the Cookies for Kids' Cancer challenge by registering your event online; if you mark that you were inspired by OXO when you register, OXO will match proceeds from your bake sale up to their annual commitment.
My daughter's school will be hosting their 4th C4KC fundraiser in September and join all 50 states for a national bake sale with all the proceeds going to help fund pediatric cancer research.
These delicious Swedish Traveling Cake Bars were created by Dorie Greenspan and embellished with fresh blueberries and a lemon glaze by yours truly.
The recipe is very simple and whips up in minimal time. It's perfect for a weeknight dessert, to a pot luck, or make for a bake sale.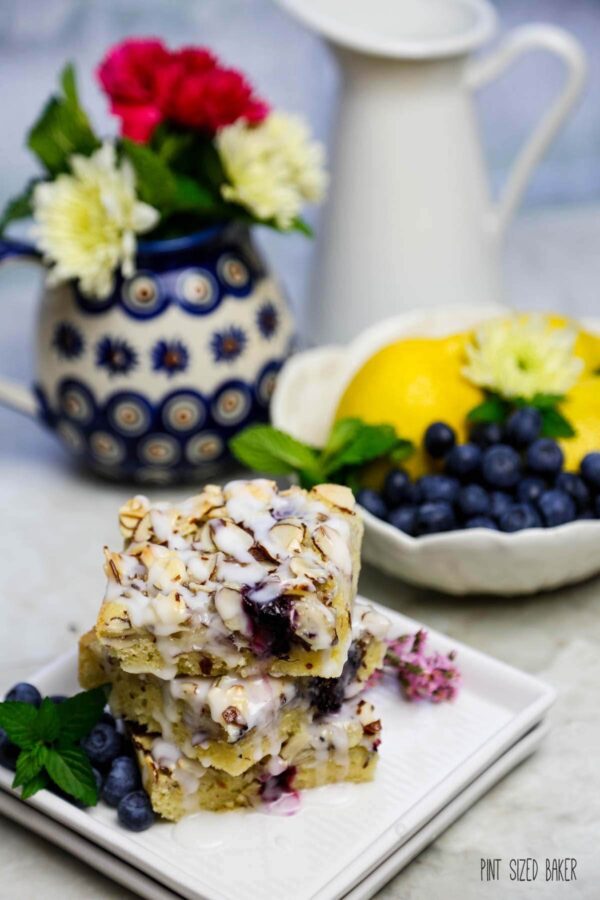 Thanks to OXO for the new Non-Stick Pro Cake Pan, a Non-Stick Cooling and Baking Rack, a new 11″ Balloon Whisk, and one of the best food scales I've ever used.
The OXO 5lb Food Scale with Pull Out Display accurately weighs small quantities and the easy-to-read display pulls out if you're using large plates or bowls.
Benefits to using a Scale
If you haven't ever baked weighing your ingredients, you're missing out.
Precise measuring of your ingredients.
Reduced amount of measuring cups and bowls.
Easier clean up (because of the reduced cups and bowls).
I've been a good cookie for a while. Here's a few other recipes I've done for Cookies for Kids Cancer in the past. Pumpkin Drop Cookies with Dates and Walnuts.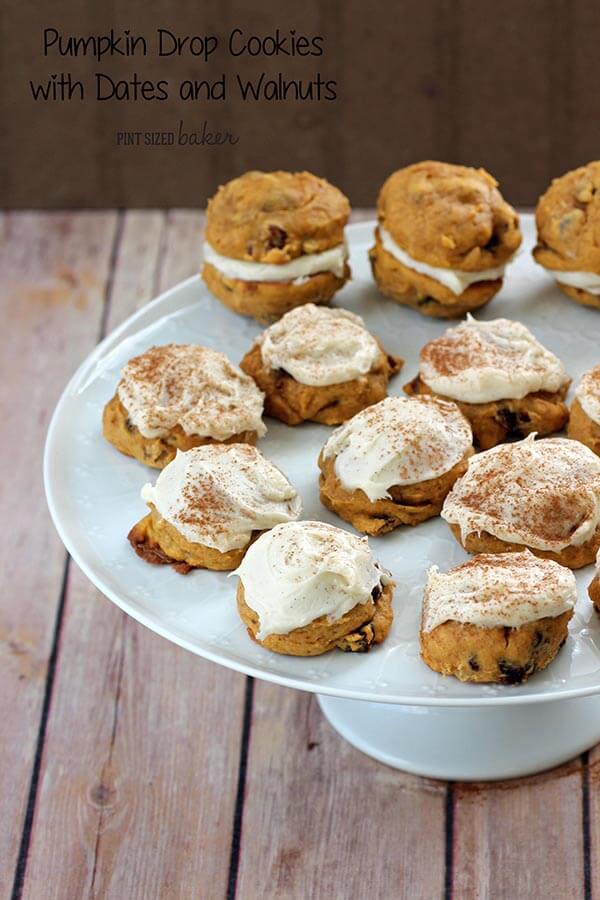 Good Brownies that are just so amazing!
Yield: 9
Blueberry Lemon Swedish Traveling Cake Recipe
Bake the new neighbors this blueberry lemon Swedish visiting cake recipe. It's simple and delicious and perfect to give and receive.
Total Time
4 hours
50 minutes
Ingredients
For the topping
1 cup (120 grams) confectioners' sugar
3 large egg whites
1½ cups (150 grams) sliced almonds, blanched or unblanched
For the bars
¾ cup (150 grams) sugar
2 large eggs, at room temperature
¼ teaspoon fine sea salt
1½ teaspoons pure vanilla extract
¼ teaspoon lemon extract
1 cup (136 grams) all-purpose flour
1 stick (8 tablespoons; 4 ounces; 113 grams) unsalted butter, melted and cooled
1 cup fresh blueberries
For the Glaze
1 cup (120 grams) confectioners' sugar
1 teaspoon lemon extract
1 tablespoon milk
Instructions
Center a rack in the oven and preheat it to 350 degrees F. Lightly butter a 9-inch square baking pan and line it with parchment paper.
To make the topping: Put the sugar in a medium bowl and pour over the egg whites. Using your fingers or a fork, mix until the sugar is moistened. If there are lumps, ignore them. Toss in the almonds and stir them around until they're coated with the sugared whites. Set aside while you make the batter.
To make the bars: Working in a large bowl, whisk the sugar, eggs and salt together until the mixture lightens in color and thickens a little, about 2 minutes. Whisk in the vanilla and lemon extracts. Switch to a flexible spatula and gently stir in the flour. When the flour is fully incorporated, gradually fold in the melted butter. You'll have a thick batter with a lovely sheen. Scrape it into the pan and use the spatula to work the batter into the corners. The layer will be very thin. Sprinkle the blueberries over the batter.
Give the topping another stir, or a run-through with your fingers, and turn it out onto the batter. Use a spatula or your fingers to spread the almonds evenly over the mixture, making sure to get nuts into the corners too.
Bake for 28 to 32 minutes, or until a tester inserted into the center of the cake comes out clean or with only a few crumbs stuck to it. The meringue topping will be pale golden brown. If you'd like a deeper color on the topping, run it under the broiler until you get the shade of gold you like best.
Transfer the pan to a rack and let rest for 5 minutes, then run a knife around the edges of the cake and unmold it onto the rack. Very gently peel away the parchment and invert the cake onto another rack to cool to room temperature.
Transfer the cake to a cutting board and, using a long, thin knife, slice it into nine 3-inch squares. For smaller portions, cut each square into two triangles.
To make the lemon glaze: Mix together the confectioners sugar, lemon extract and milk until smooth. Drizzle over the bars and serve.
Notes
Store them wrapped, the bars will keep at room temperature for 4 to 5 days.
Recommended Products
As an Amazon Associate and member of other affiliate programs, I earn from qualifying purchases.
Nutrition Information:
Yield:
9
Serving Size:
1
Amount Per Serving:
Calories:

3