I had so much fun making these Gingerbread Graham Cracker Houses with my daughter! I love how they turned out and they are so fun!
I went to my grocery bulk food section and got a selection of chocolate candies, hard candies, gumdrops, nuts, chocolate chips, candy corns, marshmallows and who knows what else…
To construct the house, break the 4 rectangles into squares and, with a serrated knife, score one square diagonally to create two triangles. You should have two triangles and 7 squares.
Place one square on a paper plate and outline it with the icing. Place the East and West walls first. The icing will help to keep it up. If they are falling over, add more icing. Then add icing up the sides of those walls to attach the North and South walls. The four walls will help to hold each other up. Add a line of icing to the tops of the North and South walls and add the triangles to form the peak of the house. More icing to the tops of the triangles and the East and West walls and add the roof.
I'm sorry I did not take pictures of the process. I was helping two goofy girls make straight walls and roofs 🙂
I let the houses dry overnight. The directions on the box say to dry for 5 minutes, but I don't think that nearly long enough…
The next evening, we had a DECORATING  PARTY! All the candy was put into cupcake trays and the girls each had their bag of Royal Icing.
I let the girls run wild with their imagination and was so tickled to see their creations.
I got in on the fun as well and made two houses.
I took my daughter's house and one of my houses and placed them on a cookie sheet. With the extra candy and icing, I created a little scene. I made fences, bushes, sidewalks, a lamppost and some trees!
For the Trees, I had some Ice Cream Cones, coated them in Royal Icing and then rolled it in shredded coconut. I added some candy coated sunflower seeds for decorations. I couldn't find my star candies (think someone ate them all) and used a Sixlet candy on top.
Oops! We had a little accident. This poor house fell off the table onto the floor.
All that broke was one wall. I could not believe it!
This icing totally kept this house together.
Have fun with this project! There is no wrong way to decorate a Gingerbread house and your only limitation is your imagination!
Looking for more Christmas goodies to make with the kids? How about making some of these.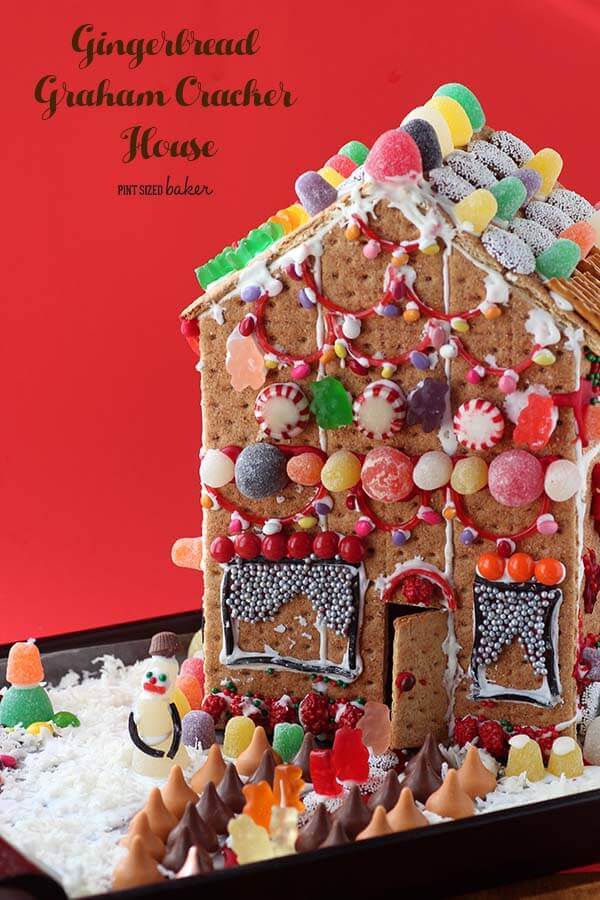 Peeps Gingerbread Men Cookie Pops