I hope that everyone had a wonderful Thanksgiving week with friends and family and a few cheerful cashiers. Did you hit the stores or skip the crowds in favor of online shopping? I admit that I did a bit of both. There are just some things that you want to see, touch and judge in person and other things that are just easy enough to buy online while still wearing your pajamas. So, are you ready for the Christmas Holidays?? It's coming up quick so you better get your menu plan together, your presents wrapped, and then enjoy a Holiday Toast with your loved ones. I've put together this collection of Christmas Libations for you to enjoy. Don't think that you have to limit yourself to just one. There are 4 weekends before Christmas and then there's New Years Eve!
Not very good at giving a toast? Here's a few good quotes you can use instead. Cheers!!
"Cheers to a new year and another chance for us to get it right." – Oprah Winfrey
"Alcohol may be man's worst enemy, but the bible says love your enemy." – Frank Sinatra
"There are good ships, and there are wood ships, ships that sail the sea, but the best ships are friendships, and may they always be."
"My heart is as full as my glass, When I drink to you, old friend!"
"Alcohol is the anesthesia by which we endure the operation of life." – George Bernard Shaw
Collection of Christmas Libations
To add to this list of great cocktails and mocktails, try some Spiked Mulled Apple Cider.
Homemade infused Lemon Raspberry Vodka Martinis
Or warm up with a Amaretto Hot Chocolate Float!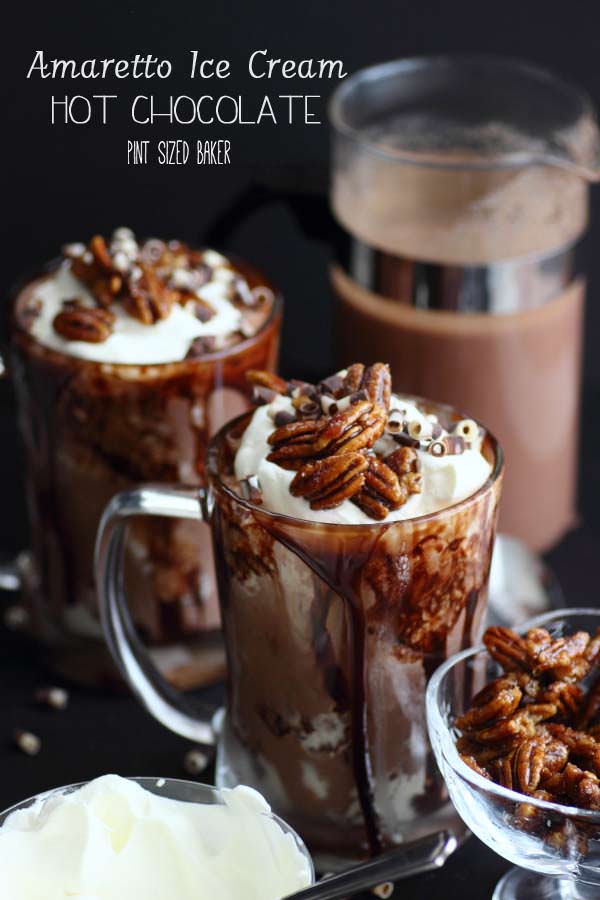 Two Cup Tuesday Linky Party No.251
Hey Bloggers, thanks so much for stopping by and linking up each week! I use all your posts to pull together these round ups. If you'd like to be featured on future posts, I've provided the upcoming topics below. Link up your favorite fall decor for a chance to be featured next week!
Dec 4 – Crockpot Desserts – Desserts and treats you can prepare in the crock pot for those cold evenings.
Dec 11 – Christmas Party – Festive and Bright decor, cocktails, and food.
Dec 18 – New Year's Party! – Great cocktails, appetizers, decor and food! This will be the last party of 2017!! Let's go out with a BANG!!!
Now, on to the PARTY!! It's time to link up all your recent posts to the Two Cup Tuesday Party! Each week I will share the Best of the Blogs with some of my favorite recipes and crafts who link up!
Grab a button! You deserve it!
a href="https://pintsizedbaker.com" title="Pint Sized Baker"><img src="http://2.bp.blogspot.com/-vz4l7hynRKQ/UO76hLIOOXI/AAAAAAAACV8/mK-b2RXfMhM/s1600/PSB_IveBeenFeatured.jpg" alt="Pint Sized Baker" style="border:none;" /
You bloggers are the best! I'm looking forward to seeing all the wonderful link-ups this week!
You ROCK!!
It would be awesome of you followed me on Facebook, Twitter or Pinterest
I'm also A Pinning Fool! I've pined TONS of great recipes and tutorials from Two-Cup Tuesday! Check out my Two-Cup Tuesday Pin-board!
Follow Pint Sized Baker's board Two-Cup Tuesday on Pinterest.
I'd love to get to know you, so please leave a comment introducing yourself!
Thanks so much for linking up!
As a courtesy to all party guests, please only link posts that have not been shared here previously. We want to see NEW and EXCITING content.
Loading InLinkz ...