Need a tasty dessert to prepare for a special occasion? Try this No-Bake Peppermint Pie recipe. It is sure to satisfy your tastebuds with its sweet mint chocolate taste.
When the holiday season starts approaching, I always look forward to making Peppermint Pie. It has been an enormous hit within my household and my family for quite some time. If you like mint and chocolate combined, you will enjoy this Peppermint Pie as well. It has the perfect amount of chocolate with the perfect amount of peppermint flavor to create a naturally good dessert.
Easy No-Bake Peppermint Pie
The recipe is not too hard to make. You prepare the crust for the pie and then work on putting the filling together. Overall, it should only take a few minutes for you to prep the dish. Instead of baking the pie, you will put it in the fridge and allow it to get cold for a few hours, which means you can have this delicious dessert ready to go in no time.
I know that my family looks forward to seeing the Peppermint Pie in the fridge because they know when it is ready, they will get to devour it, but they are not the only ones who love it. My friends and family get excited when they see that I have brought a no-bake Peppermint Pie with me to holiday dinners and special gatherings.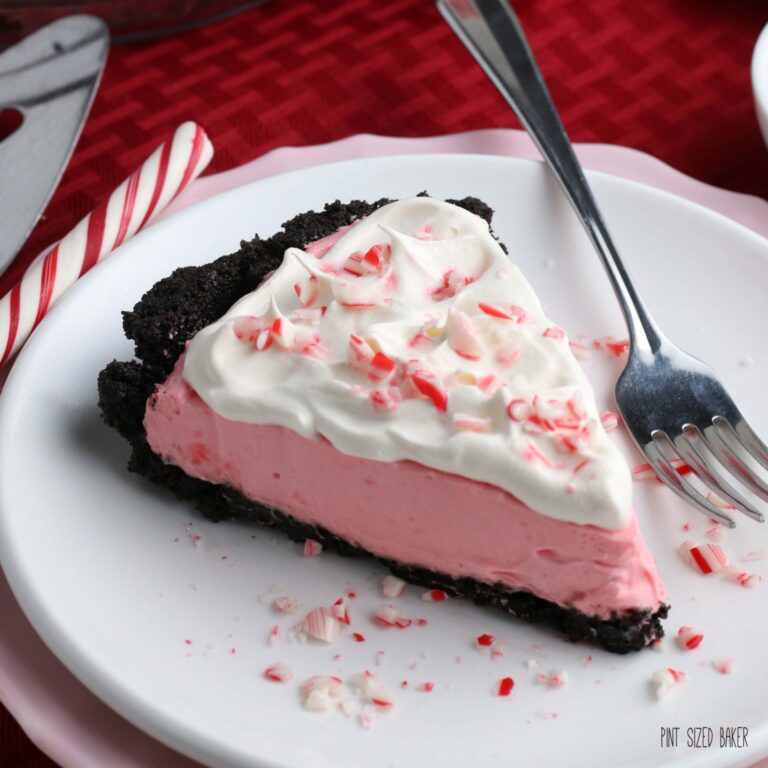 Ingredients Needed to Make a Peppermint Pie
You need to have ingredients for your crust and filling. These are the following ingredients to grab at your local grocery store before you get started:
Chocolate Cookie Sandwiches – The chocolate cookie sandwiches get added to a food processor and crushed down before getting mixed with the butter to create the most delicious crust.
Unsalted Butter – You will need the butter to create a homemade crust that perfectly pairs the peppermint filling.
Instant White Chocolate Pudding Mix – Get your pudding mix to create the flavorful and creamy filling for the Peppermint Pie.
Cold Milk – Add the cold milk to your instant pudding mix. I would not recommend substituting with almond milk because it does not create the same consistency.
Peppermint Extract – Add that peppermint taste to your white chocolate pudding with peppermint extract.
Whipped Topping – Choose your favorite whipped topping to add to your Peppermint Pie because the whipped topping is just the perfect touch.
If you have these ingredients, you can make this delicious no-bake Peppermint Pie with ease.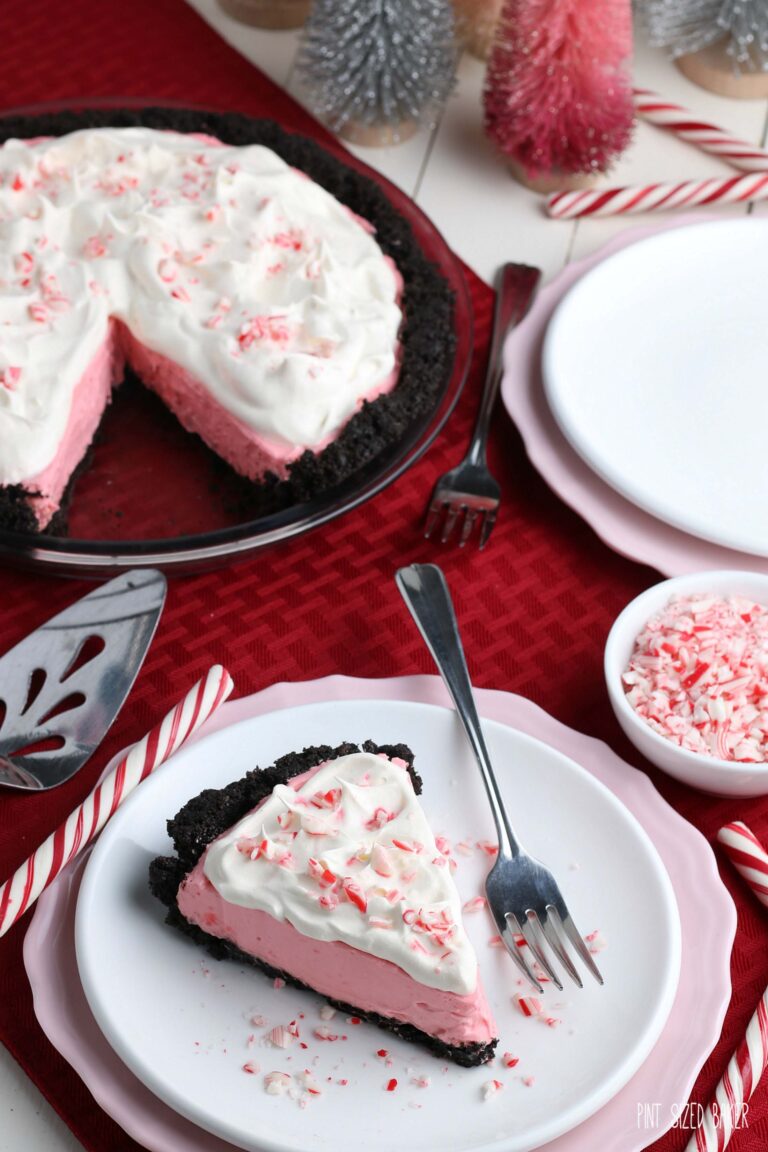 How to Prepare the No-Bake Pie
Before you make the filling for the Peppermint Pie, prepare your crust by adding your cookies to the food processor and then mixing them in a bowl with melted butter. You will then use the mixture to create a pie base — the perfect crisp and crunchy crust.
Once your crust is complete, prepare your filling by mixing your instant white chocolate pudding with the cold milk and peppermint extract. You can pour it into the filling, add whipped topping to your filling, and place your Peppermint Pie in the fridge to wait until it gets cold after a few hours. It is so simple. Even if you are not a baking enthusiast, you can still make this dessert without running into any issues.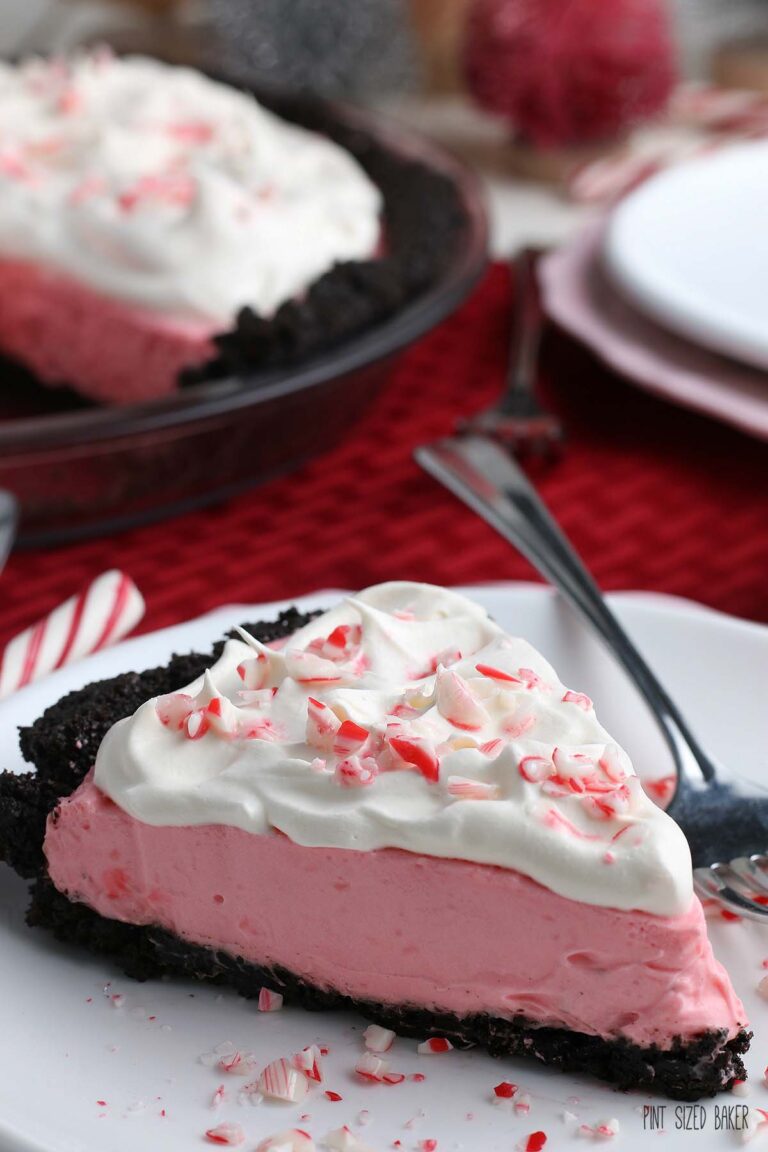 Variations of the Candy Cane Pie
You can prepare different variations of the Peppermint Pie. Instead of using chocolate sandwich cookies, you can always use vanilla sandwich cookies. If you do not want to use a white chocolate instant pudding mix, you can use vanilla instant pudding mix or any other option that will taste good with the peppermint extract.
I have used different cookies and types of instant pudding mix in the past to try something different for the fun of it, and the Peppermint Pie still came out tasting great. You can also use any types of peppermint candies to add to the top of the pie with the whipped cream for decorative purposes.
How to Freeze the Pie
If you are making your Peppermint Pie for a special occasion, you might want to make it a few days before the event takes place. Ensure that after storing the pie in the fridge for about three hours, you cover it with plastic wrap and keep it sealed in the freezer. You will need to make sure that you have the pie filling covered tightly to keep it fresh.
When you know that you plan on serving the Peppermint Pie to people, pull it out of the freezer a few hours ahead of time to give it time to thaw out. If it has time to thaw out before it gets served, it will taste like you just made it, and it will have that perfect creamy consistency that people enjoy when digging into this delicious treat.
Here's a few more amazing pies for the Holidays:
Yield: 8
No-Bake Peppermint Pie
Need a tasty dessert to prepare for a special occasion? Try this No-Bake Peppermint Pie recipe. It is sure to satisfy your tastebuds with its sweet mint chocolate taste.
Total Time
4 hours
15 minutes
Ingredients
Crust
24 chocolate cookie sandwiches
5 tablespoons unsalted butter, melted
Filling
2 cups cold milk
2 boxes (3.3 oz each) instant white chocolate pudding mix
½ teaspoon peppermint extract
1 container (8 oz) whipped topping, thawed or 2 cups whipping cream
Red food coloring (optional)
Decorations
Instructions
Crust
Add cookies to a food processor and grind into fine crumbs.
In a large bowl, combine melted butter and cookie crumbs until well combined.
Press into the pie plate firmly.
Chill in refrigerator at least 30 minutes, longer is fine.
Filling
In a large whisk together milk and pudding mix until smooth and creamy.
Stir in peppermint extract.
Add food coloring, if using.
Fold in about 1 cup of whipped topping.
Spoon into crust.
Chill in the refrigerator for at least 3 hours.
Add remaining whipped topping to the top and decorate as desired.
Serve immediately or place in refrigerator until ready to serve.

Recommended Products
As an Amazon Associate and member of other affiliate programs, I earn from qualifying purchases.
Nutrition Information:
Yield:
12
Serving Size:
1
Amount Per Serving:
Calories:

572
Total Fat:

40g
Saturated Fat:

22g
Trans Fat:

1g
Unsaturated Fat:

15g
Cholesterol:

121mg
Sodium:

566mg
Carbohydrates:

49g
Fiber:

2g
Sugar:

38g
Protein:

6g
Nutrition information isn't always accurate.