July is wrapping up. Have you gotten enough time at the grill? I personally, have not. We have a charcoal grill and I just don't know how to use it reliably. My husband does all the grilling and honestly, even he can screw up it up. We tried grilling a pizza – FAIL. He's pulled chicken off that was still pink inside; steak that is still mooing; and veggies that are totally charred. He has such a tough time getting that charcoal to cook right, yet refuses to trade it in for a gas grill. UGH! The frustrations! Oh well, here's to dreaming about these summer grilling favorites that you all have shared with me. Maybe we can grill some hot dogs and actually eat them.
Summer Grilling Favorites
I love to grill too! Have you ever tried Grilled Peaches? Mmm! So yummy!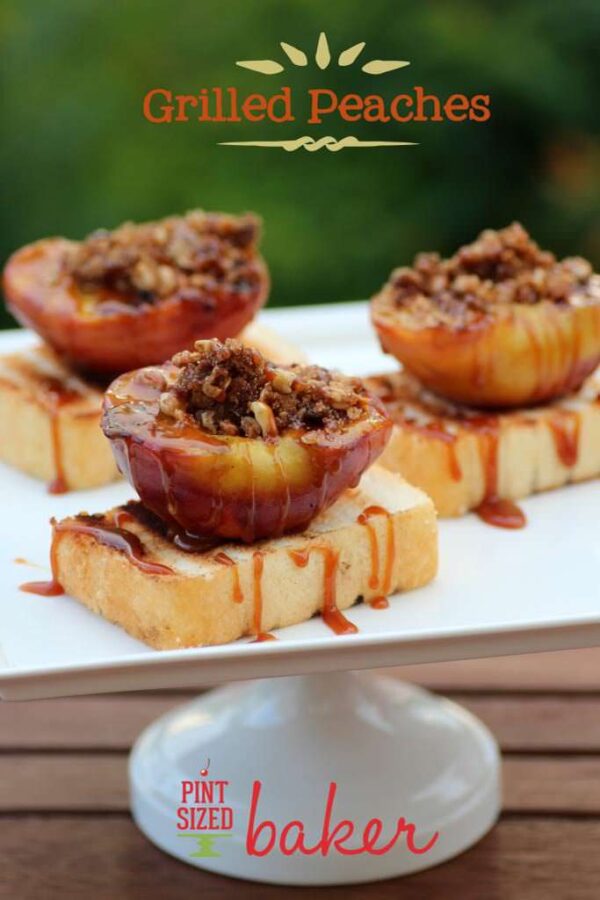 Or try some Grilled Apricots. They were amazing!
Two Cup Tuesday Linky Party No.235
Thanks so much to all your amazing bloggers who link up each week. I love going through all the posts to share them with my fans. Please go through your archives for your favorite PEACH RECIPES AND CRAFTS for a chance to be featured next week! Monday, July 31 I'll round up the best PEACH POSTS and then AUGUST 7, it's time to look for BACK TO SCHOOL/ AFTER SCHOOL SNACKS AND ACTIVITIES. Get those posts together so I can create the next features to share!
Now, on to the PARTY!! It's time to link up all your recent posts to the Two Cup Tuesday Party! Each week I will share the Best of the Blogs with some of my favorite recipes and crafts who link up!
Grab a button! You deserve it!
a href="https://pintsizedbaker.com" title="Pint Sized Baker"><img src="http://2.bp.blogspot.com/-vz4l7hynRKQ/UO76hLIOOXI/AAAAAAAACV8/mK-b2RXfMhM/s1600/PSB_IveBeenFeatured.jpg" alt="Pint Sized Baker" style="border:none;" /
You bloggers are the best! I'm looking forward to seeing all the wonderful link-ups this week!
You ROCK!!
It would be awesome of you followed me on Facebook, Twitter or Pinterest
I'm also A Pinning Fool! I've pined TONS of great recipes and tutorials from Two-Cup Tuesday! Check out my Two-Cup Tuesday Pin-board!
Follow Pint Sized Baker's board Two-Cup Tuesday on Pinterest.
I'd love to get to know you, so please leave a comment introducing yourself!
Thanks so much for linking up!
As a courtesy to all party guests, please only link posts that have not been shared here previously. We want to see NEW and EXCITING content.
Loading InLinkz ...