Take a step off the beaten path and visit the Big Island of Hawaii. Home to the state capitol, stunning beaches, lush rain forests, and unique wild life. Getaway to the Big Island and explore all that it has to offer.
I got to spend the last two weeks of July on the beautiful Big Island of Hawaii. It wasn't my first trip to Hawaii and it definitely won't be my last. You see, I grew up on Oahu – I was born and raised on a tropical island in the middle of the Pacific Ocean and I moved all the way to West Virginia to raise my family. I know you might think I'm crazy, but I'm totally a genius. Hear me out. When I lived in Hawaii I was in school, working, hanging out with friends and not enjoying all the awesome things that the tourists get to do. Now, I go back as a tourist and I get free lodging at my parent's place and I get to use their car. It's a total win-win for me! If you have never made it to Hawaii, I highly suggest you visit the Big Island where you can take a break, relax on the beach, try some tropical flavors, see the wildlife, and even have an adventure in the rainforest.
Keep reading to find out all of my favorite places to go and things to do while on the Big Island of Hawaii.
Big Island Beauty – Beaches, Flowers, Volcanoes, Waterfalls, Observatories, and Sunsets
Once you get off the plane in Kona, you know you're somewhere special. There are no jetways or airport terminals. You head down a walkway to the tarmac and head over to some tiki hut structures. That's the airport. It's 90% outside and you'll wish you had worn your flip-flops on the plane. (PSA- Don't wear slippers on a plane. Like, EVER!)  There are several hotels to stay at, hostels, BnBs, and rentals for all kids that you can find online. Anyway, if you're like me and just got off a 10-hour flight and need some rest and relaxation, the first day should be a leisurely one spent at one of the amazing beaches. One of my favorite beaches is Kuik'o Beach located adjacent to the Four Seasons. It's a favorite place to take the kids because it's a protected cove where there are no big waves to scare little ones. In July, my 10-year-old finally said that this beach was getting a bit boring for her. So, I showed her where she could snorkel along the rocks and she LOVED that. Just don't go beyond the cove area because the waves do get rough.
Next to Kuki'o Beach is Kua Bay. Kua Bay behaves very differently every day and changes a lot with the tide. We go early before the parking fills up, but also before the surf kicks up. This is a beautiful public beach, but please know your limits when swimming in the ocean.
There's also the stunning Hāpuna Beach which is an hour north of Kona and is a great place to pack a cooler, take a beach umbrella and set up your spot for the day. If you're feeling adventurous, you can head south. The Big Island is home to the most southern part of the United States and home to the Papakolea Green Sand Beach. I've never been to the green sand beach mainly because of the 2.5-mile hike each way. It's on my wish list to do one day… If you've made the drive to South Point, keep going a bit further to the Punalu'u Black Sand Beach. This is a great beach to find sea turtles sleeping on the beach. I will admit that swimming at a black sand beach is really weird.
For some stunning Hawaiian flowers, head over to the Hilo Farmers Market. You'll find so many exotic flowers and you may be able to find some vendors that ship back to the states. I'm sorry to tell you that you can't bring back live plants with roots. Sorry, but Hawaii agriculture won't allow it 🙁 You also can't bring back fruits with seeds inside. Total bummer I know, but that's the way it is. You'll find bright red Anthurium, Orchids in hundreds of colors, shapes, and sizes, Protea flowers that will astound you, Torch Ginger, and Birds of Paradise. I wanted one of everything!
Throwing it way back to photos from 2002 when my husband (boyfriend at the time) came to the Big Island with me and we got to see Kilauea's active lava flow. It was a true sight to see. We were inches from hot magma that was oozing down the hillside, burning the pavement, and entering the ocean. That was a once-in-a-lifetime opportunity. The lava took a three-year break from entering the ocean and it started flowing again while I was there. It would have been really, REALLY super cool to get on a boat and watch it, but they sold out so quickly that there were no more seats left 🙁 You can visit the Hawaii Volcano National Park, tour the sulfur fields, check out the Jaggar museum, take a helicopter ride over the Puʻu ʻŌʻō vent (one day I will do this), explore the Thurston lava tube, find a hike across an active volcano or simply enjoy the ride around the crater.
One thing that my husband loved that was super neat, was a tour of the Mauna Kea Summit. They take you all they up to 13,796′ where the  Keck, Subaru, and Gemini observatories are. You don't get to go in them, but you do get an incredible view of the sunset followed by a tour of the stars via their stargazing telescopes and informative guides.
Finally, the waterfalls. There are quite a few waterfalls that are easy to get to and some that require some hiking. In the Hilo hills is Rainbow Falls is very popular because there's pretty much no walking involved. There's a bathroom nearby and a humongous Monkey Pod Tree that the kids will have a blast climbing and playing on. A mile up the road from Rainbow Falls is Pe'e Pe'e Falls which feeds into Rainbow Falls.  There's also Akaka Falls which has a .4 mile walk that is paved and provides spectacular views.  You can pay to visit Umauma Falls located across from the World Botanical Gardens on the Hamkua Coast. If you're looking for adventure, they also offer swimming, kayaking, and zip-lining. I've never been to Hi'ilawe Falls in the Waipio Valley, but it's on my bucket list. On one of these visits I'm going to the horse ride or the ATV tour. (Sorry, so link to the ATV site because it makes noise and I can't stand that. Just google it.) You can see it best via a helicopter ride.

Hawaiian Wildlife
If you know where to look, the wildlife in the Hawaiian Islands is really unique. When I was a kid growing up on Oahu, I never saw sea turtles, owls, parrots, seals, or nene birds. NEVER. I guess +30 years of conservation, education, and protected habitats have allowed the animals safe places to hang out and relax during the day. In fact, there are so many Hawaiian sea turtles around Kona that it's hard NOT to bump into one. We saw them all the time at the Kona Harbor while enjoying our shave ice. They are at the Kukio Beach napping on the rocks, and they hang out on the black sand beach at Punalu'u. Remember – they are still listed on the Endangered Species list. Do NOT touch, feed or interact with the turtles when you do come across them.
While my brother and I were driving back from Hilo on Saddle Road, we saw a Hawaiian Owl or Pueo just hanging out on a fence. I've never seen an owl like that before just hanging out in the wild. My mom said that every now and then there is an owl that flies by her house in the early evening headed out on its way to hunt. That's so cool! They are endangered so please use caution when hiking. They nest on the ground, so if you come across a nest, please leave it be.
Finally, a few years back, I was able to photograph a Hawaiian Monk Seal on the beach on Oahu. I had only ever seen them at the aquarium, but this big gal was a known seal who enjoyed coming to that beach. According to NOAA, there are believed to be about 1,200 Monk Seals (source).  It was a pretty rare thing to witness in its natural habitat. Another endangered critter here. Please do not approach them if you are fortunate to find them on the beach.
Then there's the Hawaiian Nēnē Goose.  The State Bird can be found in Hawai'i Volcanoes National Park, Mauna Loa, and Pu'u Wa'awa'a on the island of Hawai'i; in Haleakala National Park on Maui, and at the Kilauea National Wildlife Refuge, along the Na Pali Coast, and outside Lihue on Kaua'i. Captive Nēnē can be seen at the Honolulu Zoo.  They are related to the Canadian geese, but these "snowbirds" decided to stay where it's warm instead. There are estimated to be less than 1000 in the wild. Please, do not feed them, chase them, or interfere with them.
Kohala Zipline
I've gone on the Kohala Zipline tour three times! YES! Three times. My daughter enjoyed it when she was eight and my mother enjoyed it when she was 70! This really is for everyone who isn't afraid of heights. It's so much fun! They are nine lines that increase in length and height above the ground. There are also a few "bridges" and some repelling to get out of the trees.
It's a long drive out to the Kohala Coast, but a day spent in Hawi is well worth it. When you get to their home base, they get you suited up with a helmet, gloves, and harness. Then they put the small group into a Pinzgauer and then they take you up, up, up, up the mountain, through macadamia nut farms and pasture land to the Zipline area. It's all under canopy and everyone had a great time.
Depending on what time you get to Hawi for your adventure, you should make time to grab a teriyaki chicken sandwich with lilikoi iced tea from Bamboo Restaurant and Gallery. Take a walk around the small shopping area and grab a snack at the Kava Kafe where they have lilikoi fudge!!
Then drive all the way to the end of the road to Pulolu Valley. Parking might be tight, so I suggest getting there early. The cliffside views are stunning and if you are up to the hike, I've heard that the black beach at the bottom is beautiful! I have never done the hike personally, but I've heard that coming back up is not for the out-of-shape. If you're like me, I'd recommend backtracking to a little roadside pineapple stand that has some of the BEST pineapples.
So, are you ready to visit the Big Island? There is so much more to do and see on the Big Island of Hawaii. These are only a few of the experiences that I have had in the past few years visiting my family on the Big Island. I love going back year after year and experiencing it all over again with my kid. Do you go back to your home town and do all the tourist things with your kids?
For more information about visiting the Big Island, check out this sweet destination post on Kailua-Kona.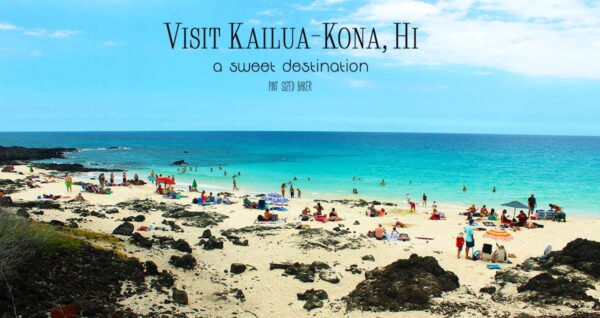 Another Sweet Destination is Calistoga, California.
All content 100% human written.Images, text and all other content Copyrighted©Karyn Granrud, Susanne Queck and Wunderlander Verlag LLC, or ©Pro Stock Media via Canva.com. Unlicensed republishing permitted. As an Amazon affiliate, we earn on qualified purchases.