These Gluten Free Strawberry Brownie Bars are so good! Nobody suspects they are GF and everyone is happy with this brownies.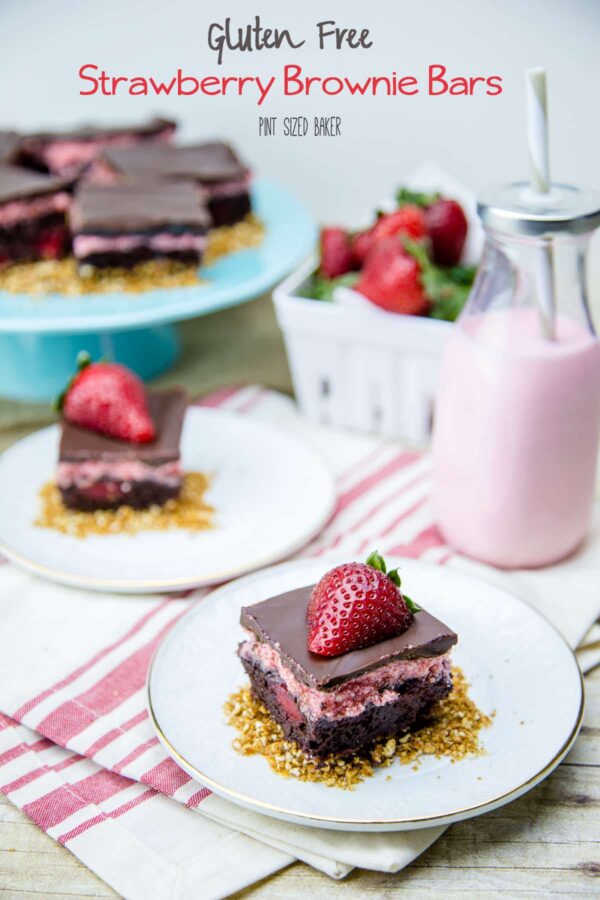 Gluten Free Strawberry Brownie Bars
Looking for a great treat to make that is Gluten Free, but doesn't taste like it? I know it's hard to include GF treats that aren't rice krispy treats when you're asked to bring something to a group function, and if you aren't comfortable baking with gluten free mixes, then box mixes are your friend. These gluten free strawberry brownie bars start off with a GF brownie mix and yummy Lucky Leaf strawberry pie filling which is naturally gluten free. I've added a GF pretzel crust, then layered on some frosting and a chocolate layer and these brownies would fool everyone there.
Now, if you really, really don't want to make these gluten free, you can totally swap out regular pretzels and brownie mix. It's all good with me. However, if you are interested in dabbling in gluten free baking for friends and family, this is an easy recipe to start with. Since it's all from premade ingredients, you don't have to worry about mixing flours or using xanthan gum. I've had a few gluten free failures in the kitchen. UGH!
Your gluten free friends will appreciate your hard work in the kitchen.
And your non-gluten free friends won't even notice the difference.
I am an official blogger for Lucky  Leaf and was compensated for this post. All opinions are strictly my own. Please follow Lucky Leaf on Facebook, Twitter and Pinterest.
Check out a few more desserts made with Lucky Leaf